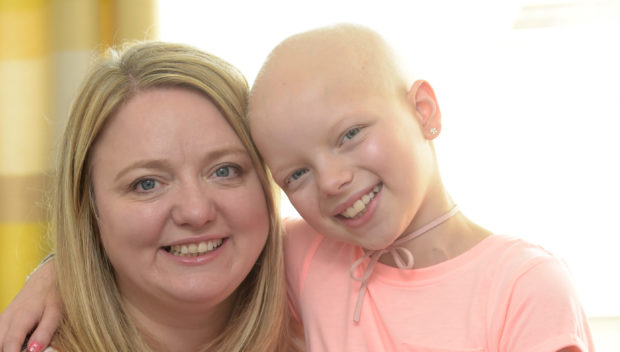 A brave Perth girl whose cancer battle has touched hearts around the world is preparing for her next round of chemotherapy straight after Boxing Day.
Lily Douglas, 11, will have the treatment at the Sick Children's Hospital in Edinburgh on December 27.
The youngster's family hoped she had beaten the disease earlier this year after groundbreaking therapy in the US but they suffered a setback in October when the stage-four Ewing's Sarcoma returned.
The diagnosis meant they had to cancel a planned trip to Malaga in Spain to undergo alternative treatment.
Lily's mum Jane Douglas said: "I'd like to thank everyone so much for the continued support and helping my girl get treatment. Lily starts round two of chemotherapy on December 27 and this will run until December 31.
"Lily is tired but doing well."
The St John's RC Primary School pupil has already gone through chemotherapy, nine operations and proton beam therapy in America, as well as battling seven infections.
Despite it all, she has continued to pursue her passion for dance, and has won 90 trophies and 200 medals in ballet, tap, street and modern dance.
She took centre stage in July as she performed a poignant ballet sequence at the Cancer Research UK Kids and Teens Star Awards party in London. Local businesses have also come together to support Lily, setting up a bank account for donations.
Jane praised wellwishers as a Christmas pooch parade went ahead on Sunday at the North Inch to raise funds for the appeal.
She said: "We must thank everyone for their support – I hope everyone involved in the Christmas pooch parade has a great day.
"We were actually offered a dog to come along to the parade but unfortunately we'll be at the pantomime, Cinderella, at the SECC in Glasgow. It's so lovely that everyone is trying to help Lily."
The Dog Friendly Perthshire group, which organised the parade, said: "Lily has had to go through so much in her battle against this horrible disease but through all the difficult times she has faced she has not stopped smiling and has still even been able to compete in her dance competitions which she loves so much.
"Money that is donated at the parade can be used to help towards Lily's treatment or whatever other expenses her family may face."