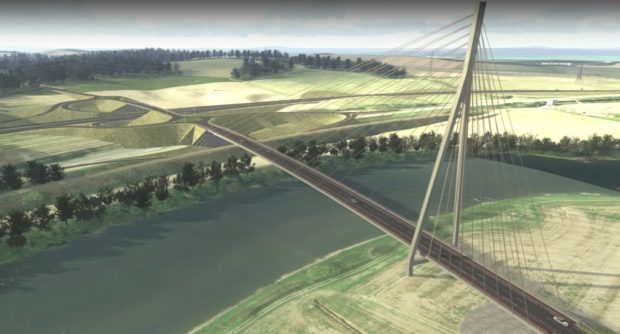 Residents in Scone have demanded that councillors put "people before pounds" and move the proposed £113million Cross Tay Link Road (CTLR) project further north away from the village.
Scone and District Community Council presented a poll outside Perth and Kinross Council offices on Thursday detailing their objections to the development and asking for the project to be delayed .
The community council surveyed 10% of village residents and found the vast majority were in favour of moving the route further north, away from a new housing development in the area.
Jill Belch, vice chairwoman, said: "We had to fight to find out the route and when we did find out we were horrified because it goes right through a new development.
"Our contention is that this road will be there for many years and putting it off for a few months and a few more dollars [to review] is worth it.
"We're hoping they will make a decision in favour of people rather than pounds."
The multi-million-pound route is part of the Perth Transport Futures Project which will connect the A93 and A94 north of 
Scone with the A9 between 
Inveralmond and Luncarty.
Council bosses believe the project will  help alleviate traffic congestion and air pollution in Perth city centre.
Following a recent meeting between councillors and members of the community council a compulsory land purchase for the CTLR that was due to go before councillors on February 27 has been cancelled.
Vanessa Shand, community council chairwoman, said: "We're optimistic that following our meeting 10 days ago councillors are willing to work with us.
"This is for the whole community and not just us which is really important."
Local politicians have backed the efforts of the group, with one councillor calling for the CTLR project to be scrapped completely.
Liberal Democrat councillor Lewis Simpson said: "My position on the CTLR has been consistent since I've been a councillor – that it's an outrageous waste of public money and I don't think it has the advantages they say it will.
"I applaud the community council on their efforts. Scone is very lucky to have such a community council but I still remain unconvinced we should be wasting such a huge amount of money on this infrastructure."
SNP councillor Fiona Sarwar said the community council had raised some very salient and valid points.
"I hope that officers and councillors will look back over the issues and carefully consider all the points raised," she said.
"We must make sure we fully future proof the investment in the CTLR."
Council leader Murray Lyle called the CTLR a "once in a lifetime" project.
He added: "It is absolutely essential that everyone knows their views and opinions have been taken into account and all options explored to ensure the best possible outcome."
A spokesperson for Perth and Kinross Council confirmed the report would no longer be given on February 27, adding: "In the interests of ensuring the most appropriate placement for the CTLR, we are reviewing work on the route alignment around Scone North."