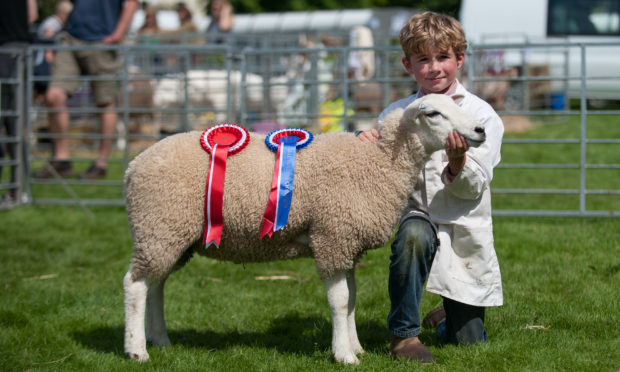 Another day of events wrapped up the farming fun on the South Inch at Perth Show on Saturday.
Thousands of farming enthusiasts, competitors, celebrities and local residents flocked to the 157th annual agricultural show this weekend.
Over 1,200 head of horses, donkeys, goats, cattle and sheep competed in around 360 classes at the Perth park – the only major farming show in Scotland to be held in a city centre.
Perth Show has evolved into one of the UK's leading farming shows, and has grown to include collaborate with Perthshire on a Plate, which shows off the best of local produce.
With celebrity culinary stars and Perthshire chefs combining in the past, this year was no exception.
ITV's This Morning chef Phil Vickery headlined the 2019 cookery expo on Friday, but it was local chefs who stole the show on the Saturday.
Andrew Moss of The North Port restaurant, Marie-Clare James from George Campbell and Sons, David Barnett from Pitlochry's Fonab Castle all hosted culinary demonstrations, and a special children's cooking class was also put on. Amongst other demonstrations which took place were wood turning and wool spinning.
In the main arena, dog show was followed by children's races as Perth and District Pipe Band performed throughout the day.
Plenty of vintage farming vehicles were on display as the annual showjumping exhibition took place, with riders as young as nine years old wowing the crowds.
Ten teams of young farmers from far and near contested the tug o' war and the Grand Parade showcased the champions and prize winning livestock from across the weekend in the main ring, peppered with colourful rosettes.
A Battle of the Buskers was also held, organised by staff from The Green Room which carried on into the evening.
Show secretary Neil Forbes has heralded the event, which once again proved a huge success.
He said: "This year's show continued to feature many of the traditional aspects of agricultural shows loved and valued by generations of farmers, as well as a growing array of new and exciting visitor attractions.
"No  matter where you were in the showground or what day it was, there was something to get involved with, compete in or marvel over.
"It was two days of constant and widespread entertainment and engagement that appealed to both farmers and townsfolk.