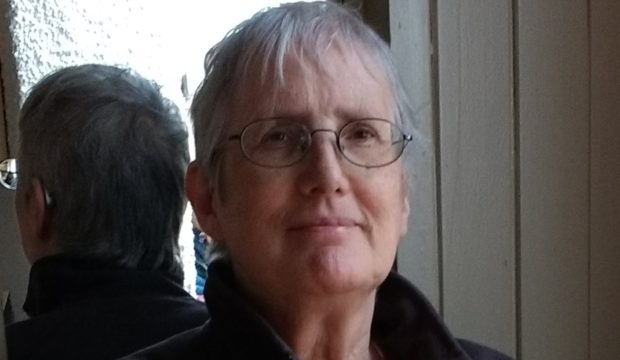 Alison Napier, 61, wrote her own obituary just a few weeks before her death on August 8:
The young Alison was born in Ceres in Fife and had a carefree time just running about and going to the progressive local primary school, swinging like a mini tarzan from the highest branches of a tree and turning her mother's hair prematurely grey and climbing up the hay bales on Mr Melville's farm and falling off and breaking a front tooth.  Again.
And Judith, her long suffering little sister Judith, well Judith may have different recollections. Alison admits that she probably shouldn't have taken your dolls and hanged them by the neck from the washing line, or put your favourite felt pens through father's school pencil sharpener, and she knows now that only letting you borrow one roller skate at a time was not a nice thing to do. She sends belated apologies!
Both her parents instilled a love of the natural world in her. From her mother Frances it was small things, the beauty of a flower or a moth, a shell or a plant, the wonder of gardening, the joy of a kitten. From her father Ross, it was the grandeur of mountains and wild places. It took a while to love ten thousand slides of Ben Macdui and the Five Sisters of Kintail but you were right Ross, and she got there in the end. Thank you.  Ross also gave her a lifelong love of music, a glorious gift to give a child.
Alison's teenage years were turbulent and she has asked that we draw a swift veil over this. Adolescent mental health issues are better understood nowadays thankfully.
After three attempts at higher education she obtained a modest sociology degree from Aberdeen University in 1983.
Her four years at Aberdeen University were important for reasons unconnected to academia however and in her own words, 'she finally grew into herself', realising that her thoughts and opinions on the world, on justice, on violence and war, were all entirely legitimate, part of a respectable left wing tradition and not odd at all
She got involved with feminism and gay politics and went to Greenham Common Women's Peace Camp and met more amazing women including the inspirational Naomi Griffiths.
After Greenham she describes herself as being just another unemployed sociology graduate – who then reinvented herself as a vegetarian cook on the back of a five day cookery course, a present from her mother. She got a job as Assistant Cook at the Ceilidh Place in Ullapool, to the horror of the head chef, because her interview was with Jean Urquhart, owner of the hotel and Chair of Highland CND and they discussed cruise missiles and the peace movement for an hour.  Her total lack of any cooking experience was ignored.
Increasingly vegetarian and interested in the politics of food, she moved to Findhorn after a year and cooked there in a residential centre. She also spend a week cooking in Denmark for a group of psychotherapy students, which was fun.
Findhorn also introduced her to Lynda, a rewarding and complex relationship that spanned decades.
By now, Alison is now in her late twenties and is about to go to Nicaragua in Central America to visit Naomi who is working there as a health trainer in the remote areas of the country. This visit lasted seven weeks and had a profound effect on her and her views of the world.
She saw American foreign policies in action, poverty, hope, Contras and Sandinistas in the same families, got food poisoning, taught kids to play the tin whistle, soaked up the sights and sounds of the tropical cloud forest and ate a lot of bananas and drank a lot of rum with fresh mango juice. Thank you, Naomi.
She returned from Nicaragua on the day the first Gulf War started and was so appalled at this that she just stayed in London, unable to return to cosy Findhorn, and lived in a squat in Islington while volunteering then working in a Dickensian homeless hostel.  After a time, burnt out, she went southwest to Bristol, working in a psychiatric hospital where her boss suggested training to be a social worker.
Which she did. During this time she also met her lifelong friend Sarah, as they worked with vulnerable adults at Windmill Hill City Farm in Bristol.  A good life is about the people we meet.
So she became a social worker and once qualified immediately bought a land rover, returned to North West Sutherland with Naomi and lived in a round house on the Kyle of Sutherland with Scooty the Cat, who must have a mention here. Life on the edge, watching the tides and the birds and Ben Loyal, mourning the early death from cancer of her mother aged 60 and then getting a job and an almost normal career working with Highland Council for eleven years as an Adult Care social worker and Mental Health Officer.
Around this time too the most amazing child was born – Hello to Franny! Watching her grow from a fearless unique child into an equally fearless and unique adult, from Inverurie to Cambridge to Arran, has been one of the pure delights of Alison's life.  There was never a prouder Auntie Owl. Go Franny! You and your friends are the future.  And bravo to the mother Judith who must take some of the credit.
Never one for the easy path of mortgages and pensions and financial security she became disillusioned with cutbacks and left social work – in fact she left a good social work job three times – is this a record? – and moved to Devon.
She enrolled in an an MA in Creative Writing at Exeter University where her tutor was the wonderful novelist Philip Hensher and had various short stories and articles published in real books and papers. During this time she also worked at Devon Council in the Safeguarding Adults team and met more fabulous people like Sharon and Alison and Faye and then like a boomerang bounced back, alone, to the far North again in 2008.
In 2009 she was living very contentedly in a windswept caravan at the top of a friends croft near Lairg, just her and Scooty, fairly broke, writing a novel that would be shortlisted for the Dundee International Book Prize.
At the same time, an incredible beautiful woman called Susan was living on a Greek island called Paros, with a dog and a parrot, working in a bar having just sold her own business.
Sometimes you have to search for the one and only person – they do not bump into you in a pub, they do not sit down next to you on the Clapham Omnibus.
Alison searched for Susan across the million impossible strands of the internet and found her, and Susan found Alison too and after six months of a courtship of emails and phone-calls they met and realised that they had indeed found their soulmates. They had eight years together. They wanted a hundred more.  They hadn't finished having adventures, they called each other SP and AFN. But eight years of loving and being loved unconditionally, that is more than many dream of.
Her life became joined up, with a happy loving safe home. They moved from remote Clashmore in Sutherland to sensible Perth, they worked in jobs they liked, they had holidays in France and Greece and Killin and Ullapool, they drank wine and ate fish suppers and watch the tour de france on the telly.
Alison found a music group and played her recorder every week with Felicity and Val and Alison and Andy and Maggi. She cooked for a lunchclub with Liz the minister today. She went back to University and got a qualification as a social work educator and worked with frighteningly young social work students from five Scottish universities until April this year.  She failed the weak students despite pressure to turn a blind eye.  Students, it is for your own good.
In the summer of 2016, she was diagnosed with breast cancer and did all the treatments and hoped that that was that.  But that wasn't that.  The illness came galloping back two years later in early 2019, with incurable spreads to her lung and her brain. She politely declined all the toxic and ultimately futile treatments on offer and opted instead for quality of life with Susan for her remaining months, palliative care with lots of meals out and time with friends and family. In May of this year, Alison and Susan got married, with silver rings depicting the wild north coastlines.
Alison wrote about this final stage of her life-journey in a series of blogs that have been read by thousands of people and are described as inspirational and funny and brave.
These are not descriptions that Alison would recognise. Aw man, she would say.  But she has told me that hers was a life that she was proud to have lived despite all its bumps and twists and turns.  Full of people that she was enriched from knowing with Susan centre stage.  She thanks you for sharing it with her – be sad for a while but be proud too – you all made it what it was.