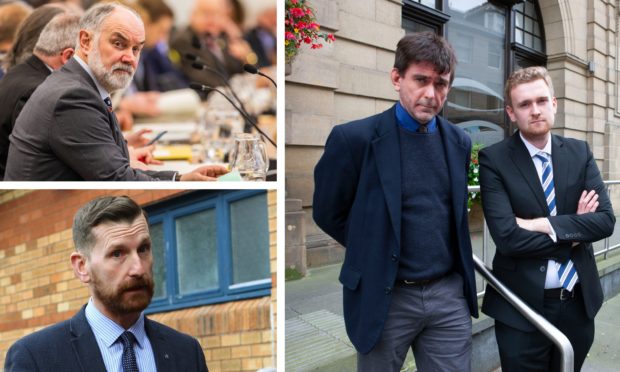 Opposition parties have seized a tighter control of Perth and Kinross Council after a bid to oust two rogue councillors dramatically backfired.
Colin Stewart and Callum Purves were suspended from the Conservative-led administration last month, after a series of complaints were made about their conduct.
It followed a chaotic meeting of the Perth and Kinross Integration Joint Board (IJB) earlier this summer.
Local authority leader Murray Lyle called an extraordinary meeting on Monday to address a "political imbalance" and have Mr Stewart and Mr Purves removed from the board.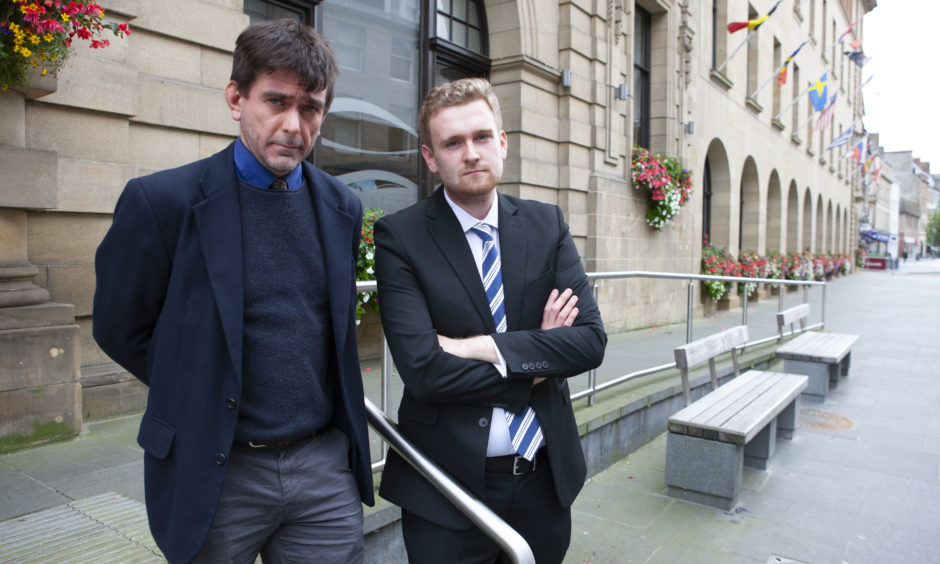 However, his motion was challenged by opposition members who put forward an amendment that not only allowed the two councillors to remain on the IJB, but also replaced several administration councillors on various other groups.
As the suspension had left the Conservative/Liberal Democrat administration with a minority ruling, the amendment was voted through 21 to 19.
It means that from October 4, Mr Stewart will become chairman of the IJB.
Speaking after the meeting, Mr Lyle said: "I absolutely believe that I have behaved appropriately throughout, and it is unfortunate that not all of my companions think the same way.
"If we can't appoint our members on to our own committees, then it becomes a challenge for the administration and that is a challenge we will have to look at over the coming days."
He stressed that he was obliged to call Monday's meeting, not to discuss the pair's suspension, but to address the administration's minority status.
Local Lib Dem leader Peter Barrett said the council could not wait for the outcome of the Standards Commission's investigation into the complaints.
"That could take up to a year," he said.
"To persist in nominating Councillors Purves and Stewart onto the IJB, and denying the administration its right to nominate its members, brings this council into disrepute."
Labour's Alasdair Bailey, who put forward the amendment, said removing the councillors from the IJB would be an "affront to democracy" and an insult to constituents.
"I am well aware that there are outstanding allegations that councillors Stewart and Purves have breached the code of conduct," he said.
"However, we have a long and deeply held tradition of 'innocent until proven guilty' in this country.
"I don't agree with much of Councillors Stewart and Purves' politics, but I will not stand by and allow two properly elected persons to be silenced by virtue of being stripped of their seats on committees and outside bodies."
Leader of the SNP group Dave Doogan stressed that the pair's suspension was "of no concern" to his party.
"We have not seen compelling evidence of either misconduct or inappropriate behaviour sufficient to allow us to accede to their removal, in advance of the ruling of the Standards Commissioner," he said.
"But let me be clear, we are not outright supporting Councillors Purves and Stewart. We are not allied to them in any way shape or form."
Pair felt they were 'thrown under a bus'
Suspended councillor Callum Purves said he and Mr Stewart had been "thrown under a bus" by council leader Murray Lyle.
The pair were blocked from speaking about the circumstances surrounding their suspension at Monday's meeting.
They were called to order at any mention of the IJB meeting, which was controversially cancelled prompting public outrage and leading to their suspension.
Mr Purves said: "Just take a moment to reflect on the irony – the hypocrisy even – of this situation.
"Here we are at a public meeting, hastily arranged. Everyone is able to turn up and watch the spectacle of the administration attempting to remove Councillor Stewart and me from the IJB.
"But the meeting to discuss the real issues, the crisis in mental health services in Tayside, could not be held and still has not been held.
"You would have hoped that when faced with such a situation, you would receive the support of your colleagues. You would think that the leader of the council might actually stand up for councillors who are doing what they were elected to do.
"But no, instead he throws us under a bus."
Mr Stewart said: "I suspect that this whole spectacle, while being personally discomforting to Councillor Purves and myself, is actually most unedifying to members of the wider public, and I have occasion to ask myself whether there is a point in enduring this opprobrium and the outrage in the complaints against us.
"But then I read the messages of support and am heartened by them and I'm reminded that out there in our communities, there are those who are voiceless in these matters to whom we are now providing a voice… and I become more determined to carry on."
The approved committee changes
Dave Doogan (SNP) replaces an administration councillor on Perth Harbour Board.
Callum Purves replaces an administration councillor on Horsecross Executive Committee.
Tom McEwan (SNP) replaces an administration councillor on Live Active Leisure Ltd.
Colin Stewart to be made chairman of Perth and Kinross IJB, from October 4.
Sheila McCole (SNP) replaces Peter Barrett (Lib Dem) on East of Scotland European Consortium. She also replaces Anne Jarvis (Conservative) on Scotland Excel Joint Committee.
Xander McDade (Independent) replaces an administration councillor on Community Planning Partnership Board.