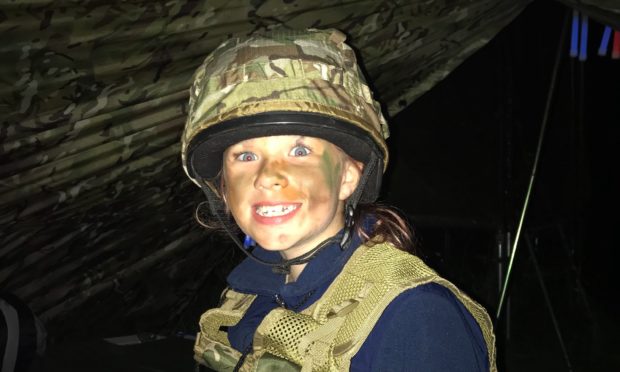 An eight-year-old girl is preparing to take on a mammoth endurance test this weekend in memory of her late father.
Meredith Cluff, from Burrelton, near Perth, will take on the daunting Spartan Race to raise money for Scotty's Little Soldiers, a bereaved children's Armed Forces charity.
Over the last three years it has provided her with much needed support following the death of her dad.
Meredith lost her father, Staff Sergeant Pete Cluff in February 2016. She was five years old when he suddenly died of heart failure while on a training exercise,  just weeks away from completing 22 years serving his country in the Royal Engineers.
Having already raised more than £450, Meredith is keen to follow in her father's footsteps and is taking on the Spartan Junior obstacle race in Perth on Saturday in his memory – and to raise money for the charity that has helped her smile again.
Meredith will be among the 3,600 runners looking to beat the assault course this weekend, with runners from across the UK flooding into Perth to compete in the run.
She said: "I love getting muddy so I can't wait for it. My daddy did a lot of cross country running and, like him, I love sports, so I know he would be proud of what I'm doing and that I'm raising money for Scotty's.
"Scotty's has made such a big difference to our lives that I really want to help. I've made lots of new friends which I can talk to and who understand my pain.
"They have made me much more confident. When you spend time with other Scotty's members you don't have to explain to them where your daddy is, they just know."
Meredith and her 11-year-old sister Heather have been supported by Scotty's since 2016 and have become part of the charity's family, attending the its annual Christmas parties and events which have given them the opportunity to meet other children in a similar situation.
Mum, Kirsty Cluff, will be cheering from the side-lines as well as volunteering on the Scotty's stand.
She said: "I can't put into words how low my girls would be without Scotty's, they really do make a huge difference.
"They never forget the anniversaries, birthdays and tough days but they also create amazing opportunities for them. They create real bonds between the children and bring them together to have fun and create new happy memories."
Final preparations are being put in place for the return of the Spartan Race to Perth this weekend, which is set to start at the city's South Inch and loop around Kinnoull Hill and Deuchny Woods.