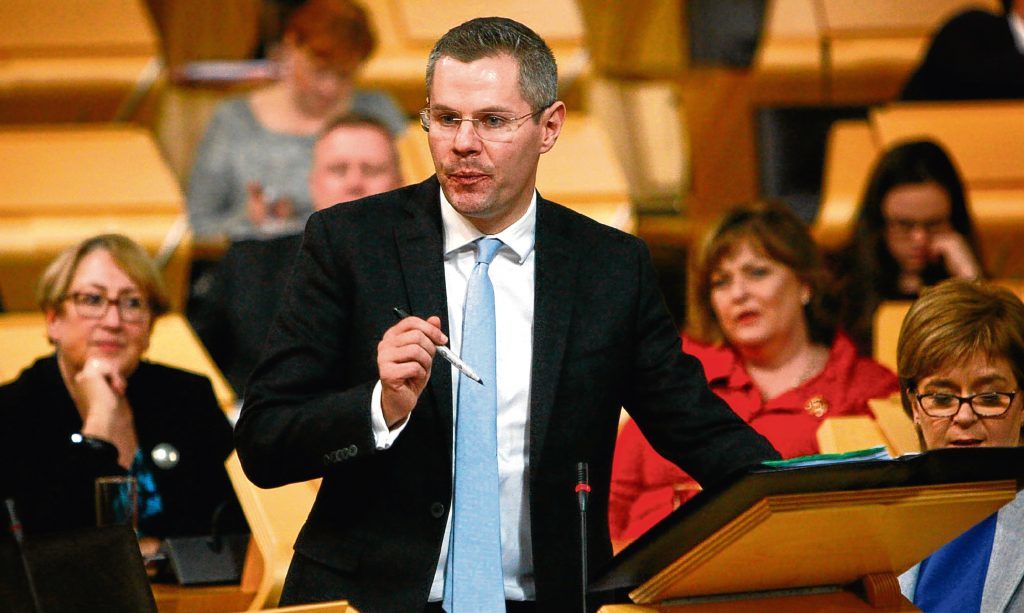 The SNP looks likely to avoid a budget collapse thanks to a bail-out from its pro-independence partners at Holyrood.
Finance Secretary Derek Mackay has been trying to drum up opposition support for his minority administration's controversial tax and spending plans.
It appears eleventh-hour backing has been secured from the Greens after their co-convener Patrick Harvie said he is "not willing" to see the budget fall, although sources in both negotiating teams stressed a deal is yet to been done.
"If parties just dug their feet in and said 'my way or the highway' then the whole thing would fall and we would begin to see emergency cuts being made to public services across Scotland," Mr Harvie told the BBC.
"I'm not willing to see that happen."
Mr Mackay needs the support – or abstention – of one other political party to secure the parliamentary majority required.
The six Green MSPs are seen as crucial to the minority government's budget passing its first parliamentary hurdle on Thursday night but they have demanded commitments to increase income tax and stop council cuts.
Scottish Government sources close to the talks were last night unwilling to rule out changes to the tax system.
He held talks on Wednesday afternoon with Scottish Liberal Democrat leader Willie Rennie, whose demands for a £400m boost to services fell on deaf ears.
Graeme Dey, the SNP MSP for Angus South, said a failure to pass the budget would risk billions of pounds of investment across Tayside and Fife.
He highlighted promotion of Tay Cities Deal, new elective care and trauma centres, the construction of the new Forfar Community Campus and continued investment in the V&A in Dundee as benefiting.
Mr Dey said: "Labour and the Tories should think again before choosing to oppose these investments in communities from Angus to Fife in a narrow-minded campaign designed to achieve nothing more than embarrassing the SNP."
Murdo Fraser, the Scottish Conservative MSP, urged Mr Mackay to snub opposition parties who are calling for him to raise taxes and instead cut the amount of money leaving people's paypackets.
Kezia Dugdale, the Scottish Labour leader, said the SNP's approach to council funding mean her MSPs cannot support the budget. "Labour will not vote for any SNP budget that cuts £327m from local services like schools and care of the elderly," she said.