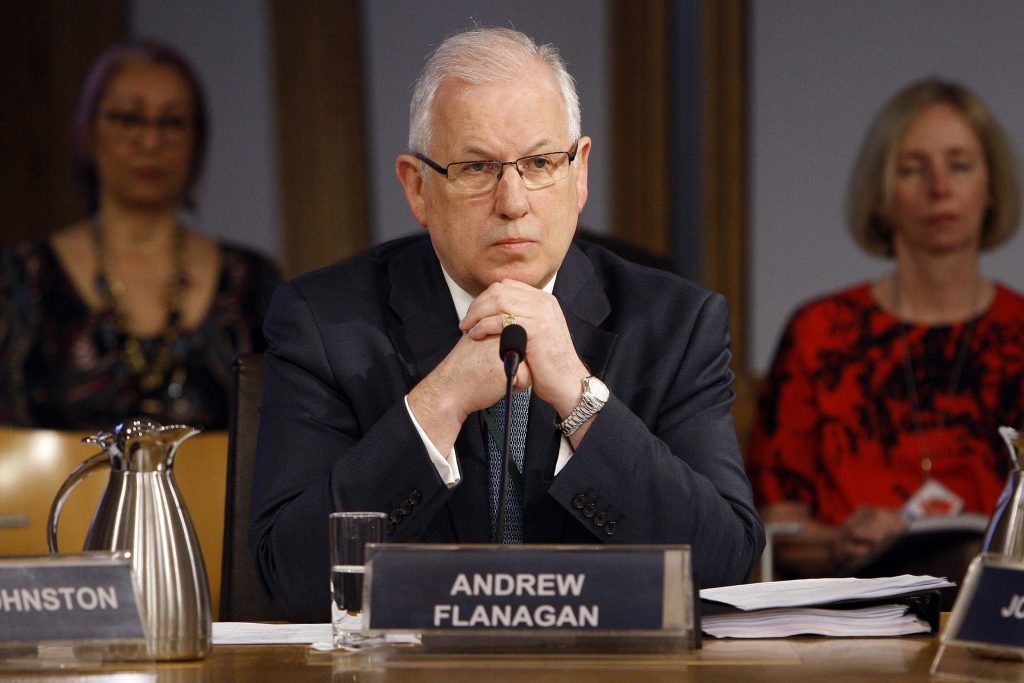 The beleaguered chief of Police Scotland's watchdog has quit after becoming embroiled in bullying and secrecy scandals.
Andrew Flanagan announced his resignation as chair of the Scottish Police Authority (SPA) – and blamed the press for his decision.
Moi Ali resigned from the board in February after Mr Flanagan told her in a letter she should not be part of the organisation's private committees after she said they should be heard in public.
She told Holyrood's Public Audit Committee that she felt bullied by Mr Flanagan, a perception he disputed.
In the letter, the police chair told Ms Ali people with such disagreements "would normally consider resigning" and that he believed it was not "fair to you or to your fellow board members for you to participate in the committees".
Meanwhile, the SPA has also come in for severe criticism for holding meetings behind closed doors and refusing or delaying the publication of agendas discussing Police Scotland's budget crisis.
In his resignation letter to Justice Secretary Michael Matheson, Mr Flanagan said debate on these issues risks distracting policing from important work underway on strategy and finance and it is in the best interests of policing in Scotland that he stand down.
He said: "Recent events have focused on my disagreement with a board member and perceptions of a wider lack of transparency in the SPA. I have apologised to the former board member and put in place changes to the governance processes of the SPA.
"There are many serious challenges faced by policing in Scotland, but the continued media and Parliamentary debate on these issues risks coming a prolonged distraction.
"With a strategic direction for the service well in train and the right mix of leadership in Police Scotland to deliver it, I do not wish the ongoing debate to get in the way as we move into the implementation phase. I have therefore taken the decision that it would be in the best interests of policing if I were to step down from my role as Chair of the SPA.
"The next few months will involve an intensive period of work to develop implementation plans and effective governance structures to manage and oversee the transformation programme. To avoid any hiatus or delay, I have indicated to the Cabinet Secretary that I would be willing to stay on until he appoints a successor and to ensure an orderly handover."
Ms Ali criticised the tone of his resignation.
Funnily enough, it also impacted on me and my family. Not a nice Christmas for me and mine. https://t.co/cRyfZ0mmP1

— Moi Ali (@MoiAliEdinburgh) June 14, 2017
Liberal Democrat justice spokesperson Liam McArthur said Mr Flanagan had "taken the right decision"
He added: "However, serious damage has already been done to the reputation of the organisation.
"For that, the SNP Government must accept its full share of the blame, given their botched centralisation of policing.
"While the next chair must ensure there is now a genuine culture shift towards greater transparency and democracy, the Justice Secretary needs to guarantee this through legislation."
Scottish Labour's justice spokeswoman Claire Baker called for an urgent statement to be made to parliament.
She said: "In only four years of Police Scotland, the SNP Government's shambolic management has seen the loss of one chief constable and two chairs of the SPA.
"Andrew Flanagan's position was untenable and his decision to go is the right one. Only the Justice Secretary and the First Minister were the last two people in Scotland to see this.
"This resignation must only be the start of the complete overhaul that is needed at the top of the SPA, from its board to its senior management."
Mr Matheson wrote to the Public Audit Committee to confirm he had accepted the resignation.
In a statement, he said: "Together with the Chief Constable, Andrew has led the development of the future strategy for Policing, including extensive public consultation through the draft 2026 strategy.
"However, he has acknowledged that mistakes have been made. He has offered a full and very public apology and made clear changes to transparency and governance in light of the concerns raised.
"I have agreed that he will stand down from his role once a successor is identified and recruited through the public appointments process. This will allow business continuity over this important period."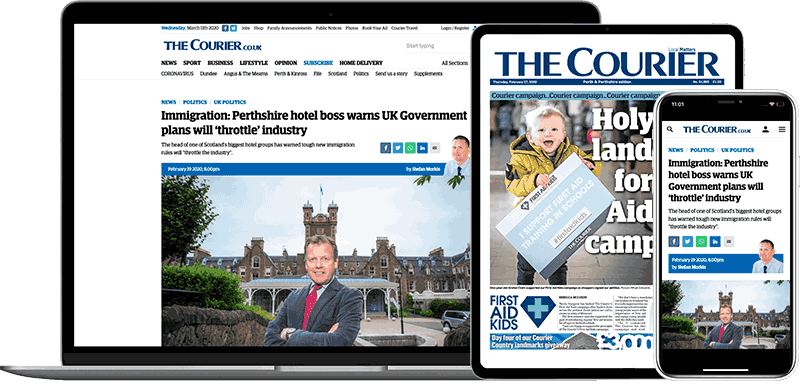 Help support quality local journalism … become a digital subscriber to The Courier
For as little as £5.99 a month you can access all of our content, including Premium articles.
Subscribe