Ahead of the government's Brexit repeal bill being debated at the House of Commons on Thursday, former Scottish Labour leader Henry McLeish tells Michael Alexander why he believes Scotland – and the  UK – is at a crossroads.
He is the former professional football player who went on to become leader of Fife Regional Council and spent 16 years as either MP or MSP for Central Fife – including a spell as Scottish Labour leader and First Minister.
But in his 47 years as a member of the Labour Party, Methil-raised Henry McLeish can remember no time that's come close to the public disillusionment currently engulfing traditional politics.
A passionate believer in the European Union, he was "totally dismayed" by the "catastrophic" Brexit decision on June 23 last year and describes the election of Donald Trump as US President in November as "feeling like two bereavements in the one period".
Now in a new book, 'Citizens United: Taking Back Control in Turbulent Times', Mr McLeish makes the case for a radical u-turn on Brexit and points the way to the "political maturity" that he believes will sustain democracy.
He proposes a federalist solution for Britain – ideally in the context of continued full membership of the EU.
But he warns that if the "public anger, mistrust and fear" that led to Brexit and Trump is ignored by the political classes and that if the threat to democracy posed by the rise of extremism and populism is not addressed, then nations in the west could be engulfed in a time of dark authoritarianism.
He also claims the very future of Britain is at stake and says that Scotland could "seek a different future" outside of the UK if its majority pro-European views are not being represented when the time comes for Britain to leave the EU.
In an interview with The Courier at his home in Fife, Mr McLeish said: "There's no doubt that the Brexit vote was a huge statement about politics, democracy and government and a shattering of the idea which I hold today that Europe is our future.
"But as far as I am concerned it's a battle for Britain that's now currently underway.
"Brexit to me was a collective act of self-harm.
"It was a catastrophic decision from which will flow no benefits.
"But equally important we have to understand why 17.4 million people voted to leave. For me, that takes you from anything to do with the European Union to it being a bigger statement about Britain at the present time where the EU was just a backdrop to many of the issues, concerns, fears and anxieties that people had about Britain in 2017."
Despite the rhetoric about better trade deals or "getting our country back", Mr McLeish says he has yet to hear a single benefit of leaving the EU.
He describes the current EU negotiations as "shambolic" and fears the next 20 or 30 years could be spent trying to "unravel" membership with no obvious practical benefits to the people in Scotland or in Britain as a whole.
But being even less sympathetic to the Westminster government, he says the sad part for him is that Europe has been a "running sore" within the Conservative Party for 30 years which successive Tory leaders have failed to address. This, he said, had now "backfired" on the party and the "mess" Britain is now in was the result.
He added: "If you look at post war Europe, post war America, post war Britain, there was a general feeling that social democracy, socialism, liberalism was a kind of inevitable future.
"What we have seen in recent times is that is not the case. If you use the word populism, it's the idea that a lot of the public are disillusioned. Politicians are offering a great deal but delivering very little.
"What concerns me is that a lot of people voted for Brexit on the basis of  this idea that Britain once ruled the waves, this idea that Britain was once a great power. The nostalgia and the sentiment of all that – whether it was ever the case or not.
"But the danger is – and this was reflected in pre-war Europe – is that populism is not a new idea.
"Populism is an old idea in new garb, and the worry for me is that at a time when people have real fears, real anxieties, real issues about globalisation, about employment, about climate change, we are actually being distracted by populism."
Mr McLeish said the serious challenge for progressive political parties whether that be the Labour Party, the Liberal Democrats, the Greens or the SNP was to "re-think" politics in such a way that citizens' views are listened to and represented.
He said those progressive parties should unite to block Brexit in the Commons, adding that in Scotland they should unite to "make sure that the Scottish people, the Scottish government, the Scottish Parliament remain opposed to what is happening".
He added: "If you take Brexit and Trump, they are offering a great deal that will never happen, and so in a sense the public in my view are being disrespected by the lies, some of the statements that have been made.
"But rather than just for example in America concentrate on the weaknesses of Trump – the person's obvious short comings – you have to concentrate on why 63 million people in America voted for Trump and why 17.4 million people in Britain voted to leave the EU.
"That's the kind of respect these voters need. Not to ignore Brexit but to respect their genuine concerns that we are currently not addressing."
Mt McLeish said that after 10 years of SNP government in Scotland there's "no doubt" they had been successful.
But he said the SNP's "gas is on a low peep" at the present time and it was up to other parties not only to recognise that but to come up with an attractive and viable alternative.
Mr McLeish believes that the very future of Britain is at stake unless it stays in the European Union and adopts a federal style of government within the UK.
He said it was "contemptuous" the way Prime Minister Theresa May had treated the aspirations of Scotland and the other home nations with regards Brexit.
And he insists that if Westminster does not "grapple" with these issues urgently, he would not rule out Scotland deciding it wants a "different kind of future" because the "dynamic had changed" since the independence referendum of 2014.
He added: "There's no doubt that Scotland could be an independent country. There's no argument about that.
"But my argument is that we (Britain) stay in the European Union and help reform the European Union as it moves forward. Secondly, I believe in federalism which to me is the only alternative to Scottish independence.
"Federalism as far as Scotland is concerned is not just about more devo-unionism.
"This is about having a written constitution in the UK, it's about the four nations of the UK having significant real power.  It's also about a massive shake-up of Westminster, including, as far as I'm concerned, scrapping in its current form of the House of Lords.
"Maybe it's too late. Maybe it should have been discussed a decade ago. Maybe the SNP have too much of a hold now in terms of independence.
"But I believe that twinned prong approach is the only solution."
Mr McLeish said he keeps a "very open mind" about the future of Scotland and remains "spectacularly optimistic" about the future of the UK.
He said countries like Germany had shown how federalism can work.
However he added: "If we are out of the EU and we can't see a federalist UK, then I think the dynamic will change dramatically for many Scots, including myself.
"Interdependence in Europe is a very attractive proposition. My book is a plea to Westminster, to the Labour Party, to recognise that being in the EU is important and if we are not in the EU it does put pressure on Scots to look at a new way forward."
Henry McLeish was born in Methil a quarter mile from what is now Keir Hardie Street – a residential area named after the founder of the Labour Party.
His grandmother was a socialist who died when she was 91.
His grandfather, who, like him played for East Fife, was a mine worker who fought in the First World War, came back traumatised, became an alcoholic and then became an evangelical socialist.
Alongside his parents who were also socialists, they were great influences on young Henry's life, inspiring him to pursue his own political career.
In those days, as Henry puts it, voting Labour was "as easy as breathing".
"The only opposition were the communists!" he says.
However, as far as Henry is concerned, while the context of modern politics might have changed, the very issues that affected the Labour Party in 1900 when it was formed are still the very issues that dominate politics today.
"It's still about getting work, the quality of work," said Henry.
"It's about decent education, decent health service. These were the founding issues of the Labour Party and of course the founding issue was to represent working people in parliament.
"That's still the main aim today. So despite how modern we are in this very sophisticated world, the very principles that fired the Labour Party and fired myself, are exactly the same today as they were then, so I take some comfort out of that."
Henry cites the respect the party had locally when he was growing up. Because the people were the party, they had "great vision and great respect"  for the public who respected them, he said.
However, he admits a "sense of entitlement" within the Labour Party could be blamed for its general decline in Scotland over the past 20 years.
He said: "There has been a sense of entitlement – there's no doubt. In the early 1950s, the Conservative party had 50% of the popular vote in Scotland.
"In the 60s, 70s, 80s and 90s, Labour was on ascendancy.
"When I was elected to Parliament in 1987, there were 50 of us. I think there was a sense of entitlement.
"But despite the fact we delivered devolution, we then lost traction. And in 2007, for the last decade, the SNP have dominated. And whether you like independence or not, they have come out with a clear cut policy that captures many of the hearts of Scots as well as their minds, but whilst people may argue against it, it has been clear in the minds of Scots as an alternative future."
Mr McLeish said the challenge for Labour was to come up with a viable alternative.
He praised Kezia Dugdale for helping the Labour Party make some "real progress" in Scotland.
Ms Dugdale suddenly resigned as leader of the Scottish Labour party last week, claiming the party needs a new leader with "fresh energy and a new mandate".
In a decision that caught the party by surprise, she wrote to the party's Scottish executive committee last Tuesday to announce she was standing down with immediate effect.
Mr McLeish said Ms Dugdale had "done much better than others" for Scottish Labour in recent times. He claimed she had been "held back by Westminster attitudes" and "some negative advice in Scotland"
Challenging contenders for the post to come up with "new ideas" to drive Labour forward, he added: "I want to say on record that she has done a lot better than people have given her credit for.
"She has seriously grappled with some outstandingly complex issues in Labour politics in Scotland, and she got Scotland a place on the national executive of the Labour Party.
"Some of her thinking was much more progressive.  She can leave on the basis that she's done well."
Mr McLeish said there was now an "unparalleled opportunity" for the other parties, including Labour, to contest the SNP. But more importantly, he said, they had to come up with some fresh ideas.
"Too much has been 'we need more devo'," he said. "But that's not working. We talk about federalism but not as much as it should.
"So part of the reason for Labour dipping in the polls is the fact we've had no real alternative to independence and we've not evolved the devolution bills that we created.
"The other thing is the SNP have made independence look like the natural policy of Scotland. I don't believe it is.
"But on the other hand, they have become the voice of Scotland over the last decade.
"Labour has been so tied to Westminster, so tied to centralism, that we have actually not been independent enough in our own thinking to contest and counter what the SNP have been doing.
"So for Labour to become the voice of Scotland again, some of the things I've talked about have to happen.
"The other thing of course is that the party has lost confidence in itself with too much influence from Westminster and not enough original thinking. That needs to change."
Mr McLeish said if Labour had had "half a campaign" in the run-up to the Brexit vote, then Britain would not now be heading towards being out of the European Union.
He said this was partly because the Labour leadership of Jeremy Corbyn and John McDonnell had "never been passionate advocates of the EU".
By contrast, some of the new UK leadership like Sir Keir Stammer are "showing the way forward", he said.
But on the other hand, Mr McLeish thinks there's now responsibility on Labour to "make up for the lack of effort in the referendum campaign" by putting every effort into keeping Britain in the European Union at the present time.
"Now that's a big challenge," said Mr McLeish.
"It's a big responsibility for Labour because a lot of Labour people in the north of England are concerned that we are turning our backs on concerns about immigration.
"But no we're not because half of Britain's immigration does not come from the EU anyway.
"I believe that we need a policy to look seriously at immigration but this could happen with the free movement of people continuing.
"We've got to be honest with the people who are concerned about immigration and face up to that.
"It's another area where the Labour Party has to see it as an issue but not an overgrown problem that the Conservatives have made it for narrow political purposes."
Claiming that the SNP were "not naturally left leaning" – Mr McLeish said there was also a need for "less tribalism" and "more progressive alliances" in politics.
He acknowledges that you "can't recreate the past".
But he thinks it should be recognised that in the world we live in, some fundamental principles and values never change, and while politicians often get a bad name, the majority, he says, do a good job with an ever present need for Labour-leaning politicians to help ordinary working people.
"When you consider that one in five people in Scotland are living on or below the poverty level, they need champions," he said.
"They need people to fight for them. Left to the markets, they are not going to improve their lot, improve their education, improve their health.
" One of the big responsibilities for all the political parties in Scotland is to be proud of the fact that they can be members of parliament and help people as much as they can in their lives.
"I think that's a fantastically responsible position for people to strive for, and when they get there – the vast majority of our politicians do an excellent job – I genuinely think they've just got to believe in themselves."
Citizens United: Taking Back Control in Turbulent Times by Henry McLeish is published by Luath Press Ltd and available now, priced £8.99.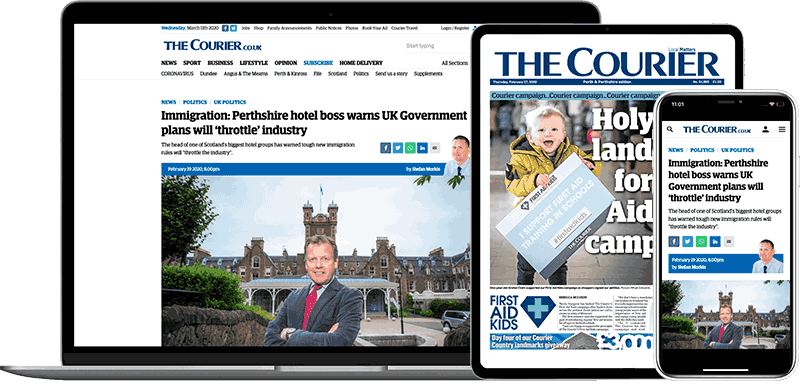 Help support quality local journalism … become a digital subscriber to The Courier
For as little as £5.99 a month you can access all of our content, including Premium articles.
Subscribe