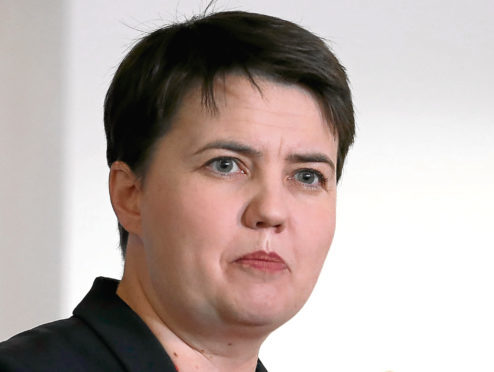 The Prime Minister should stop giving tax breaks to the middle classes and invest in the NHS instead, says Ruth Davidson.
In a pitch to Theresa May to shift the Tories to the centre ground, the Scottish Conservative leader also ramped up her call for the UK Government to dump its immigration cap.
Ms Davidson said she backed "substantial extra funding" for the NHS across the UK, adding her party is investigating how that would be paid for.
Laying out her view in Glasgow on Monday night, she said: "The UK Government has acted to reduce the tax burden on working families.
"It has honoured its promise to do so. Raising the income tax threshold has reduced taxes for millions of UK workers and has taken thousands out of taxation altogether.
"But the UK Government has a choice to make. And, if that choice is between extra spending on the NHS or introducing further tax breaks beyond those already promised, I choose the NHS."
Holyrood has control of income tax in Scotland, but the salary level at which people start paying the tax – currently at £11,850 – is a Westminster competence.
Ms Davidson said the PM's immigration cap, which limits net migration to tens of thousands a year, has "never been met and does not fit the requirements of the country".
The policy demands at the speech at Glasgow University will pile pressure on Mrs May, who was only able to stay in Number 10 after the general election thanks to seats won north of the border by Ms Davidson's candidates.
It is also likely to whip up speculation that Ms Davidson is a potential prime minister.
Gillian Martin, the SNP MSP, said: "While Ms Davidson is absolutely right when she says that the NHS has coped 'brilliantly' with the challenges of the last decade, her calls for more funding have no credibility given that just a few months ago she was demanding tax cuts for the rich that would have cost the health service in Scotland £550m."
Scottish Labour leader Richard Leonard said: "Ruth Davidson offers nothing to the people of Scotland other than division.
"The Tories have presided over nearly a decade of stagnating economic growth and declining living standards – while simultaneously eroding hard-won workers and trade union rights."