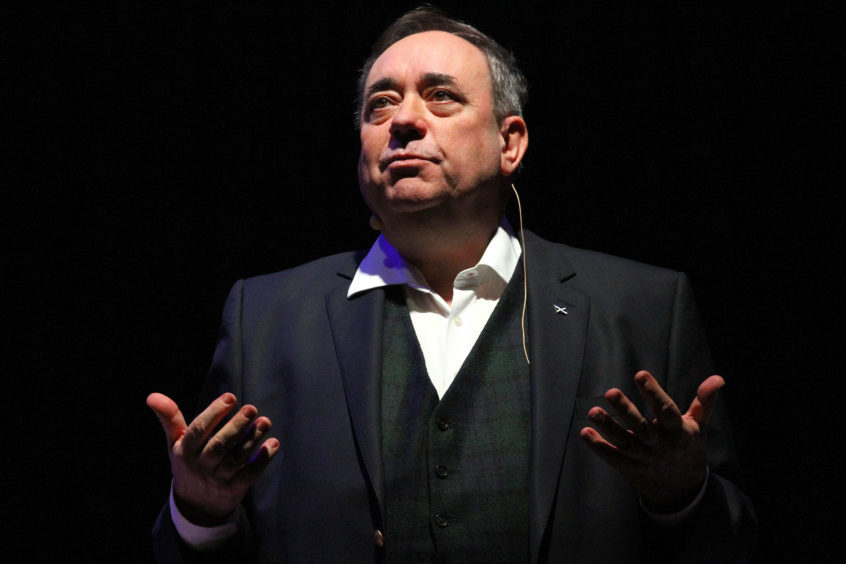 Alex Salmond is not being suspended by the SNP in the wake of allegations he sexually harassed government workers, Nicola Sturgeon says.
The SNP leader said the party does not have enough information about the complaints to review his membership "at this time".
Mr Salmond has denied the harassment claims made by two staff members, which date back to when he was in office in 2013.
The party is re-sending information to all of its members on how to file a grievance and how it will be handled, Ms Sturgeon said on Sunday night.
The complaints, lodged in January this year, were investigated by the Scottish Government and have been handed to police.
Ms Sturgeon said her administration cannot share details of the accusations with the SNP. She said her party had not received any complaints.
Responding to calls for Mr Salmond to be suspended by the party, Ms Sturgeon said: "The party has no legal basis at this time to suspend Alex Salmond's membership.
"Of course, should that situation change, the matter will be reconsidered, as it would be for any member. The party's rules apply to all members and no one is above them."
She added: "The SNP is firm in its belief that allegations of harassment must be taken seriously and that anyone who considers that they have been subject to such behaviour must feel able to come forward."
Mr Salmond responded to the statement, saying: "I agree with Nicola that every single person in Scotland, regardless of who they are, should be treated fairly and equally.
"The two most important points from the point of view of both complainers and those complained about are as follows;
"Firstly, confidentiality which is potentially as important for complainers as those complained about. Clearly it has not been maintained in this case but subject to sustained leaking of the most unfair kind.
"That helps no one but harms everyone. It is therefore crucial to find out who in government was responsible.
"Secondly, fairness. To have a just outcome there has to be a fair process. That is important for all.
"That is why that argument now moves to the Court of Session in which everyone can have confidence.
"It would be best now to leave the court to do its job."
The Daily Record published details of one of two complaints over the weekend.
It alleges a sexual assault took place in a room in December 2013 in Bute House, the first minister's official residence.
Mr Salmond has admitted he is "no saint" and had "made many mistakes".
He said: "But I have not sexually harassed anyone and I certainly have not been engaged in criminality."
The two-time Nationalist leader is taking the SNP Government to court over how the complaints were handled.
In a statement, Ms Sturgeon sided with the head of Scotland's civil service Leslie Evans over her former mentor – and expressed frustration at "inaccuracies" emerging from the Salmond camp.
She said: "For legal reasons the Scottish Government is extremely restricted in what it is able to say about these matters at this time – that includes its ability to correct what it considers to be inaccuracies in the public statements of others. That is frustrating but it is inescapable at this stage," Ms Sturgeon said.
Ms Sturgeon said she first learned of the complaints when Mr Salmond told her in April, in one of several discussions the former colleagues are believed to have had on the subject.
She insists she had not role in the complaints process, which has been overseen by Ms Evans, the Permanent Secretary.
Scottish Labour has called on the SNP administration to publish the times and dates of the discussions, minutes of the meetings and if Mr Salmond requested his successor to intervene.
Rhoda Grant, the Labour MSP, said: "The allegations against Alex Salmond are incredibly serious. His meetings with the head of a government that was investigating him must not be kept under wraps."