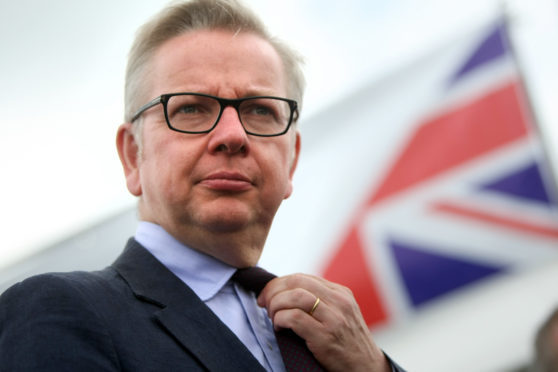 Michael Gove has been warned not to cut subsidies for farmers after announcing a review into agriculture funding.
The Environment Secretary is appointing an independent advisory panel to look at how much cash each part of the UK should receive to hand out to farmers.
The home nations are to operate their own subsidy systems from 2021 after leaving the EU's Common Agricultural Policy, which delivers £3 billion a year to domestic farmers.
Scotland will have its own subsidy regime, but will mainly rely on funding from Westminster.
Mr Gove said the review will consider each country's circumstances, including environmental, agricultural and socio-economic factors, including farm numbers and sizes.
A Scottish Government spokesman welcomed the review, but added: "This review must not simply be an exercise in playing for time in delivering funding to Scotland's farmers which is rightfully theirs.
"The only reason the UK, as the Member State, qualified for an uplift is because of Scotland – therefore, the only fair funding solution for Scottish farmers and crofters is for them to receive the £160 million in convergence funding due to them.
"Anything less than this is completely unacceptable."
An EU Commission official warned last week that rural Scotland faces devastation from land abandonment if rural subsidies are reduced, as reported in The Courier.
Rhoda Grant, the Labour MSP, said farmers must have clarity on the future of payments from both the Scottish and UK governments.
"There can be no cut to Scotland's farming subsidies under any new system," she added.