Theresa May has apologised for snubbing an MP who is demanding answers for a Dundee man waiting a decade to have his passport renewed.
British citizen Hassan Majid Mirza wants the identity document he last held in 2009 to be reissued so he can visit his family in Pakistan.
Mr Mirza has been locked in dispute since then with the Passport Office, which does not accept he is related to his late father.
Raising the case at Prime Minister's Questions for the second time since last October, the SNP's Stewart Hosie said he has been stonewalled by the government.
"I wrote to the prime minister and received a holding response two months ago," the Dundee East MP told Mrs May.
"Since then his uncle has passed away and he could not attend the funeral.
"His wife is ill but he can't visit her or his children. This is unacceptable.
"So when will the prime minister finally give me a detailed answer and when will she get a grip of the failings in the Home Office?"
Mrs May replied: "I can only apologise to him that he has not had a detailed answer from me before now.
"I will ensure he gets that but more than that my right honourable friend the Home Secretary is happy to meet him and discuss the case."
Shop worker Mr Mirza, whose family lives in Pakistan, says he has 30 documents proving his identity.
But he has been repeatedly rejected by the Passport Office when he tries to renew the travel document he previously held.
In the latest rejection letter, the PO said he was "unable to provide non-contemporaneous historical documentation to establish the relationship between Mr Mirza's claimed father as well as his identity".
Speaking after PMQs, Mr Hosie said: "I hope this latest intervention to the prime minister will finally elicit a positive answer for Mr Mirza and put an end to a decade of frustration."
The Home Office has said a passport will not be issued until "all checks to confirm nationality and identity have been satisfactorily completed".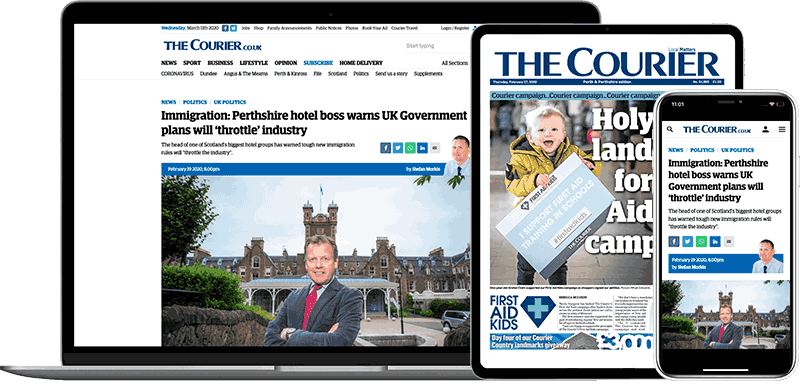 Help support quality local journalism … become a digital subscriber to The Courier
For as little as £5.99 a month you can access all of our content, including Premium articles.
Subscribe