VIDEO: Moving ceremonies held across Tayside and Fife as locals honour war heroes
Communities across Tayside and Fife joined the rest of the country to pay tribute to fallen service personnel.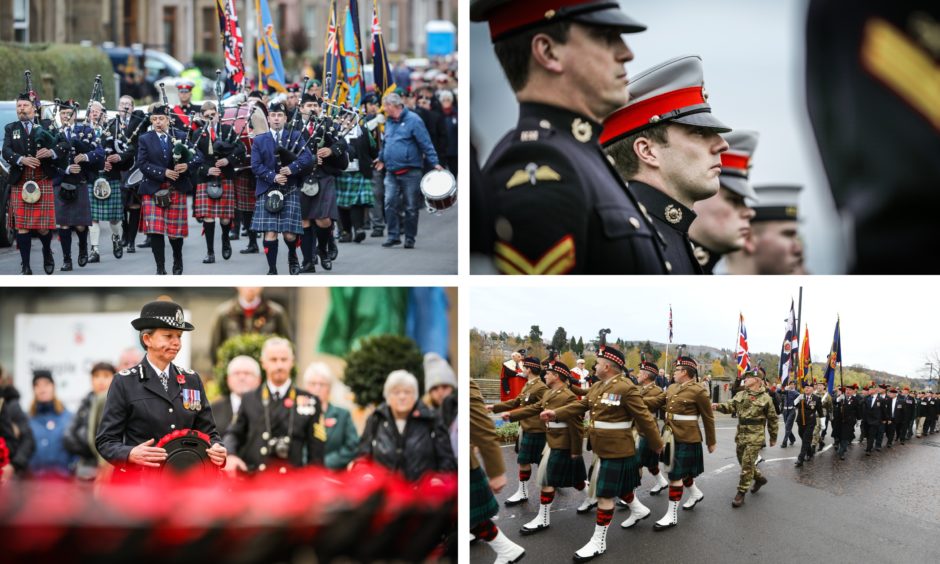 Commemorations take place across Angus
In Angus, Forfar staged the main Armistice commemorations at St Margaret's Church, followed by a parade led by members of the Royal British Legion Scotland and civic dignitaries to a wreath-laying at The Cross.
Another act of remembrance will also take place in Forfar at 11am today, with an evening commemoration also planned by Carnoustie Legion to take place at the links memorial to town VCs Charles Jarvis and George Samson.
Communities had also come together throughout the week in support of service charities.
In Montrose, a poppy themed event at Dorward House raised £883 for Help for Heroes.
The residential home's trishaw was also part of the town's remembrance parade, piloted by a forces veteran, and a resident laid a wreath at Hope Paton Park as part of the commemoration.
An earlier big sing for remembrance in Forfar's East and Old Parish Church involving local congregations was attended by more than 300 people and £800 raised for the Normandy Memorial Fund.
Kingdom remembers
In Fife, people fell silent at services across the region yesterday morning.
A pipe band led hundreds from Kirkcaldy Town House to the war memorial gardens ahead of a service and wreath laying ceremony.  As the clocks struck 11am, silence fell over those gathered as Danny Harrison from Dunfermine Town Band sounded the Last Post from a Kirkcaldy Museum balcony overlooking the war memorial.
Elsewhere, services and acts of remembrance large and small took place in towns, villages and communities throughout Fife – from St Andrews to Dalgety Bay – with those who served in the armed forces paying their respects to fallen comrades.
In Glenrothes, people gathered to lay wreaths at the town's war memorial and gardens while many stood in quiet contemplation remembering loved ones. Pupils from Levenmouth Academy and local youth organisations took part in the first Festival of Remembrance, involving poetry readings, and the opening of a new book of remembrance.
In their match against Montrose at Stark's Park, Raith Rovers under-15 girls team wore specially commissioned poppy arm bands.
In Methil, a beacon – created last year as part of the UK-wide Battle's Over Beacon of Light chain to mark the 100th anniversary of the end of the First World War – was lit ahead of a service of remembrance.
Dundee Remembrance event held
The people of Dundee also paid their respects yesterday, with a walk in the city centre. A procession made its way down Reform Street and a two-minute silence was then held at the Garden of Remembrance, St Mary's Church on the Nethergate.
Lord Provost Ian Borthwick laid a wreath at the garden which was then followed by a service at St Mary's.
Mr Borthwick said: "People across Dundee took time to reflect on the sacrifices that have been made and the lives that were lost.
"The events in the city allow them the opportunity to pay their respects."
After the service, Mr Borthwick then went to the Law War Memorial for another wreath laying service.
A service at The Black Watch Memorial, Powrie Brae, also took place at 11am with Depute Lord Provost Bill Campbell attending, as well as a submarine memorial at City Quay and a remembrance service at the Frigate Unicorn.
Poignant ceremony in Perth
In neighbouring Perth, politicians, dignitaries and members of the public gathered to pay their respects.
The commemorations began with a military parade which set off from Thimblerow through Old High Street.
The procession was followed by a civic parade with the High Constables of Perth, councillors and council officers, led by the Perth and District Band, towards St John's Kirk for a service of remembrance.
Following the service the military parade, comprising local veterans, cadets and representatives of the Royal Regiment of Scotland, performed a march past and salute, taken by the Lord-Lieutenant of Perth and Kinross Stephen Leckie, on Tay Street.
[[title]]
[[text]]
An error occurred. Please try again.
[[success]]