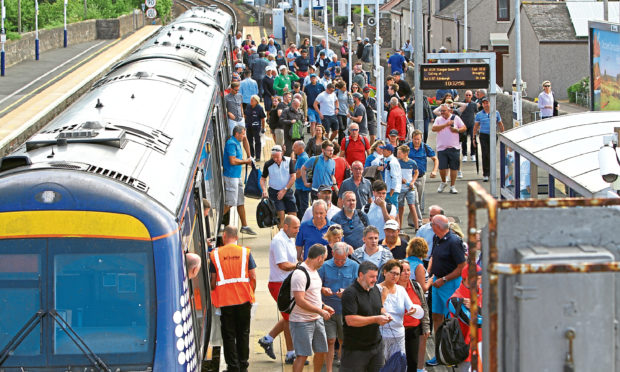 Commuters in Tayside and Fife suffer some of the highest number of train delays in all of Scotland, according to the latest figures.
November's public performance measures (PPM) for ScotRail showed the majority of late arrivals were on the East Coast main line.
Markinch had Scotland's worst result, with just 60.7% of trains being on time, followed by Arbroath at 75.1%, Carnoustie (78.2%), Montrose (80.4%) and Kirkcaldy (80.6%).
The west of the country fared better with stations in Mount Florida (97.7%), Paisley Gilmour Street (96.8%) and Kilwinning (96.6%) recording the most on-time departures.
North East region Conservative MSP and frequent passenger Liam Kerr said the situation was "unacceptable".
Mr Kerr said: "It says a lot that the bottom 10 stations in this doldrums division are outside the central belt.
"Half of them are in my region alone, which is unacceptable."
ScotRail said the rate had improved on the same period last year and it had drawn up a "robust" plan to deal with the challenges of autumn weather.
A fleet of specialist trains is available to wash leaf debris off the line and spray rails with a glue-like coating to help train wheels grip the tracks.
A ScotRail spokesperson said: "Everyone across Scotland's railway worked tirelessly to deliver a more stable, reliable, and robust service during the challenging autumn period, and it's encouraging to see improvements from last year.
"We understand and share the frustration of our customers when things do not go to plan, and we'll continue to work flat out to deliver the service our customers in the north-east expect and deserve."
10 worst performing stations for punctuality*
1. Markinch 60.7%
2. Wick 71.2%
3. Arbroath 75.1%
4. Crianlarich 76.5%
5. Stonehaven 76.6%
6. Carnoustie 78.2%
7. Inverness 78.7%
8. Aberdeen 79.9%
9. Montrose 80.4%
10. Kirkcaldy 80.6%
10 top performing stations for punctuality*
1. Mount Florida 97.7%
2. Paisley Gilmour Street ………. 96.8%
3. Kilwinning 96.6%
4. Irvine 96.7%
5. Ardrossan South Beach …….. 96.5%
6. Wemyss Bay 96.2%
7. Dalmally 96.0%
8. Paisley Canal 95.9%
9. Gourock 95.6%
10. Barrhead 95.6%
* Office of Road and Rail, Delay minutes by Category and Train Operating Company (TOC), 2011-12 Period 1 to 2018-19 Period