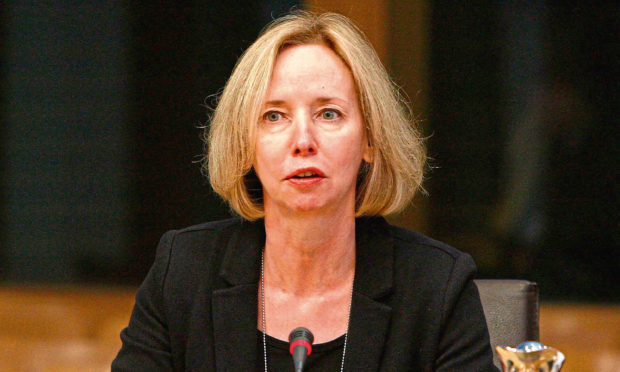 Protecting officer numbers to deal with Brexit has taken policing budgets into deficit, Scotland's Auditor General has said.
Giving evidence to Holyrood's Audit Committee, Caroline Gardner told MSPs that shelving plans to cut the number of officers left the Scottish Police Authority (SPA) with a deficit of £35.6 million in the last financial year.
Police Scotland's chief constable rejected plans to balance the books by losing 750 officers, warning the implications of UK's exit from the EU meant officer numbers had to be maintained.
The SPA has a statutory duty to set and approve the budget for policing in Scotland, based on the funding received from the Scottish Government.
MSPs heard how it is expected to spend £42 million over its budget this year, while previous forecasts for the SPA to break even by 2021 have been scrapped.
"Plans to achieve financial balance in 2020-2021 will not now be achieved," Ms Gardner said.
"This is due, in part, to the planning for EU withdrawal which has meant that the planned reduction in police officer numbers has been postponed."
The SPA, which acts as a police watchdog, was created in 2013 when Police Scotland replaced the eight former Scottish forces.
Its former chairwoman Susan Deacon quit in December, saying the system was "fundamentally flawed".
Ms Gardner described 2019 as "a turbulent year in all sorts of ways", in which the Scottish Government has given the police force a one-off payment of £17m to deal with the fallout of Brexit.
Audit director Stephen Boyle said: "From an operational perspective, the chief constable said it wouldn't be possible to reduce police officer numbers by that in order to maintain an effective policing service."
Asked by Alex Neil MSP how much it would cost to maintain the 750 officer roles that would have been phased out, Mr Boyle said: "£42 million is the operational implication of continuing to deliver services added on with the EU services.
"So it's tens of millions of pounds that are needed to meet that scenario of not reducing officer numbers."
Warning that "detailed workforce plans are therefore needed urgently" as staffing accounts approximately 85% of police costs, Ms Gardner said two options had been presented to the SPA's board to balance spending and income.
While one relied on getting increased funding from the Scottish Government, the other would have dropped the fixed target of having 17,234 officers and "reshaping the workforce overall".
Addressing the future of policing budgets, Ms Gardner added: "The focus needs to be on the way the system as a whole works to deliver this really delicate balance between making sure that policing is properly held to account in the way we all expect – given the powers the police have over our lives, our rights and our freedoms – but also that it is accountable in a democratic society and that policing continues to be delivered by consent."