Storm Dennis: Tayside and Fife prepares for major downpour and 'very strong' winds
Locals have been told to prepare for another weekend of horrendous weather as Storm Dennis batters Tayside and Fife.
Forecasters say the UK will endure another prolonged spell of unsettled and stormy weather; with snow, wind, rain and flooding all playing a part in Scotland in the coming days.
Dennis, which is currently forming near the east coast of the US, is the fourth named storm of the season.
The Met Office says it will bring "very strong winds", which could reach 70mph, and a major downpour of rain which may lead to flooding.
A Met Office yellow weather warning for wind will be in place for all of Tayside and Fife, effective from noon on Sunday until the same time on Monday.
The forecaster has warned of travel disruption including road and bridge closures. Coastal areas are expected to be battered by large waves, while there may also be power cuts and damage to buildings.
Strong winds could hit Courier country from Saturday through to Monday as the weather front moves into the UK from the Atlantic.
Poor weather is also forecast in the build-up to its arrival, with lows of -12C and snow showers possible in Scotland on Thursday morning.
On Friday wind and rain will move into the country, bringing with it a risk of flooding, partly due to melting snow.
Met Office meteorologist Steven Keates said, though the wind and rain will be felt harder in the west of Scotland, Tayside and Fife could still experience the worst of Storm Dennis.
He added: "Storm Dennis is going to arrive pretty quickly on Saturday and we are going to see some heavy rain and very strong winds.
"Winds will last into the early part of next week. The worst of the rain will be during the day and evening Saturday, and then there will be showers thereafter.
"On Sunday there is a wind warning covering the whole of Scotland. This is expected to see winds quite widely of 50mph and gusts of 60mph-70mph.
Weather warning issued as Tayside and Fife prepares to be battered by Storm Dennis
"The winds coming through could make the Tay Road Bridge prone to more restrictions, and other bridges around Scotland.
"With Storm Dennis the worst of the weather is going to be to the west. If you live to the east, rainfall will be considerably less, but there will be some rainfall nonetheless.
"During the 24 hours of Saturday you are in the range of 10mm-20mm of rain, considerably more if you head into the mountains. There could be 40mm-50mm in the western side of Perthshire for example.
"In some parts of the UK (we could see) 100mm-120mm of rain.
⚠️ There will be further very strong and gusty winds on Monday across Scotland and Northern Ireland #WeatherAware #StormDennis pic.twitter.com/4uphgCDoM3

— Met Office (@metoffice) February 12, 2020
"Rivers like the Tay will be quite swollen come Sunday to Monday."
The Met Office warning for Tayside and Fife adds: "Storm Dennis has the potential to bring very strong winds and transport disruption during Sunday and Monday morning.
"There is potential for very strong winds to develop across the region in association with Storm Dennis.
"The location and strength of the strongest winds is uncertain at this stage, but there is a small chance that winds will gust up to 70mph for a time.
Eighty evacuated from popular Perth venue as roof collapses during Storm Ciara
"More typically winds will gusts to 50mph at times. The strongest winds could also coincide with the Monday morning peak travel period."
It comes after Storm Ciara battered Tayside and Fife last weekend, causing chaos on local roads and damage to buildings.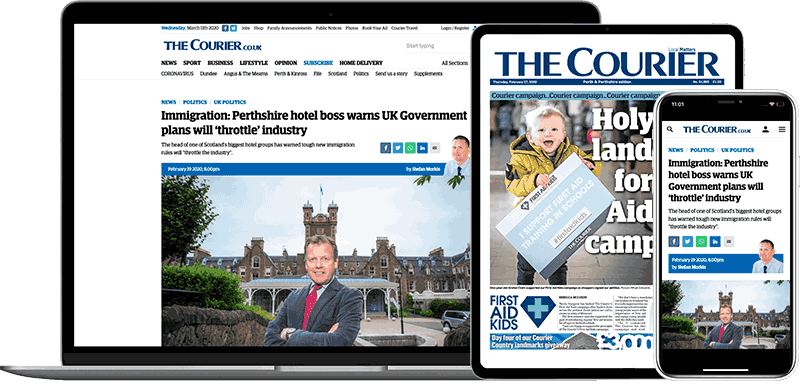 Help support quality local journalism … become a digital subscriber to The Courier
For as little as £5.99 a month you can access all of our content, including Premium articles.
Subscribe