Scotland to be hotter than Portugal, say Met Office forecasters
Scotland is set to be hotter than the Algarve today as the country sizzles in the warmest September 15 for almost 200 years.
A 1,500-mile-wide surge of hot air has seen the Met Office forecast 25C – 8C above average – in south-west Scotland.
The Central Belt is set for 22C and 30C is due in southern England.
Today will be the hottest September 15 since records began in 1841 if highs beat the 30.6C in 2016 in Suffolk, date temperature records used for Met Office records show.
Met Office forecaster John Griffiths said the balmy temperatures are not out of place.
The meteorologist said: "It's not that unusual for this time of year, we quite often get warm spells of weather in September," but these temperatures will still be some way off the highest September temperature ever recorded, which was 35.6C on September 2 1906.
Mr Griffiths said: "Tuesday we're still looking at highs of 30 somewhere in the south-east – maybe even a spot of 31 – but it will already be cooling off in some south-western areas.
He added: "Across Scotland it will actually be a warmer day for many on Tuesday.
"There's going to be the potential for a few showers around in some western areas and one or two of them could be heavy and the odd rumble of thunder but they're going to be very isolated where they do occur."
There could be highs of 27 or 28 again tomorrow but towards the end of the week, the heat will begin to move away and temperatures will drop to the low 20s in the warmest parts.
The September heat follows on from an August heatwave which saw temperatures top out at 34C for six days running last month.
The Met Office defines tropical continental air as: "An air mass originating over north Africa and the Sahara."
The Met Office autumn forecast, being briefed to councils and businesses, said: "September-November has above-average temperatures more likely than below-average.
"The probability the UK average temperature will fall into the warmest of our five categories is around 50%."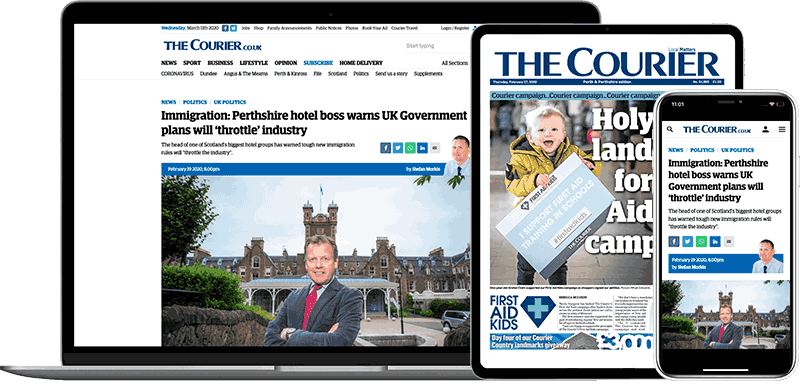 Help support quality local journalism … become a digital subscriber to The Courier
For as little as £5.99 a month you can access all of our content, including Premium articles.
Subscribe