Sports giant Nike are to stop making golf clubs, bags and balls after concluding the game has "slumped". But whilst the game may have hit patches of rough, it's far from bunkered, discovers Michael Alexander.
Tiger mania was in full swing when 24-year-old American golfer Tiger Woods strode up the 18th fairway of the Old Course to win the 129th Open Championship at St Andrews on July 23 2000.
With a par at the last, record crowds of 230,000 packed the galleries as Woods set a new major championship record score of 19-under par and became the youngest ever to win all four of golf's major championships.
Not to be put off by the streakers who decided to invade the greens at various stages over the final holes, or the unsavoury actions of a steward who took it upon himself to hurl marauding spectators into the Swilcan Burn, Woods cemented his place in history having already become the youngest ever Masters champion at 21.
But now the 14-time major winner, whose career dominance is in decline, has been dealt a further blow after sports giant Nike announced this week that it will shift away from making the clubs, balls and bags championed by the player.
The company has justified its decision by claiming that worldwide interest in golf has "slumped", especially amongst millennials.
Nike announced it will continue selling footwear and apparel for the sport, according to a statement released on Wednesday. However, sales at the Nike Golf division, which was built around the stardom of Woods, fell 8.2% to $706 million in the fiscal year that ended in May, making it the company's worst performing major category.
Woods, who reportedly signed a contract extension with the company in 2013, has used Nike equipment since before he hit the big time. The company sells a clothing line under his name.
Whilst not suggesting that its association with Tiger is specifically the problem, and with Nike sponsored Northern Irishman Rory McIlroy also affected by the decision, the Oregon-based company said it can no longer justify manufacture of clubs, balls and bags as interest in the game wanes.
Adidas AG, Nike's biggest rival, is also shifting away from golf. The company has been seeking buyers for the bulk of its golf business, including Taylor Made and Adams clubs. The operations have been a drag on Adidas's profit.
But is golf really in decline? On the one hand its profile has never been greater.  For the first time since 1904, golf will feature at the Olympics which start today – although players including the world's top four have decided to stay away, citing concerns over the mosquito-borne Zika virus.
There's also no denying that many local golf clubs have been suffering.  A 2013 newspaper investigation suggested that up to 75 of Scotland's 597 courses were in danger. The recent prolonged economic downturn, wetter weather and ageing memberships were all taking their toll on clubs' viability.
But according to Hugh Ironside, 50, vice-captain of Cupar Golf Club – the oldest nine-hole club in the world – it would be wrong to write the game off.
"Golf is certainly not dead in Cupar," he told The Courier.
"Like others, we have had a problem with declining membership. But we are trying to be more proactive, welcoming and imaginative in trying to attract new members. We recently had a recruitment campaign which successfully brought in 40 new members, bringing our membership to 260.
"One of the benefits of Cupar is that it's possible to play nine holes in 1.5 hours and we are welcoming to families and children. We try to be inclusive rather than exclusive with much more of a community feel.  I think some other clubs, however, still have a job to do to break down those perceptions of exclusivity."
Golf's governing body the R&A doesn't deal directly with golf clubs, but it does provide support to affiliated bodies such as Scottish Golf and England Golf on certain initiatives.
The R&A also supports the Golf Foundation, which does a huge amount to encourage participation among children and young people up and down the country.
The Golf Foundation was represented at the recent Open Championship at Royal Troon where it showcased its Golf Roots programme. Highlights included a visit by Englishman Andrew Johnston who appeared in The R&A's SwingZone and played a special Tri-Golf Challenge against local youngsters.
The Foundation's HSBC Golf Roots programme helps young people to enjoy the benefits of golf and encourages them to 'Start, Learn and Stay' in the game through a unique community-to-club pathway.
The Scottish Golf Union also works proactively to encourage youngsters to take up the game.
It recently highlighted a bright future for women's and girls' golf across Great Britain and Ireland, with new data revealing a surge in the number of females becoming involved in the sport.
Meanwhile, VisitScotland has highlighted the importance of golf tourism, which is estimated to be worth £220 million annually to the Scottish economy.
Malcolm Roughead, Chief Executive of VisitScotland said: "Scotland is the Home of Golf and as such is a hugely popular tourism destination for those with an interest in the game worldwide. Golf in Scotland is a £1.1 billion industry with golf tourism specifically worth an estimated £220m to the Scottish economy every year, the ripple effect of which is felt in shops, hotels, restaurants and a wide variety of other businesses across the country.
"You only have to look at The Open at St Andrews in 2015, the biggest golf event ever held in the UK & Ireland drawing in crowds of 237,000 and record numbers of overseas spectators, to see that golf events and tourism in Scotland remain a vital part of the visitor economy.
"We also have a diverse range of future golf events to look forward to in Scotland from the first ever joint men's and ladies professional competition at The European Golf Championships in 2018 at Gleneagles to The 2019 Solheim Cup as the game continues to look to attract new audiences."
malexander@thecourier.co.uk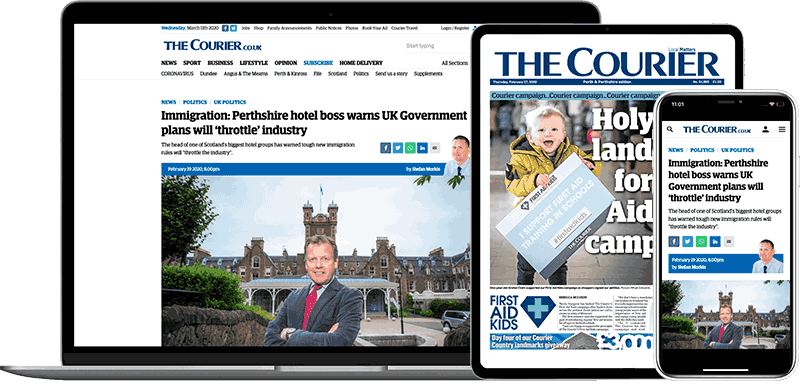 Help support quality local journalism … become a digital subscriber to The Courier
For as little as £5.99 a month you can access all of our content, including Premium articles.
Subscribe