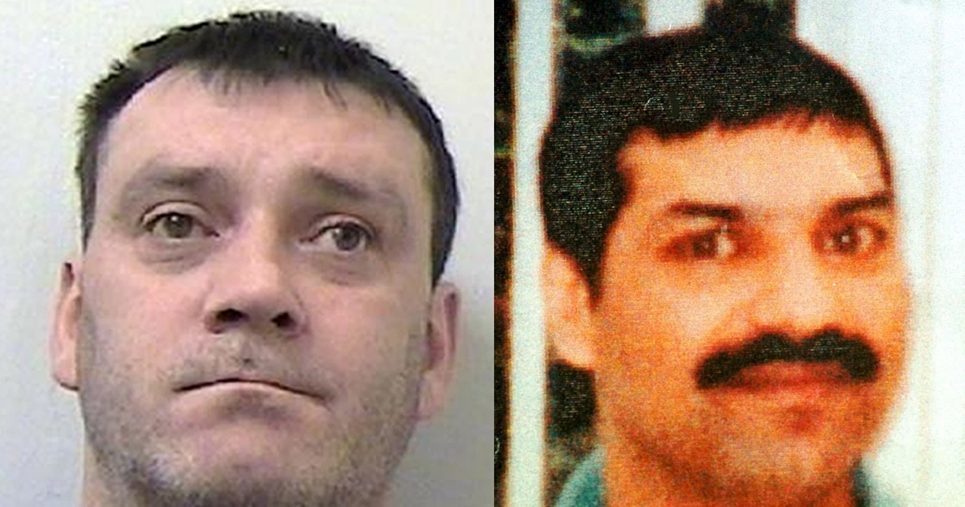 A man has been jailed for life for the "despicable and cowardly" murder of waiter Surjit Singh Chhokar in a retrial under double jeopardy laws.
Ronnie Coulter was found guilty at the High Court in Glasgow earlier this month of stabbing the 32-year-old almost 18 years ago.
The attack happened as Mr Chhokar returned from his work at an Indian restaurant in Wishaw, North Lanarkshire, on November 4, 1998.
Coulter, 48, was previously acquitted when he stood trial in 1999 for the murder but was convicted by a majority when the case became only the second to return to court since Scotland's centuries-old double jeopardy law was reformed in 2011.
He was sentenced to life at the same court on Monday, with a minimum term of 19 years and eight months.
Judge Lord Matthews said the minimum sentence would have been 20 years but he took off four months for the time Coulter spent in custody before the first trial in 1999.
The latest trial had heard Coulter, his nephew Andrew and David Montgomery went to see Mr Chhokar on the night following a row over a stolen Giro cheque. After an altercation, Mr Chhokar collapsed in front of his partner Liz Bryce.
Coulter had denied the charges and blamed Andrew Coulter and Mr Montgomery for the murder. Giving evidence at the latest trial, Andrew Coulter and Mr Montgomery admitted being present at the scene but denied murder.
Lord Matthews said Mr Chhokar was the "victim of an ambush which cost him his life".
Passing sentence, he said: "The evidence showed that what happened was not on the spur of the moment. Along with your nephew and David Montgomery, who was recruited to drive you and who on his own admission was prepared to get involved in an assault, you travelled the short distance to Overtown.
"It is plain that your only purpose was violence and you must have had a knife to hand. When the trap was sprung you were not content to let Andrew Coulter use his baton on Chhokar but you inflicted three stab wounds on his body in the most despicable and cowardly fashion.
"Thereafter you attempted to cover your tracks, and in large measure you succeeded in doing so.
"Now, many years later, you are here to answer for your crime."
The judge praised the patience and "quiet dignity" of the Chhokar family, and particularly the victim's father who passed away in November 2015.
Lawyer Aamer Anwar, who began campaigning for justice for the family as a law student, said: "In the 18 years it took to prove Ronnie Coulter's guilt, he has never shown a shred of remorse or sorrow.
"Surjit Singh Chhokar was not his only victim. His two parents, a sister, two young children and his partner Liz had their lives devastated, but today the presence of justice has finally given Surjit's family peace.
"Every step on a long journey has required the Chhokar family's sacrifice and struggle. They taught us that there may be times when we are powerless to prevent injustice, but there must never be a time when we fail to fight for justice.
"Victims' rights at the heart of our legal system will be the Chhokar legacy long after Ronnie Coulter's name has turned to dust."
In mitigation, Coulter's lawyer Donald Findlay QC said his client maintains that he was at the scene but did not "wield the knife".
Mr Findlay also said race "had no part whatsoever to play in this matter" and urged Lord Matthews to exercise leniency in respect of Coulter's treatment for depression and paranoid schizophrenia.
Detective Chief Superintendent Clark Cuzen said: "I hope today's sentence gives some closure to the family, and again I would like to thank them for their courage and dignity throughout."