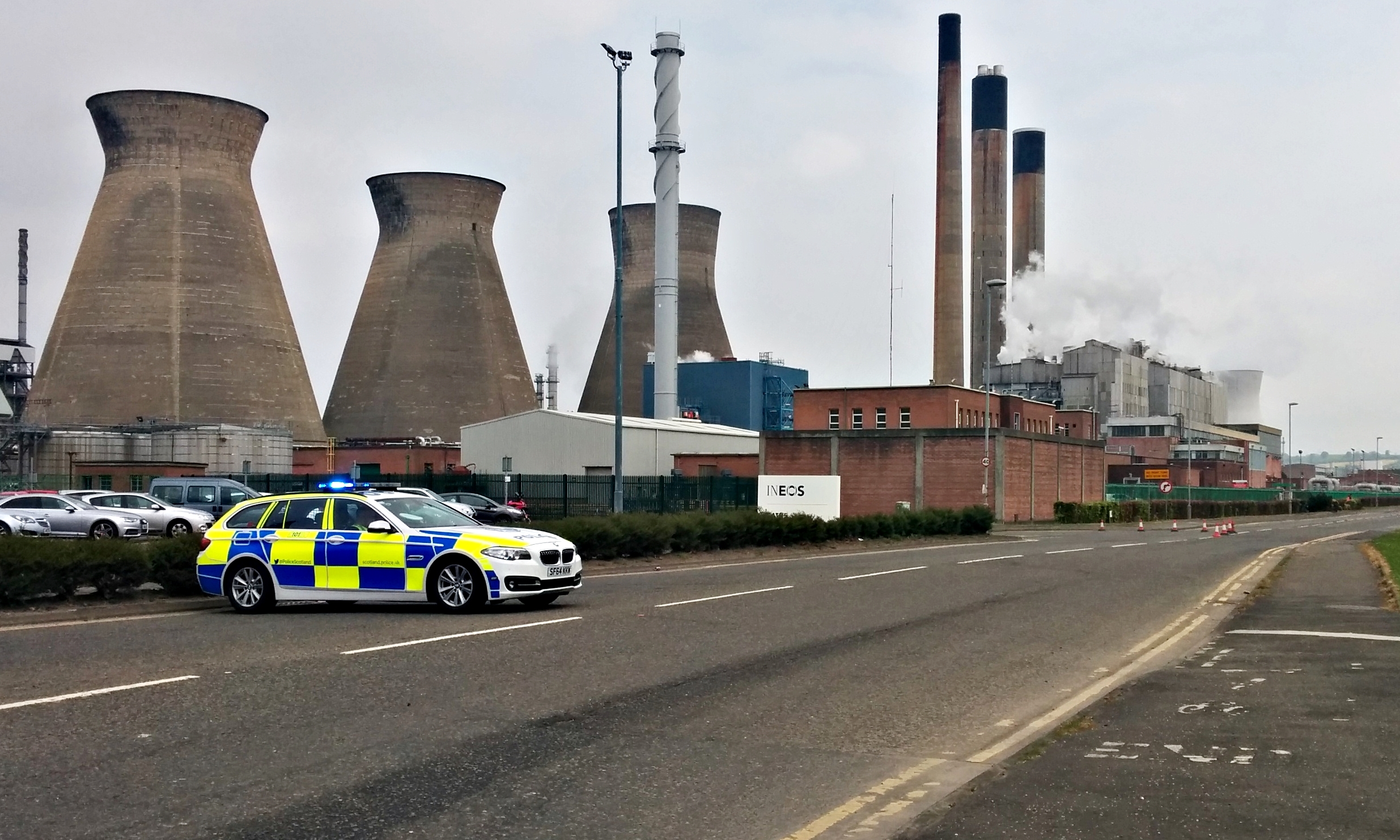 Roads were closed, staff evacuated and children at local schools kept indoors after a gas leak at the Ineos plant in Grangemouth on Tuesday.
A full investigation is under way following the incident, which sparked a major response from the emergency services.
The firm says "well-practised emergency procedures were implemented" after the leak was discovered.
However, there was criticism from some people in the area, who said the company had been slow to issue updates.
Heath McDonald claimed the lack of communication was "scandalous".
She tweeted: "Updates????? Nearly two hours since incident started. At least the schools are showing a bit sense and keeping the kids in. Scandalous!!!"
Carolyn Petrie tweeted: "Can we have an update as police have tweeted they didn't advise to stay indoors. Is it safe to be out?"
A statement issued by Ineos said: "Ineos can confirm that there was an incident at our KG (Kinneil Gas) plant today.
"Staff were evacuated from the immediate area and, our well-practised emergency procedures were implemented, with the incident management team being mobilised.
"As a precautionary measure we asked Police Scotland to close the Wholeflats road. Our on-site emergency response team and the emergency services are attending the incident.
"The incident was caused by a leak on a pipe carrying ethylene gas which has been identified and is being isolated. Measures were put in place to contain the leak in the immediate vicinity of the affected plant and as an ongoing precaution road closures remain in place.
"All of the people working in the area have been accounted for and there were no injuries.
"Other areas within the Grangemouth complex, including the adjacent refinery were unaffected by the incident.
"A full investigation into the cause of the incident is under way. The regulators have been kept fully informed throughout."
Grangemouth is Scotland's largest industrial site, housing both petrochemicals and oil refining operations.
Swiss giant Ineos operates the vast complex and has recently spent hundreds of millions of pounds in upgrading works.
I hear air raid sirens coming from Grangemouth. Hopefully this is just a test. Or this is my last tweet. Must say something profound….

— John Stewart (@John_B_Stewart) May 2, 2017
The group's headline project was the installation of Europe's largest new ethane storage tank to house shale feedstocks imported from the US shale plays on a new fleet of purpose-built Dragon-Class ships.
The project is one of the largest private sector investments ever undertaken in Scotland.
Eek. This was our worst nightmare when we lived next to Grangemouth. Warnings on radio to stay inside if you stay nearby. Stay safe folks. https://t.co/ZTBnJebc2t

— Karin Mckenny (@karinmckenny) May 2, 2017
For full coverage, see Wednesday's Courier or try our digital edition