In the first of a three part series looking at child poverty in Tayside and Fife, Michael Alexander speaks to several Dundee families who are struggling to make ends meet and finds out what efforts are being made to break the cycle of deprivation.
With just months to go until the much anticipated opening of the £80.1 million V&A Museum of Design, hopes are high that thousands of new visitors will flock to Dundee and that the city's own population will re-engage with one of the most beautiful waterfront sites in Europe.
But with a UK-wide report by the End Child Poverty Coalition revealing that 28% of children in Dundee are in poverty, and the Cities Outlook 2018 report published days later claiming that 25% of city jobs will be taken over by machines by 2030, concerns are also being raised that prospects for swathes of the city's population remain bleak.
Dundee mum Shauna Gauntlett knows all about the impact of child poverty – because she grew up in it.
Raised by an unemployed single mother, she "always lived in damp houses" and remembers going to school hungry in the days long before the creation of foodbanks.
The former Lochee Primary and Menzieshill High School pupil has no doubt that those early experiences lowered her aspirations in life, affected her school grades,  and, as an adult, the former waitress and bookies worker later became homeless and dependent on Dundee Foodbank where, ironically, she had been helping as a volunteer.
But despite getting married in 2015 and establishing herself as a self-employed drama teacher, she was reminded in 2016 just how perilous Dundee's low wage economy can be.
The now 30-year-old had so little money after the birth of her son that she could not afford maternity pads to tackle her post-natal bleeding.
The struggle to buy the pads is one example of what she regards as the scandal of "period poverty".
Shauna was delighted when Jacob was born.
But he arrived in the middle of the month between pay days for her civil servant husband Bennie, 32.
Surviving on only one low wage, the couple had a lot of unexpected expenditure due to their new baby.
A delay in the payment of tax credits pushed them to the breadline.
Back home after the birth, Shauna bled for more than a month after her stitches burst and hadn't expected the extra outlay on maternity and sanitary pads.
She had to ask family and friends to buy those products and plead for groceries.
She's pleased that free sanitary towels are now being given out to women on demand at foodbanks.
But she says "period poverty" is often overlooked – as is the fact that many of those forced to use foodbanks are the so-called 'working poor'.
Dundee father-of-three Mark "greets inside" when he waves his children off to school in the morning and sees some of the other children going off to class- knowing some of their basic needs aren't met.
He instinctively knows how to spot families who are struggling because he's there himself.
It reminds him of the "upsetting" time children at a birthday buffet stuffed their faces like they'd never eaten.
But despite being below the poverty line himself, he tries to keep the realities of his family's economic circumstances hidden from his own children to protect them from "stigma and shame".
Mark, 41, overcame a difficult upbringing in a Dundee housing scheme north of the Kingsway.
Having been physically abused by an alcoholic father in his school days and often going hungry as his mother worked two jobs and still struggled to feed him and his siblings, Mark, a former Scotland schoolboy footballer who once trialled for Hibs,  left school at 16 and entered full time, albeit low paid work which barely paid the bills.
His simple ambition in life was to provide a stable family home unlike anything he'd experienced growing up.
After years of low earning, he felt he was on track to achieve this when he secured a £30,000 a year job in retail.
But around two years ago, Mark's world fell apart when he had a break down linked to family illness and years of pent up mental health issues related to his past.
Mark was made redundant due to ill health and ended up on benefits.
That's when the family were pulled into poverty.
For weeks he "sat under the window ledge" in his living room unable to go out due to his feelings of shame and hopelessness of now being in poverty
The lowest point came when he decided he was going to throw himself off the cliffs at Arbroath.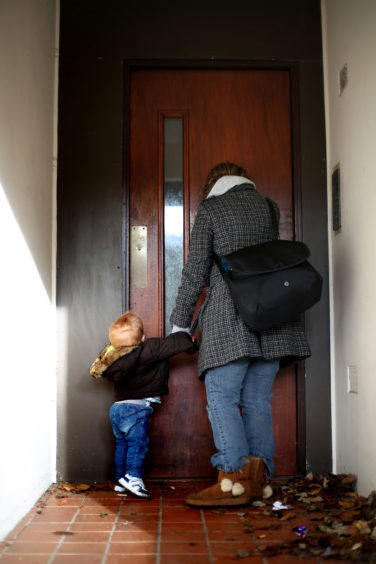 Only the thought of his wife and children prevented him from ending his life and, after receiving treatment at Carseview psychiatric unit in Dundee, he has been able to get his life at least partially on track and does voluntary work when he can.
But it's been tough and, having never been dependent on social security benefits in his life, Mark has found his family forced to use foodbanks and embroiled in disputes with the Department of Work and Pensions that have threatened to take the roof from his children's heads.
He said: "It gets so bad sometimes that I'll skip a meal just so the kids can eat. I might have a bit of toast. That's it.
"I've lost two stone in two years which to be honest I probably needed!" he jokes.
"But it's the other things like the kids not being able to go to after school clubs. I try to keep the house looking as neat and tidy as we can.
"But a lot of things we had when I was working we've had to sell.
Mark, who is keen to get back to work, doesn't have a magic wand to solve child poverty in Dundee.
But rather than simply throwing vast sums of money at the problem, he believes the key is to target specific causes – and he'd also like to see people rallying round more in their own communities.
He added: "If someone has mental health issues like I do, then that should be targeted. If it's drink or drugs, then that should be solved first.
"It's heart breaking what's happening – there are people worse off than us – but even if some people can have their aspirations raised, the benefits can ripple out from there."
Dundee Foodbank, which operates from five locations in Dundee, gave out 9,520 three-day emergency food parcels to people in crisis last year.
Manager Ken Linton said the End Child Poverty Coalition figures tally with his foodbank's own figures showing that of the more than 8,500 people they fed in Dundee last year, 2,500 of them (more than 29%) were children.
"It's a phenomenal number of children," he said. "It's a huge worry. We will always feed the children even though we have the rule of thumb of three parcels per household in six months.
"However, if there are children involved in the referral then we will always ensure that not just the child but the whole family will be fed .
"You can't be in the position of not feeding the children in this day and age. That's a non-starter as far as we are concerned. We will try and slip in a couple of treats – some chocolate or biscuits– if we can."
Run by 140 volunteers across Dundee, Mr Linton said that from 2012-16, the main reason for people accessing Dundee Foodbank was social security benefit change or delay.
However, the biggest "step up" in the use of Dundee Foodbank over the past year has been the "working poor" struggling to get by on low income – and many families were affected.
Last summer and in the October holidays, Dundee Foodbank also supported the Dundee Bairns 'holiday hunger' programme.
It provided cereal boxes to those children identified as missing out on meals because they were not in school.
"We see a number of people who are in work poverty," he said, "and many of those have children to feed or have children at home who've turned 16/17, are out of school, and suddenly there's no child tax credits coming in which tips the finances over the edge.
"The implications of Universal Credit is also kicking in for a lot of people in the city leading to periods where people have no income.
"If people are changing benefit and being put on Universal Credit – maybe because a child is leaving school – there's this potential minimum five week delay before getting any money.
"Low income is often the reason they are not able to survive those five weeks – trying to make up the shortfall."
Mr Linton said "stigma and shame" was still a common problem amongst claimants who usually visited without their children.
But he said the overriding sentiment was "appreciation" – and that was ultimately thanks to the generosity of the people of Dundee for their donations.
Sometimes it was the people with least to give themselves who were most generous,  he said, as a recent collection at Asda Kirkton demonstrated when  the foodbank collected more than a tonne of food in one day for the first time.
"Part of that bolted in to the fact that Universal Credit had just come in," he said.
"Therefore it was still a whispered topic in the town. Basically twice what we would normally have got. I think people just stepped up to the mark and were very generous."
After 14 years of helping to set up and run foodbanks across Scotland, former Dundee-based charity boss Ewan Gurr saw at first hand that between 30 and 38% of referrals to foodbanks in Scotland were children.
But the 32-year-old former Harris Academy pupil, who set up Dundee's first foodbank when he was 19, said "one of the most heart breaking things" for him as a foodbank manager was going into the local school where his wee boy is now in P1, and doing emergency food appeal presentations for children – knowing that many of the "wee faces" looking back at him were children he'd first encountered at Dundee Foodbank.
 "I've seen poverty and I've seen child poverty specifically in every local authority in Scotland," said the father-of-three, who took voluntary redundancy as Scottish manager of the Trussell Trust last month.
"And the fact is that children cannot pay bills. Children cannot go out to work. Children are entirely dependent.  And for that reason I think what we need to do as a society is have a rediscovery of the family unit.
"There was some research done recently by London School of Economics of 11 to 14 year olds.
"They made a direct link between the family unit and good outcomes in life.
"The point about the family unit is really crucial – because there's a lot of family breakdown in Dundee."
Ewan puts the rise of foodbank use in Dundee – and elsewhere – down to an "explosion" in food, fuel and housing costs coinciding with years of stagnating low wages against a backdrop of general industrial decline.
There have also been many redundancies in the city.
On top of that, changes to the social security system have also pushed many people below the poverty line.
It's led to an "epidemic of hopelessness" for many, he said, where people are "broken and oppressed".
So it's with mixed emotions that he looks forward to the opening of the V&A Museum of Design in Dundee in September.
He would like to see the Scottish Government invest more in small business creation in Dundee.
He added: "I think while the V&A does herald a new potential for Dundee – it'll lead to a strong increase in tourism and the impact on commerce locally will be fantastic – we also have to be aware that Dundee is a big city.
"There are 140,000 people in the city and the problem is that the employment opportunities are gradually decreasing. And that places a pressure on Dundee as the fourth city.
"The potential in Dundee that the V&A brings is good. But whether it's going to yield the amount of employment that we need to be able to give opportunities to the vast majority of good hard working men and women who are looking for employment at this moment in time, remains to be seen.
"The reality is that if people want to work in good jobs many are having to look outside the city for opportunities. Obviously this all ties in to the fact that many of these men and women who are out of work also have kids. So there's a direct consequence upon them."
Of course, child poverty in Dundee – or elsewhere for that matter – is nothing new.
Just ask Lochee Labour councillor Michael Marra:  when his family first arrived in Dundee from Ireland around 150 years ago, the conditions they found themselves in while working in the city's jute mills were "horrific".
But while the rise of social safety nets, including the welfare state at least helped raise the standard of education and social mobility for working people in the middle of the 20th century, Mr Marra, who sits on the Dundee Fighting Fairness Commission, says all the evidence suggests that this progress is now going into reverse and the growing number of children growing up in poverty is just one of the results.
"There's no doubt that child poverty is Dundee's greatest shame," said Mr Marra, who recalls how classmates growing up in poverty at St John's High School often experienced its links with mental health, economic dislocation and family strife.
Mr Marra, who was formerly head of policy for Oxfam Scotland, said: child poverty is "fundamentally linked to decisions that governments make", including "bonkers" decisions at Westminster that's seen budgets cut for "purely ideological reasons".
He points to "huge levels of economic inactivity" in Dundee and says there's a longer term question about manufacturing.
"There needs to be an aspirational future for young people that doesn't include disinvesting in education, increased class sizes or fewer teachers," he added.
"We have to raise the possibility of realistic aspirations of change."
But he says the V&A, Tay Cities Deal and potential decommissioning of oil rigs on the Tay should all be welcomed.
SNP councillor John Alexander – the leader of Dundee City Council who also sits on the Fighting Fairness Commission – is also aware of the impact of child poverty, and has strong ambitions for it to end.
He said: "Sadly, this isn't news to many people in Dundee and we know of the real hardship that all too many people face on a daily basis.
"It's this reality check that is the driving force behind initiatives such as the Fairness Commission – set up to look forensically and poverty and ways to tackle and alleviate it.
"It's also the basis on which we are taking forward investment such as the Waterfront and Tay Cities Deal – to create opportunities.
"We need to take a multi-pronged approach to tackling poverty in the city – we need to create more jobs and opportunities, we need to help people by tackling related issues such fuel poverty by investing in housing, we need to support people finding themselves in financial hardship (whether in work or not).
"We need to look at and reduce issues such as the costs of the school day for parents, we need to link services such as health and mental health services which can cause barriers to employment and to seeking other assistance.
"We have a poverty action plan compiled by the independent fairness commission which we are delivering – this has already resulted in improvements such as changes to services and an increase in the school clothing grant.
"We are spending millions of pounds on external wall insulation to tackle fuel poverty, building 1000 affordable rented properties over the next few years to provide 21st century social housing, building new schools to enhance the learning experience and funding work to assist in closing the attainment gap.
"We are supporting breakfast clubs and initiatives aimed at looked after children, we are funding hardship funds/ housing support/ welfare advice services for those that need it and we are looking to the future to create jobs.
"We are using this mirror and the reality on the ground as our guide and everything that you see and hear about in the city, from new housing, new schools, the V&A, the Tay Cities Deal, decommissioning are all being progressed to tackle these issues and improve the life chances for the city's children and adults.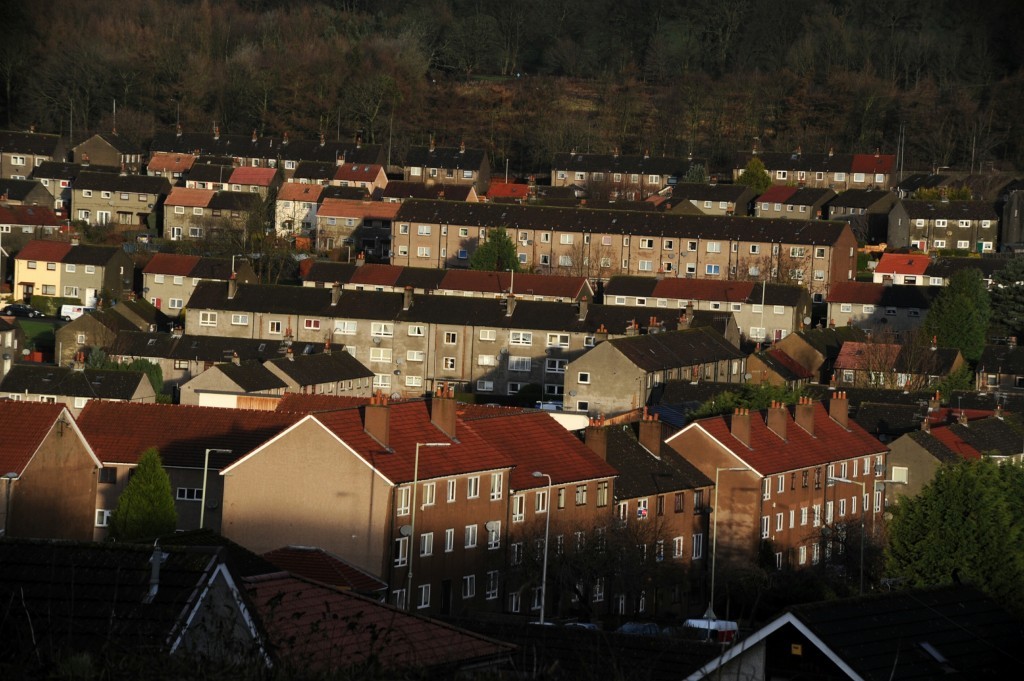 "We can't and won't shy away from the scourge of poverty: we'll use it as our motivation to create a better Dundee."
*In Wednesday's Courier in the second part of our special series looking at child poverty, The Courier's Michael Alexander looks at the scale of the issues in Fife and visits Glenrothes where the utopian vision of a 'new town' created 70 years ago is being challenged by some of the highest child poverty levels in the Kingdom.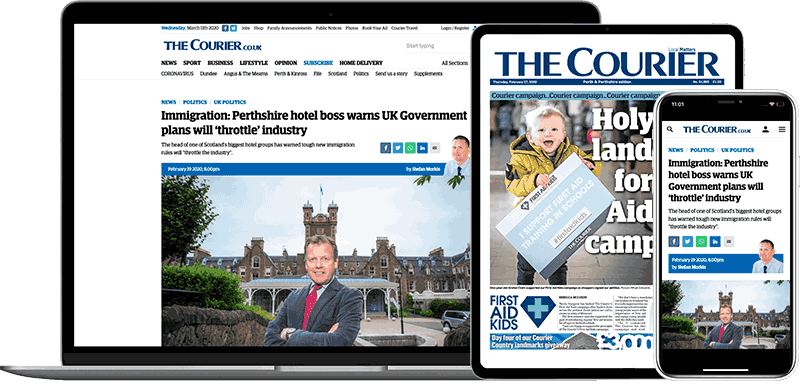 Help support quality local journalism … become a digital subscriber to The Courier
For as little as £5.99 a month you can access all of our content, including Premium articles.
Subscribe