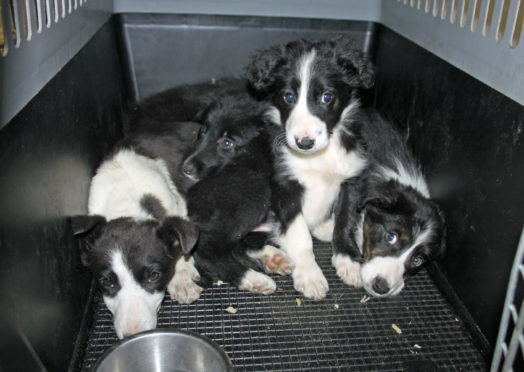 An MSP wants to change the law to make it a requirement for people to have a "responsible and informed approach" to owning a dog.
Christine Grahame said the move could help "tackle the horrors and misery of so-called 'puppy farms"'.
The SNP MSP has launched a consultation on her planned member's bill, which aims to improve regulations around the breeding and sale of dogs.
The plans have already got the backing of animal charities including the Scottish SPCA and the Dogs Trust, as well as The Kennel Club.
Ms Grahame, convener of Holyrood's cross-party group on animal welfare, said: "My proposed bill seeks to better regulate dog breeding but, most importantly, for the first time it would also place new obligations on owners as well as breeders to ensure a more responsible and informed approach to owning a puppy or dog, to reduce the distress to both animals and indeed owners, some of whom may find they have been duped with all the heartache which follows.
"I also hope that, through placing responsibilities on those acquiring a puppy or dog, it can help tackle the horrors and misery of so-called 'puppy farms' and the inappropriateness of online sales."
Inspectors seize 27 puppies being smuggled into Scotland from Ireland
The bill would ensure everyone who breeds and then sells, or transfers ownership of a puppy, is either licensed or registered.
In addition, it plans to "provide a mechanism for ensuring a more responsible and informed approach to acquiring and owning a puppy or dog".
Ms Grahame said: "Too many dogs end up with chronic health conditions from irresponsible breeding or in rehoming centres having gone to a home that was wholly unsuitable in the first place."
She launched the consultation at the Edinburgh Dog and Cat Home, where director of operations Lindsay Fyffe-Jardine warned: "There is a growing problem of irresponsible breeding activities in Scotland.
"While we understand that many people have the best intentions when they go to buy a dog, it's important that we better safeguard the public, and our animals, from these illicit practices."
Mike Flynn, chief superintendent of the Scottish SPCA, said: "We fully support and welcome MSP Christine Grahame's member's bill proposal, which is in line with our #SayNoToPuppyDealers campaign that encourages the public to be more responsible sellers and buyers of puppies."
Jen Terris, campaign manager for the Dogs Trust in Scotland, said: "We urge anyone to do thorough research before buying a puppy to help them make sensible choices and to avoid being tricked into buying a poorly-bred puppy."
Libby Anderson, policy director at the animal welfare group OneKind, said: "Both sellers and buyers need to provide for their puppies' welfare, but at the same time it's essential they check that the other party is equally caring and responsible."
Holly Conway, public affairs manager at The Kennel Club, said: "We are delighted that Christine Grahame is highlighting the importance of dog owners sourcing their puppies and dogs responsibly."