In the first part of our look at Brexit and Scotland's fishing industry, Michael Alexander speaks to representatives from the East Neuk shellfish fleet about what leaving the European Union might mean for them.
It was described as a modern day Viking invasion as Denmark's industrial fishing fleet raided the sand eel fisheries off the East Neuk.
Throughout the late 1990s, clashes erupted as Scandinavian boats used their small mesh nets to scoop up thousands of tonnes of sand eels, mixed with some undersize fish, provoking fury that these species might have grown into whitefish of a size suitable for human consumption.
After fishing at the Wee Bankie, 25 miles off the Fife coast, the vessels, which had legitimately secured European fishing quotas, would then sail back to Denmark and land their catch there enabling it to be pulped into animal feed.
But 16 years after overfishing was blamed for the last white fish being landed in the East Neuk, is it fair to blame membership of the European Union and the Common Fisheries Policy for the changed fortunes of the Fife industry – or is this accusation simply a red herring?
Fife Fishermen's Mutual Association (Pittenweem) Ltd (FMA) manager Tom Mackenzie says there's no doubt that the indiscriminate hoovering up of small haddock at the Wee Bankie during the late 1990s had a "big impact" on fish stocks and the marine food chain, and was the "beginning of the downfall" of the East Neuk white fishing fleet.
Amid wider Scottish industry concern about sustainability of species and getting control of waters, he believes memories of those clashes at least partly explain why the majority of today's East Neuk prawn fishermen "probably" voted to get out of the European Union when "given the choice".
Yet despite Brexit happening at a time when the majority of the East Neuk's £4 million per year shellfish catch is exported to EU countries, and despite Pittenweem Harbour recently receiving EU funding of £20,000 towards an ice factory and £12,500 towards a new forklift, Mr Mackenzie does not think Brexit will have an impact on the East Neuk fleet.
He is certainly not unduly concerned that East Neuk prawns will be left "rotting on the quayside" of Dover after March 29 next year – so long as the pound remains strong.
"There's an element of craziness whereby just about every piece of shellfish currently landed at Pittenweem is packed into lorries and goes to Peterhead or Mintlaw, Aberdeenshire, for processing and packing," said Anstruther-raised Tom, 61, whose late- father Sandy was skipper of the 50-foot Pittenweem-based vessel the Bright Ray.
"From there it is exported mainly to Spain, France and Italy – hardly ever being sold in Fife hotels or restaurants due to a relative lack of local interest.
"But our products are the best in the world. You can't get langoustine like we've got anywhere else. They (the Europeans) will still want them. They'll still pay the price. I'm confident of that."
Today, the Pittenweem-based industry is dominated by prawns, crabs, scallops, lobsters, clams and razor fish.
The 35 shellfish boats now operating out of Pittenweem mainly fish within 15 miles of the harbour, sometimes spending periods off the north-east coast of England or the west coast of Scotland.
It's a far cry from when Tom started selling fish at Pittenweem fish market at 16 in 1972. Back then the industry was "totally fish" and langoustine was thrown over the side because there was no market for it.
In the 1980s, fish was so plentiful and close at hand, that 1000 boxes per day was classed as a poor day.
But as the years went by, stocks appeared to be getting 10 miles further off and 10 miles further off shore – eventually making it unsustainable for East Neuk fishermen to reach.
Now even if the fishermen here were licensed to catch fish, he said, there's barely any to be found anywhere between the Forth and Tay estuaries.
"There are no facilities for boats now in this area either," he added. "The nearest engineer is Arbroath. It's all down to the changing costs of fishing. The prawn boats we have now have to be super- efficient."
Tom said that as well as blaming the Danes, some East Neuk fishermen blame EU quotas and regulations for the local white fish industry's demise.
The CFP, which aims to conserve stocks, gives all European fishing fleets "equal access" to EU waters – meaning that EU boats are given a share of catches in British waters at the expense of British boats.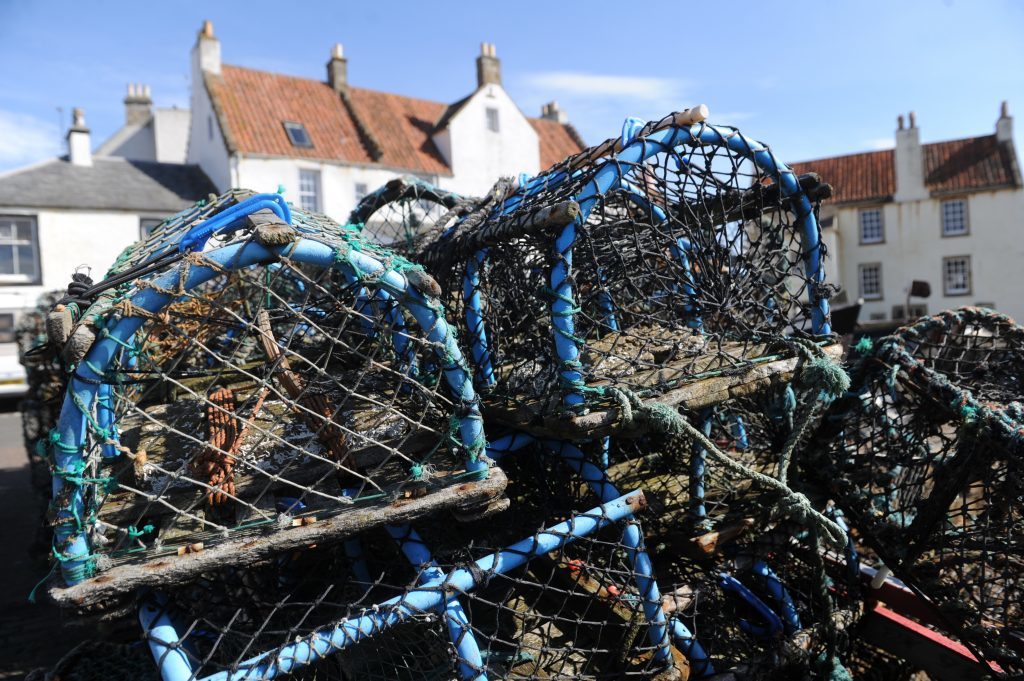 The EU Council of Ministers, guided annually by European Commission scientific advisors, determines which member states are allowed to catch each type of fish, and how much.
After quotas are fixed, each EU member state is responsible for policing its own.
When all the available quota of a species is fished, the EU country has to close the fishery.
This means that fish are often thrown overboard after being caught; yet as they are dead, this does not aid conservation.
However rising fuel costs, the impact of global warming on fish species migrations, and seals stealing catches have also been blamed.
Other non-EU issues are also a factor. Fuel costs have been issue and there's evidence that global warming could be affecting fish species migrations. Haddock and whiting, for example, are now going further north where the water is cooler.
Nationally, the white fish industry has seen a fundamental shift whereby large trawlers from the North East of Scotland, and Europe, dominate fisheries in the middle of the North Sea.
Yet with fish stocks apparently still plentiful north and south of the Tay and Forth estuaries, another theory is that chemicals washing from fields into the estuaries could be to blame for the demise of fish stocks off the Fife coast, and Tom believes there should be a thorough scientific investigation into this.
It was a theory also put forward by the late-Pittenweem-based skipper John Bowman who increasingly reported "sores" on fish off Fife more than a decade ago. Investigations ceased after Mr Bowman died at the wheel of his vessel, the Unity, which went down off Ramsgate in December 2006.
However, the Scottish Fisheries Federation says it has no evidence of this and says water quality "horror stories" around the likes of Grangemouth and the Clyde are in the past.
The Scottish Environmental Protection Agency (SEPA) said general water quality in the Tay and Forth areas is classed as "good"!
Mr Mackenzie went on to say that he thought the Scottish Government should control the Scottish fishing industry because it has a "better understanding" than Westminster of the issues.
The Fife fishing industry spokesman said he thought Marine Scotland was doing a "reasonable job" and noted that whilst fishing was something like 0.1% of UK GDP, it was 5% of GDP in Scotland and one of the country's biggest employers.
At this time of year, he said the best East Neuk shellfish boats are making "four figures a day" each – and a good crewman is earning the bulk of his annual salary during this season.
In addition to 75 fishermen based at Pittenweem, the FMA has five full time staff.
On top of that, fish processors also employ staff – including the 70 employed at Seafood Ecosse, Peterhead – who process East Neuk prawns and fish from all over Scotland.
But some of the larger fish North East Scotland fish operators, he said, were finding Brexit more of a challenge.
While a "wee port like Pittenweem won't be affected at all", he said the main concern of the Scottish Fisheries Federation, of which the FMA is a member, is "don't sell us down the river or use us as a bargaining tool" during Brexit negotiations.
"Because fishing is only 0.1% of UK GDP in whole scale of things, there's a feeling we'll be used as a bargaining tool no matter what happens," said Tom.
"So there's a general feeling nationally in Scotland that if we got our waters back – control of 200-mile limit pre-1973 – that would be a win. But I don't think they'll get the 200 mile back. Who knows.
"There's a lot of monkfish and stuff on the west coast that the foreigners are scooping up.
"Our west coast fishermen are not even allowed to catch them because there's a quota on them.
"By comparison we've got quotas for langoustine here, but it's so good it's virtually uncatchable."
Tom reiterated that provided the pound "doesn't go bananas", he is confident the East Neuk industry will be fine.
Since Brexit, the value of the pound has slumped which has made it easier for exporters.
However, another concern is fuel.  Prices have recently gone from 38p to 59p per litre for fuel.
The biggest East Neuk boat, he said, will spend around £1400 per day on fuel while for the smaller boats it might be more like £50 per week.
"The best boat last year would gross £400,000+," he added, "while a wee creel boat might gross £60,000 and he's only got one man. It's all relative. The bigger boats with bigger costs have more men which is why they have to work harder to pay for them."
Others, however, are less diplomatic about how they feel about Brexit and what it should mean.
One East Neuk prawn fisherman spoken to by The Courier, who voted to leave the EU, called for the UK to be granted exclusive access to its territorial waters and for European boats to be "blown from the water" by the Royal Navy if boundaries are breached.
In a heartfelt interview at Pittenweem Harbour, the businessman, who owns several boats, said he hoped Brexit would ultimately see European boats excluded from UK territorial waters.
But if concessions were given during Brexit transition negotiations, he hoped European boats fishing in Scottish waters – who currently contribute "nothing" to the Fife economy – would be forced to land their catch for processing and to buy fuel and supplies.
The fisherman, who previously worked in the oil industry and asked not to be named, said: "The prawn industry is healthy, the market is healthy – at present anyway.
"But the quota system is not healthy.
"My hope is that Brexit will allow Scottish, British, vessels to gain species to catch which means they don't have to go so far away.
"At the moment, there could be an abundance of white fish 40 miles away from here and we are not allowed to catch them. Yet there are French and Spaniards with the right quotas who can come steaming up here and catch them. That's ludicrous."
The fisherman said that as far as Brexit was concerned, the UK Government needed to "stop talking about it and start doing something about it."
He added: "They are going round in circles. Here's these Europeans saying 'we want control of your waters for the first two years'. What's that about?
"The UK government have sold us out that many times we don't expect anything better."
He also believes East Neuk prawn fishermen could turn Brexit to their advantage and "hold the gun to the head of Europe" instead of the other way around, a fisherman has claimed.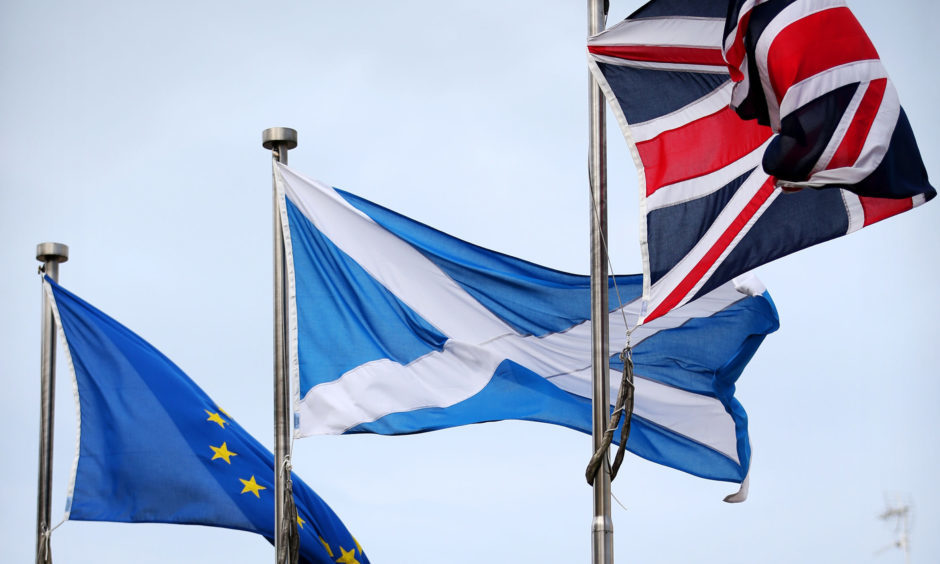 He said there was a "worry" about the transition period when Britain leaves the EU next year.
However, he said some shellfish buyers are already finding alternative markets in the Far East – and he hoped there might also be growing appetite for locally-caught shellfish produce in Fife and wider Scottish markets.
The fisherman said: "What the Europeans are saying is 'if you come out of Europe, we'll not buy any of your seafood'. "They want to hold this gun to your head. But what you are getting right now is a lot of buyers are selling to the markets in Asia. You've got Korea and China who are saying 'oh we like these crabs, oh we like these lobsters, oh we like these scallops' – some of these buyers haven't sent a crab to Europe since last summer.
"Since January they have been exporting all their stuff, by plane, to Asia.
"There are bigger markets and they are getting twice the price for it.
"It may be that power shifts from one place to another and we'll have the gun and be able to say hang on a minute we're not going to sell you any – what do you think of that?"
Meanwhile another Fife fisherman has called for a review of rules that prevent the shooting of seals in the Firth of Forth.
The fisherman, who asked not to be named, said he believed an "out of control" seal population could be partially responsible for depleted fish stocks in the outer Forth area.
"There's not been a cull since the 1970s," he said, "and yet any programme you watch, says the same thing: they eat a third of their body weight in fish every day.
"Yet ever since I was 15, we've been told 'there are 2000 breeding pair on the May Isle'.
"What are they all firing blanks like? Is there something I don't know that they have young then die? "It doesn't work that way. So there are probably 7000 or 8000 seals out there – all eating a third of their bodyweight in fish each day.
"So if fishermen's quotas were getting cut, why were seal numbers not being cut?
"There's hardly a salmon that comes up and down the Forth anymore.
"It's cleaner now than it's been in 25 years and yet there's less salmon caught.
"Why? Because there's about 14,000 mouths to pass before you get up the river.
"Nothing is done about it because it's not politically attractive. No one will pick it up and travel with it because there would be so much bad publicity."
The Marine (Scotland) Act 2010 makes it an offence to kill or take any seal at any time – except under licence or for animal welfare concerns. Sea fisheries, salmon fisheries and salmon nets men are able to protect fish, fisheries and gear by applying for a seal management licence.
North East Fife MP Stephen Gethins said: "Fishing is a crucial industry locally and particularly important to communities in the East Neuk and St Andrews.
"It is therefore important that the UK Government fulfils its promise to ensure a better deal for our fishermen.
"The East Neuk has world-leading langoustine and thanks to Tom Mackenzie and the seafood kiosk, many more people including visitors, are able to buy locally caught produce at Pittenweem harbour.
"We must ensure that the industry is supported and allowed to thrive, not beset by high tariffs on exports to Europe or delays at ports which would be damaging to the reputation Scotland has for the highest quality fish and seafood."
*In the second part of our series, Michael Alexander speaks to Scottish Fisheries Federation  chief executive Bertie Armstrong.