Michael Alexander goes behind the scenes of The Golf Explorers – a 'hip lifestyle' US-led travel show being filmed in the St Andrews area.
When American film producer Jim Kreutzer cold-called actor turned director Jason Connery a few years ago to make the Scottish BAFTA-winning movie Tommy's Honour in and around St Andrews, one of the reasons Mr Connery was hired was because he 'got' the story.
Having read Kevin Cook's book, and having visited St Andrews over the years where he used to play golf with his film star dad Sir Sean, Mr Connery understood that the true story of four-times Open champion 'Young' Tommy Morris and his St Andrews-born father 'Old' Tom Morris – himself a four-times Open Champion – was not necessarily a golf story.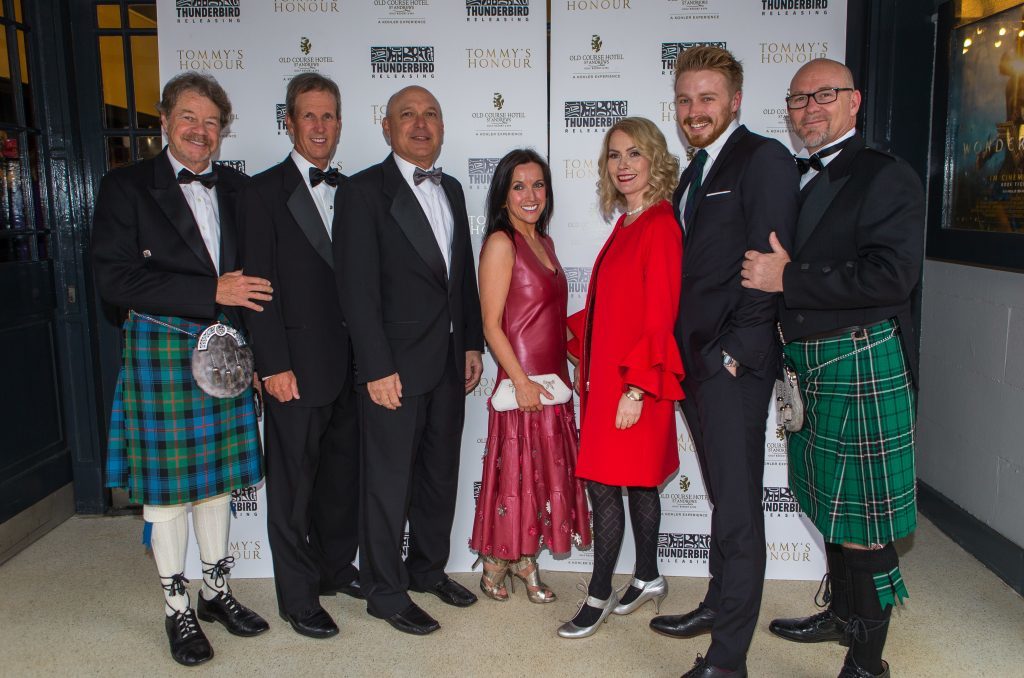 It was also a relationships movie – a life and death tragedy – about a somewhat iconic 19th century Scottish family with golf as a background.
So when Mr Kreutzer got the idea from Tommy's Honour to develop a pilot TV series which would make "golfing widows" realise there's more to St Andrews than just golf, he knew exactly who he wanted to get on board as one of the presenters.
"I love Jason Connery," Mr Kreutzer said as The Courier went behind-the-scenes of The Golf Explorers, being filmed in and around St Andrews.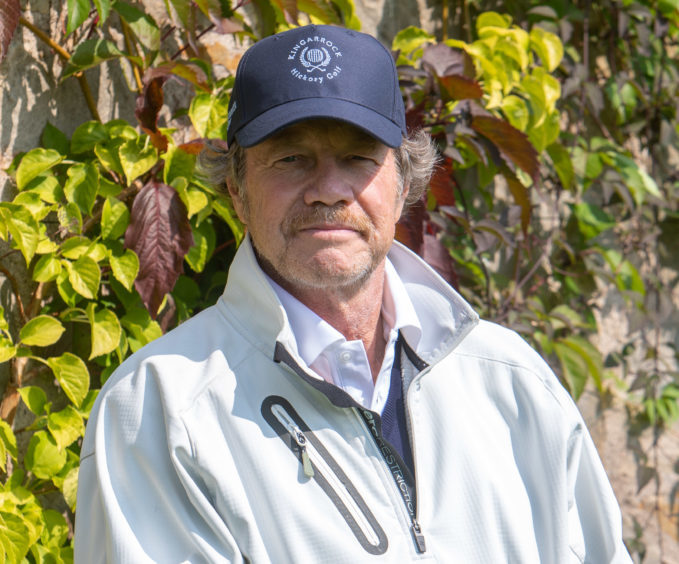 "He's one of my best friends. That came out of Tommy's Honour. I don't want to say I've become all 'Ron Howard and Brian Grazer' (Hollywood production partners for 25 years) in that there's only one guy I can do movies with!" he laughed.
"Jason's just a good friend and I know I can count on him. You want someone who you know will do a good job, get things done on time, nail things easily…Jason does that."
Chicago-based Mr Kreutzer and Maryilene Blondell, co-CEOs of Wind Chill Media Group, have partnered with directors David Spitzer of Upper Diamond (Los Angeles) and Terry Maday at Maday Productions (Chicago) to create what they describe as a "hip lifestyle programme".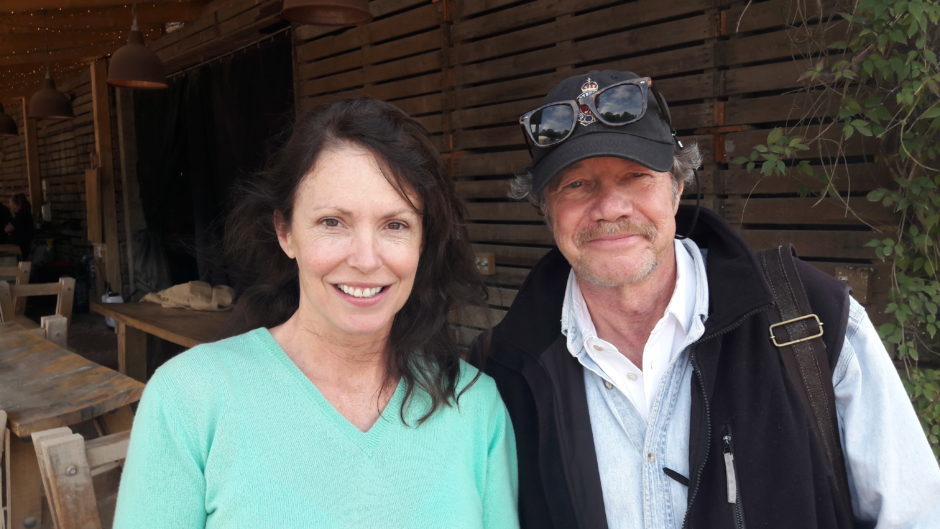 The Golf Explorers is the first of its kind – an unscripted, lifestyle driven travel series with golf as the main ingredient.
Described by the production team as being a bit like "Anthony Bordain meets golf" – a reference to the late-American chef/travel documentarian – the idea is that viewers follow three hosts as they explore the world's greatest golf courses and the surrounding town – uncovering historical and lifestyle gems you won't find in a travel guide, all the while meeting unforgettable characters that are woven into the fabric of each championship course.
Each show will feature three hosts, whose journey through each iconic golf town will be cultivated by the people they meet along the way, delivering an interactive and immersive experience, with a little bit of competitive humour thrown in.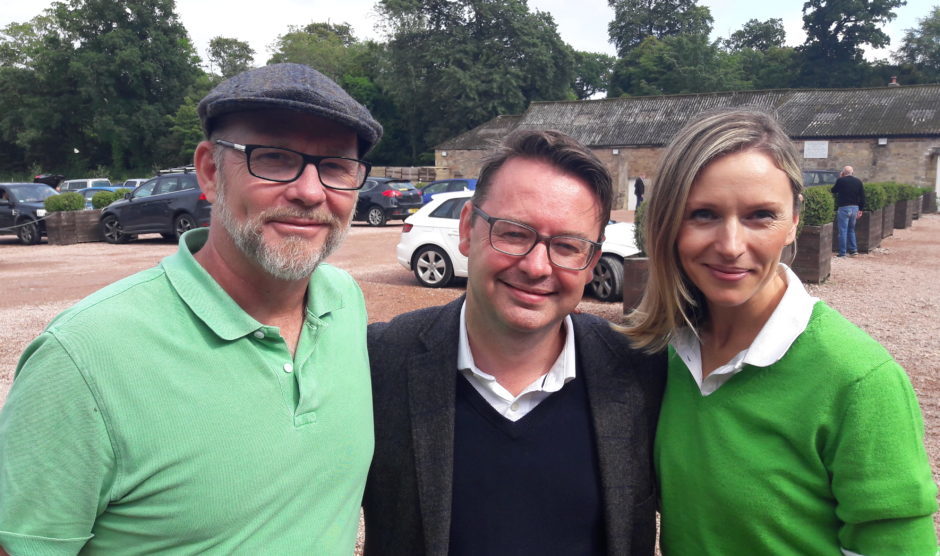 The St Andrews episode – which will be pitched to global TV networks in the hope of teeing up an international TV series – is hosted by Jason Connery, Di Dougherty (Sky Sports) and St Andrews golf historian Roger McStravick.
Last week the cast and crew filmed at locations including the Balgove Larder, Kingsbarns Distillery, Jannettas Gelateria and the Kingarrock Hickory Golf Course near Cupar.
However, the concept had "evolved" greatly ever since co-producer Maryilene Blondell came on board as a "non-golfer" and suggested that an original golf history-focussed test shoot carried out in January 2017 was "not really very interesting" and that the "only people that might watch this are 55-year-old white men sitting in their lounge chairs".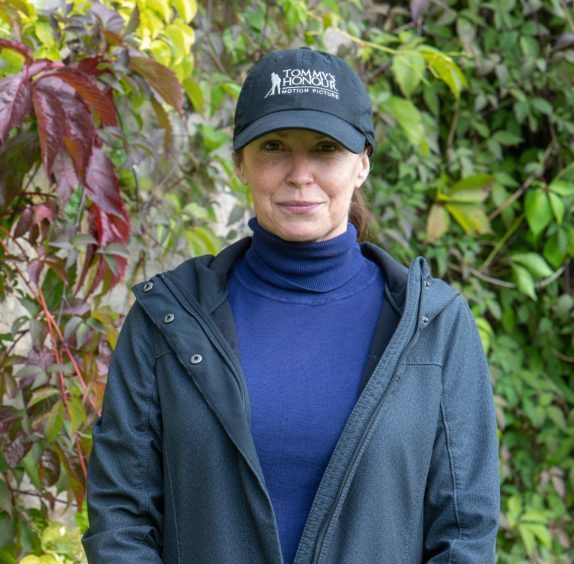 "As a non-golfer, I'm interested that St Andrews is a mecca for golf," said Maryilene.
"But I'm not interested in whether someone did a bogey or a par or birdie.
"I am interested in the little nuances – what people do when they are not golfing? All the great little stories that are behind golf –  the lifestyle, the music, art, nightlife, some iconic locations but some kind of underground places that the viewing audiences in Thailand, New Mexico, or Utah might be interested in because as everyone knows, golf has a niche market."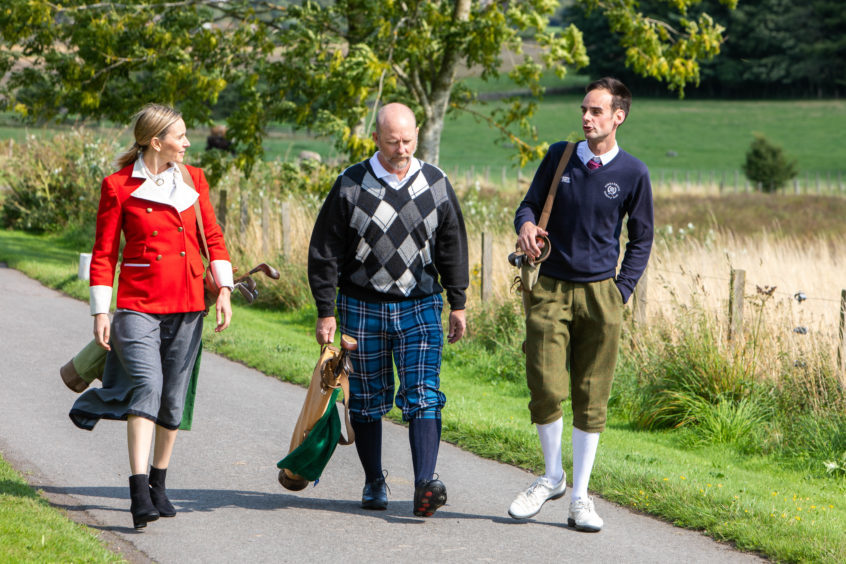 Stressing that she didn't want to know about the "clichés" of kilts, haggis, or bagpipes, Maryilene compared the revamped concept to "peeling back the layers of an onion" to dig into the vibrant, young culture beneath – whether that be interviewing a local 14-year-old champion golfer or discovering gin at the new Kingsbarns Distillery.
"It's also a bit of a blend," added Maryilene. "We've shot in front of the R&A. But we wanted to put a modern skew on it. Until fairly recently the R&A would not allow women members. That's very timely with the #metoo movement and what happened at Augusta a couple of years ago.
"It's more to kind of tell the stories – the social or cultural paradigms that are in place.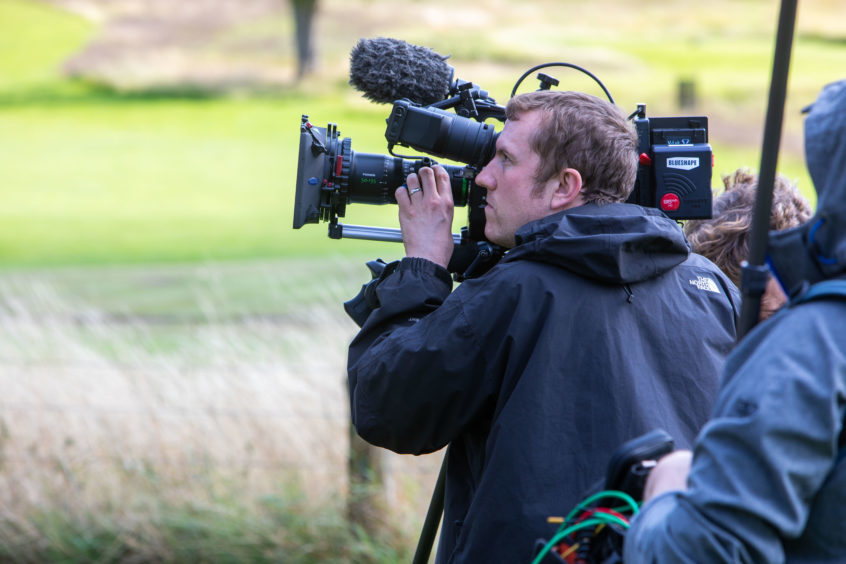 "We are absolutely trying to hook the 25s to 40s – people that would be shopping or surfing, but also the golf audience as well."
While the pilot is set in St Andrews, Maryilene said the second segment might hypothetically be in Augusta or France or India.
Presenter Jason Connery, who says he enjoys both being in front of and behind the camera, said golf can be quite polarising – people either love it or hate it.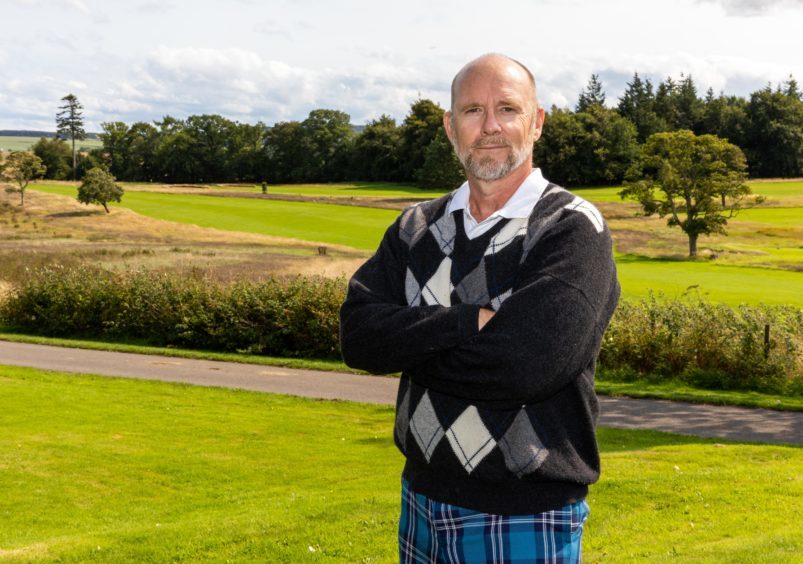 But what was nice about this programme is it's not all golf-centric – it's about St Andrews "as a whole" and aimed to cater for golfers and non-golfers alike.
He said: "Although we shot some of Tommy's Honour in St Andrews – at the harbour and the graveyard and everything and I have a place 2.5 hours away from here – I don't know St Andrews possibly as well as I should.
"We used to come here as a little boy with my dad and play a bit of golf, so I know some of the more touristy side. In a way, this show is actually apropros for me personally because there's a lot I never knew about this place.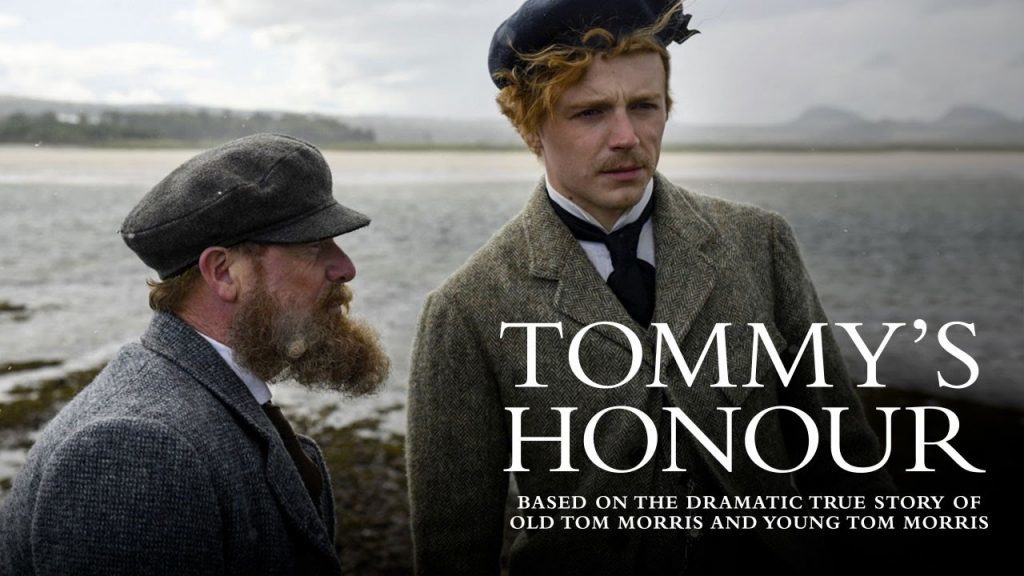 "Now the epicentre of St Andrews is probably the Old Course, the R&A and all that. Everything might start from there – but it echoes elsewhere.
"Much as Tommy's Honour was about golf as a passion Tommy and Young Tommy had, it was about the relationship they had with each other – and it's a bit like that with this programme. Golf is the backdrop, but what about the town? We are very much explorers."
Presenter Di Dougherty, who has worked in golf for 15 years including work with Sky Sports and the Golf Channel, already has a special relationship with St Andrews – her brother went to university there and she got married there in 2010.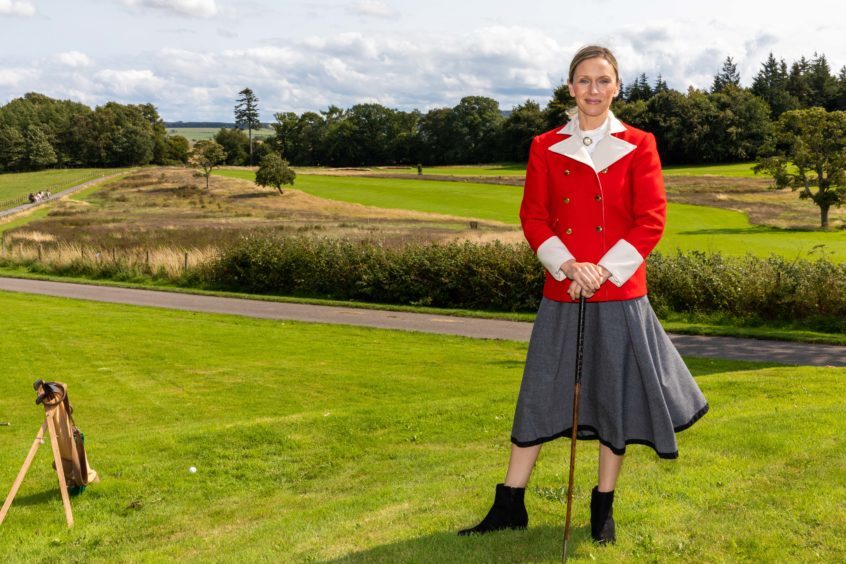 It was a "no brainer" for her to get involved – and the lack of script and friendly competition between her and Jason, had made it "fun".
She said: "If someone is interested in coming to St Andrews we are saying it's not just about golf, there's so much history to the place and so much else to do with entertainment, activities etc.
"Being here today at the Balgove Larder for example, we're learning about local produce being used.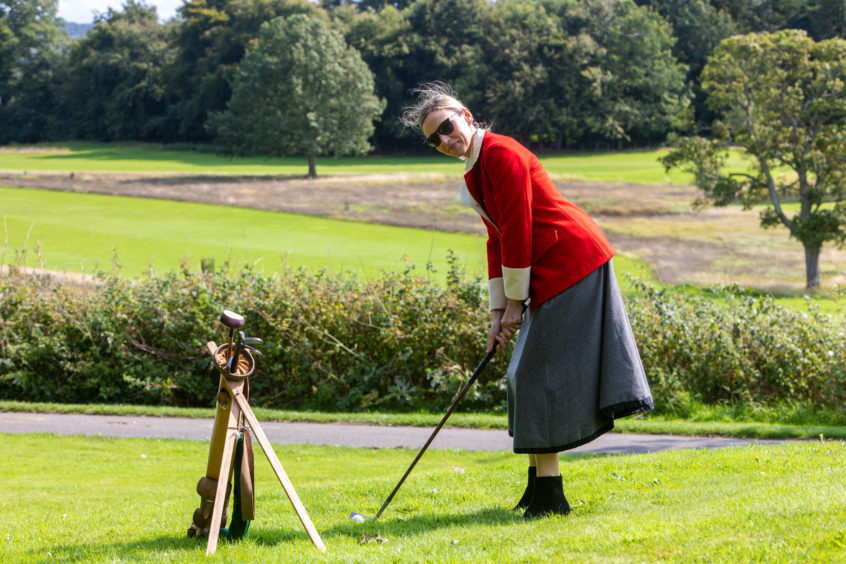 "It's so lovely in this crazy world that we live in to come somewhere like this and remind ourselves how food is meant to be produced."
The third presenter is St Andrews-based golf historian and author Roger McStravick who won the 2015 United States Golf Association's Herbert Warren Wind Book Award for his book, St Andrews in the Footsteps of Old Tom Morris.
He added: "I didn't want to give the well-known trodden path but wanted to give the lesser details of St Andrews.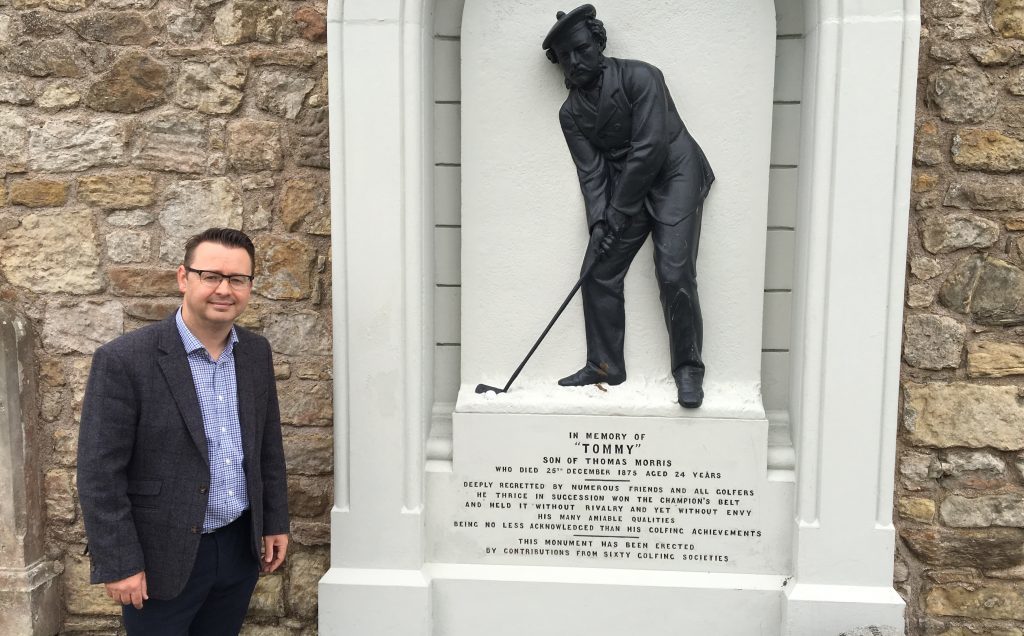 "Why the first hole is flat, why there are dead bodies under the 18th green of the Old Course – I wanted to give them unique history as well. This place is just full of it!"
Co-director David Spitzer said Jason and Di were "great at just connecting with people who have stories" which was very important when trying to dig out "secrets" of the town from local people.
"I've been to Scotland many times before but I'd never been to St Andrews before," he said.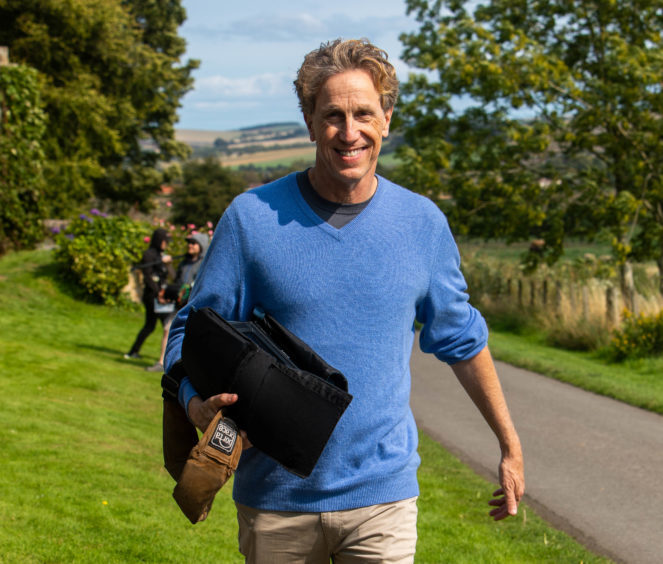 "St Andrews has the great story – as the town has developed, golf has developed.
"Even though I've been prepping for two months and I'm really familiar with the town, it's not the same as being here.  It has a special atmosphere. The sense of real people is going to help us sell the show to the development executives. We have high hopes."