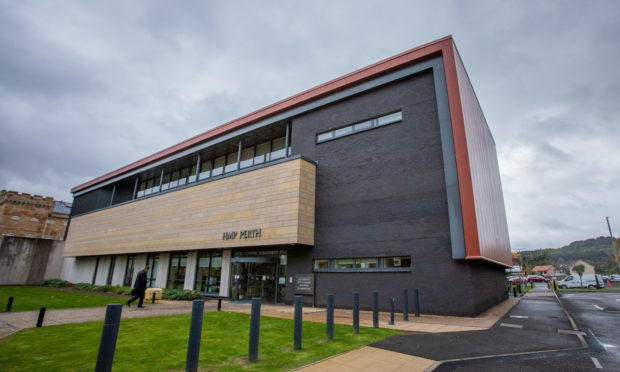 Second-hand drug smoke is affecting the ability of Perth Prison staff to do their jobs.
Workers have highlighted the increasing "strain" they are under due to the increase in the number of prisoners who are "under the influence of substances" while incarcerated at the prison and bosses pointed to the dangers of such "airborne" drugs.
New psychoactive substances (NPS)-  formerly known as legal highs – have been blamed with prison bosses putting plans in place to halt the growing popularity of the drugs inside Scotland's jails.
The issue is highlighted in HM Inspectorate of Prisons for Scotland inspection of HMP Perth, which is published on Wednesday.
The report comes only a week after two men were jailed for nearly four years for attempting to fly a variety of different drugs into the prison using a drone.
HM chief inspector of prisons Wendy Sinclair-Gieben said: "There is a huge effort to smuggle drugs into prison as their value is higher than it is in the community. However, what is noticeable from this inspection is the growth of NPS.
"The differences between that and other substances is that it not only affects the prisoner but staff may well be affected as well. It's a double-edged problem.
"NPS can be airborne. The prisoners taking it, and I hate to use this term, but they can be completely out of it. Staff have to go in and support and can also be affected."
She said officials were concerned that they could be seeing the start of a Scottish trend.
"It's the beginning of a growth area in Scotland. It has badly affected English prisons. It hasn't affected Scottish prisons in the same way but the Scottish Prison Service is fully aware of the potential and are doing significant work into looking at how NPS can be prevented from coming in," she added.
Although healthcare at the prison was marked as poor, the inspection found the prison did "many things to a high standard" and the governor "should be commended" for a range of initiatives, including a scheme where the children of inmates were allowed to visit the jail to take classes with their fathers.
"These schemes help prisoners to build lasting relationships and reduce the risk of offending. It is an excellent prison and the governor should be proud of the high number of great examples of good practice," added Sinclair-Gieben.
Tom Fox, head of corporate affairs at Scottish Prison Service (SPS), said they were aware of the problems linked to NPS.
"We have been very fortunate not to have seen the huge growth in the use of these substances that we have seen across the UK.
"We are trying to deal with what we have seen and part of that is getting across the message that these things are potentially lethal."
Paul Reilly, 32, and Michael Martin, 34, were sentenced to nearly four years in jail last week for using a drone to fly nearly £3000 worth of drugs into Perth Prison.