As a major Robots exhibition comes to the National Museum of Scotland in Edinburgh, Michael Alexander glimpses the future and discovers that so much of robotics is dependent on an understanding of humanity.
It's not so long ago that predictions about the world in 2019 would have included flying cars, cities in the sky and commuter jet-packs.
And while our reality is not quite as science fiction as once imagined, it's still a pretty clever one with everything from smart phones, electric cars and app-controlled heating systems striving to make lives easier – and nowadays, greener.
But the somewhat inevitable advancement of robotics and artificial intelligence (AI) technology has also raised a huge number of ethical and practical questions about the so-called 'rise of the machines'.
In 2014, the late Professor Stephen Hawking, one of Britain's pre-eminent scientists, warned that efforts to create thinking machines could spell the end of the human race.
Then last year tech billionaire Elon Musk, the Tesla and Space X CEO, pushed for the proactive regulation of AI because he believes it poses a "fundamental risk to the existence of civilisation".
It followed reports – played down by Facebook – that the social media giant abandoned an experiment after two artificially intelligent programs appeared to be chatting to each other in a strange language only they understood, leading to fears that – like something from the Arnold Schwarzenegger movie Terminator – computers could take over.
Last year a PwC report also warned that 30% of jobs in Britain (more than 10 million workers) are at high risk of being replaced by robots within 15 years as the automation of routine tasks gathers pace in a new machine age.
Add to that the ethics and practicalities of developing robotic soldiers and robotic surgeons, and it's food for thought as an intriguing exhibition called Robots comes to the National Museum of Scotland (NMS) in Edinburgh in the new year.
But with everything from dishwashers to washing machines already saving labour in the home, NMS senior curator of science Tacye Phillipson says the heart of the people versus robot debate is actually a discussion about what it means to be human.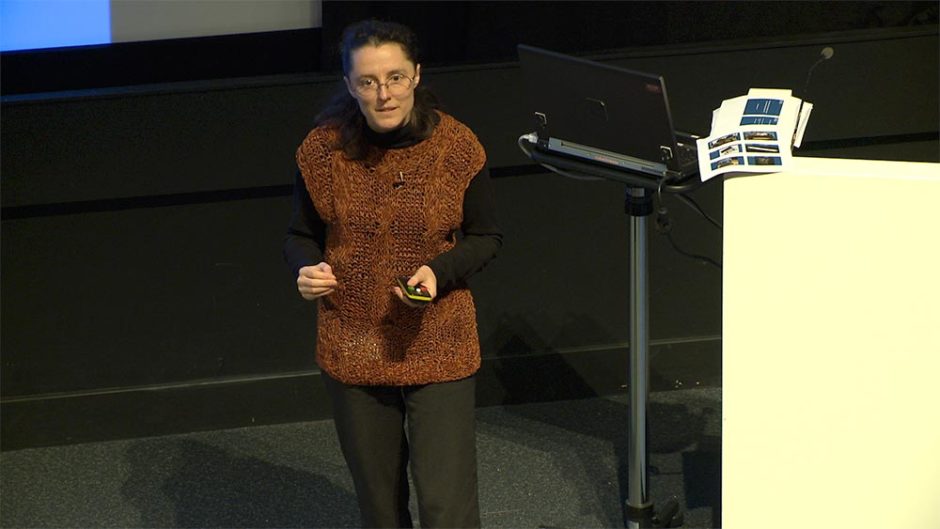 "There was some amazing research cited recently on the ethical decisions a self-driving car might have to make," said Tacye, who studied as a physicist and has worked at NMS for 13 years.
"If a crash was inevitable, should it prioritise the safety of the people within the car?
"Should it prioritise the safety of the pedestrian who was behaving sensibly on the pavement versus the person who runs out into the road?
"All the sort of questions that drivers have never explicitly thought of but would make the decision on instinct, immediately.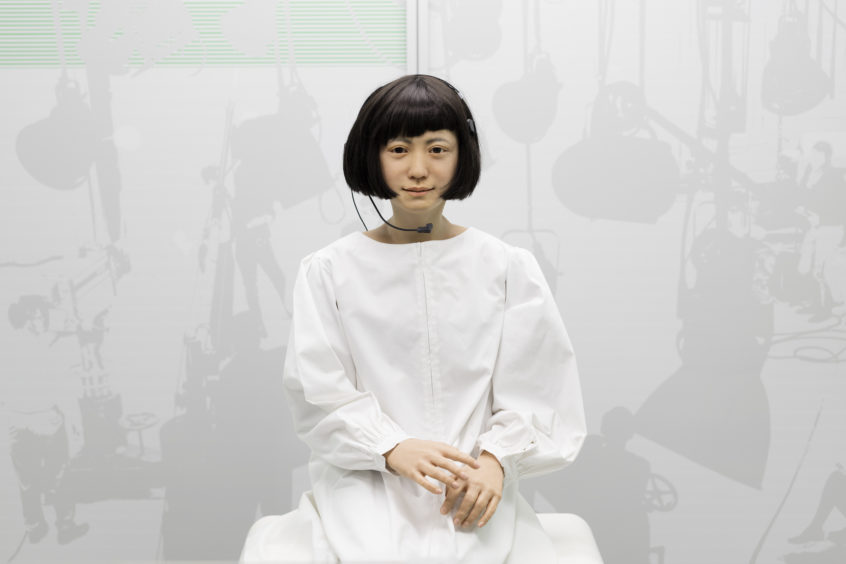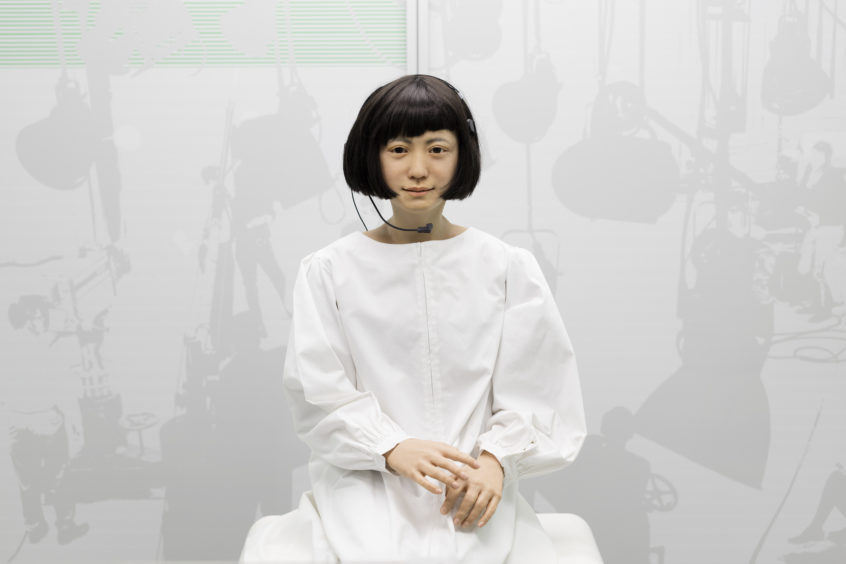 "But these things need to be explicitly thought of before that decision or ethics can be programmed into a robot.
"It goes right back to issues about programming a robot to do something – it makes you really think about what it really means to be human."
Tayce explained that the Robots exhibition, which runs at the NMS from January 18 to May 5, was developed by the Science Museum in London.
Featuring more than 100 objects – from the earliest automata to science fiction film characters and denizens of modern research labs – a number of additions are being made to the Edinburgh exhibition which will be the greatest collection of humanoid robots ever assembled.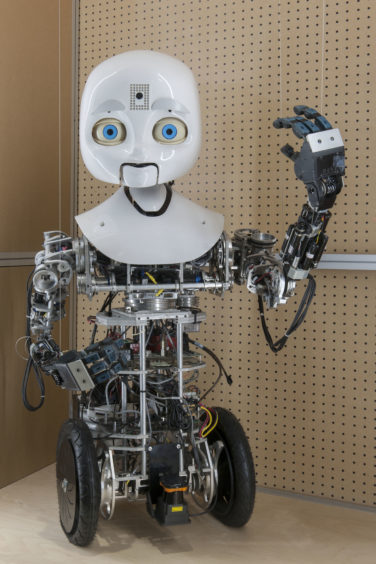 The word 'robot' was coined in 1920 and has been at the heart of popular culture ever since.
However, humans have been striving to reimagine and recreate themselves as machines since the first mechanical devices were made centuries ago.
Transcending 500 years and set in five different periods, Tayce explained the exhibition reveals how robots and society have been shaped by our understanding of the universe, the industrial revolution, popular culture and visions of the future, and includes everything from a 17th century wager cup – a mechanical silver vessel used in drinking games of the day – to a recreation of the British robot Eric, which caused a sensation in the 1920s and 1930s.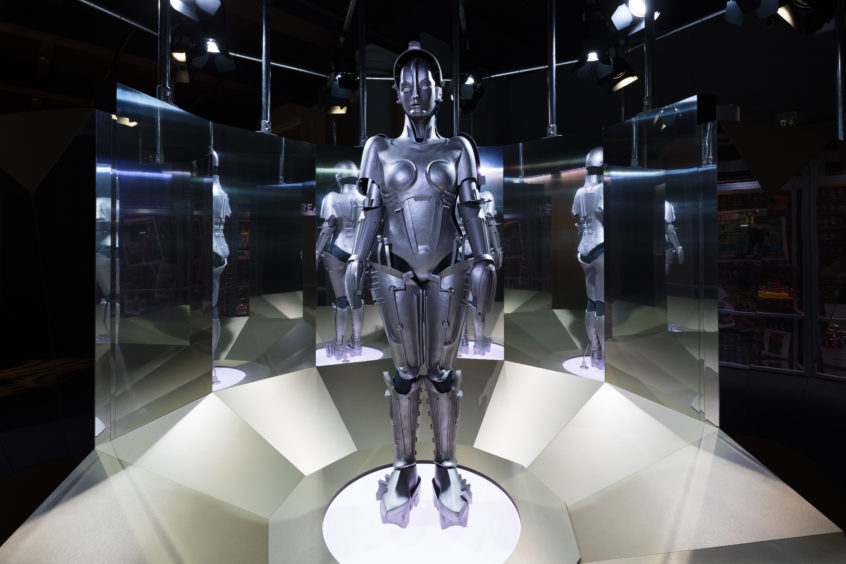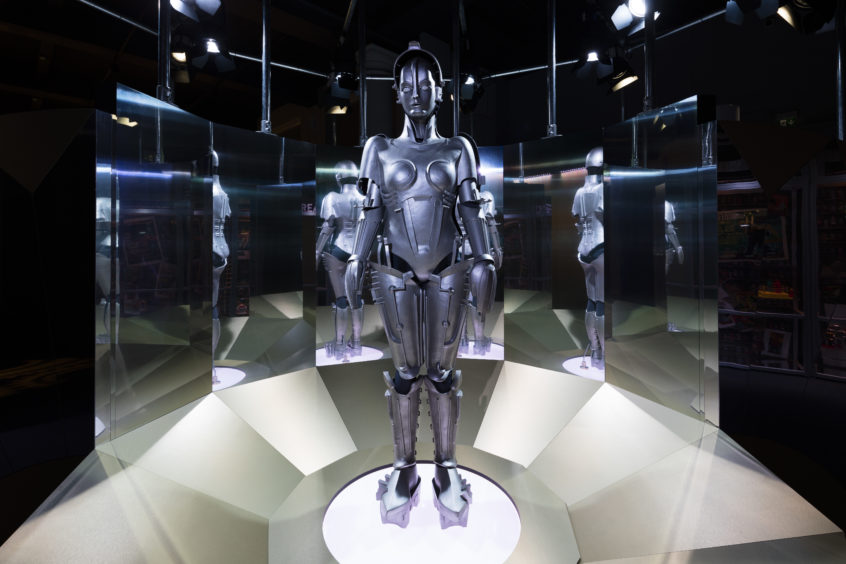 Also featured will be stars of the silver screen including a replica of Maria, the Maschinenmensch in the iconic 1927 film Metropolis, a T-800 Terminator from Terminator Salvation, and an eerily lifelike mechanical baby of the kind usually made for use on film sets.
It's a great advantage for film directors to have access to a 'baby' when required that doesn't "cry at the wrong moment"!
But Tayce explained it's more than coincidental that robots have, and continue to be, built to resemble humans and interact in humanlike ways.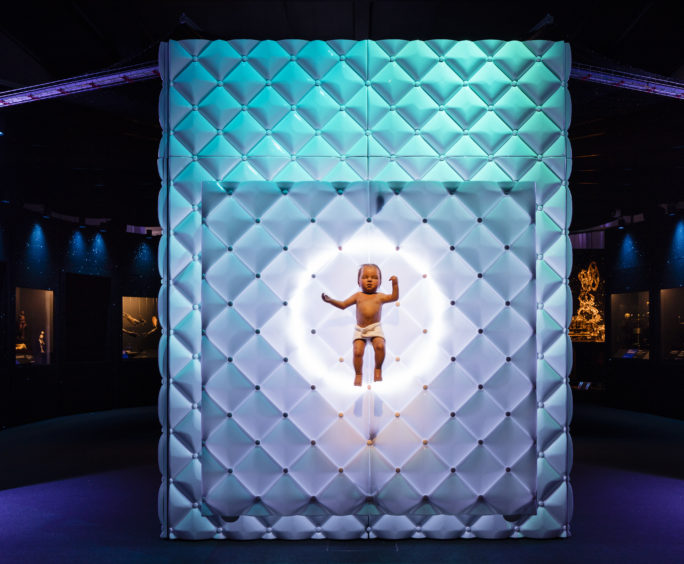 "People have always been fascinated by people which is quite understandable really," she said.
"When you start looking in detail and wondering how do we move? Could we make something that moves like that?
"This fascination to really understand humans by trying to make another one, trying to make a mechanical something that will move like a human or understand speech – that goes back hundreds of years, even as far back as to mythology and the Greeks.
"If you read mythology, human imagination has run ahead of what can technically be accomplished.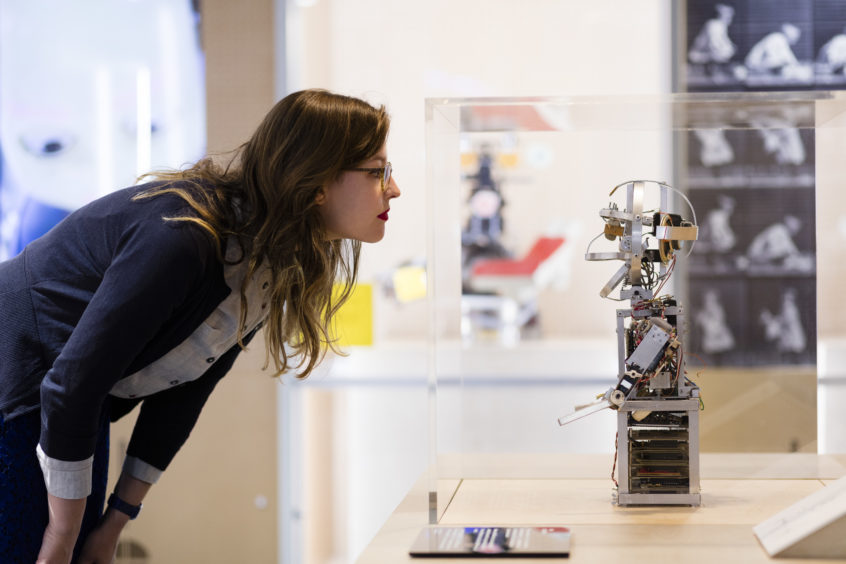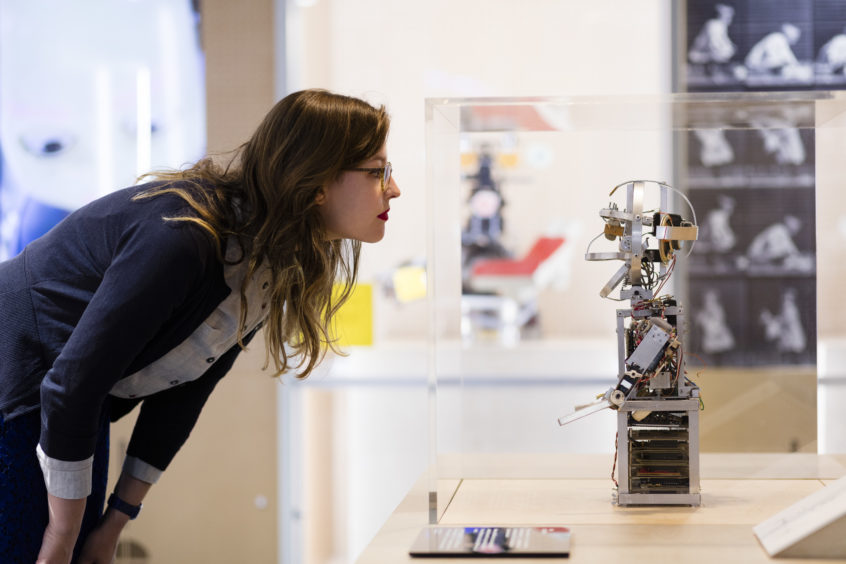 "And it still is now. Look at science fiction. But at its heart is a need to understand what it means to be human."
One of the most human-like robots being developed at the moment is Nasa's Valkyrie, a 5ft 11in tall £2 million machine being designed for future missions to Mars.
Scientists at Edinburgh University's Centre for Robotics, who are working on the project, say Valkyrie's ability to move like a human will be a major advantage.
Bipeds are very good at moving in the same space designed for humans.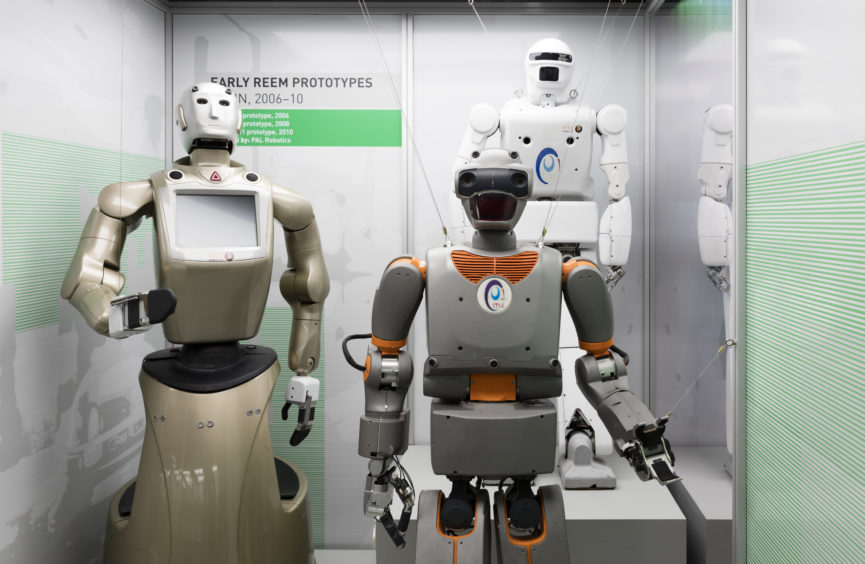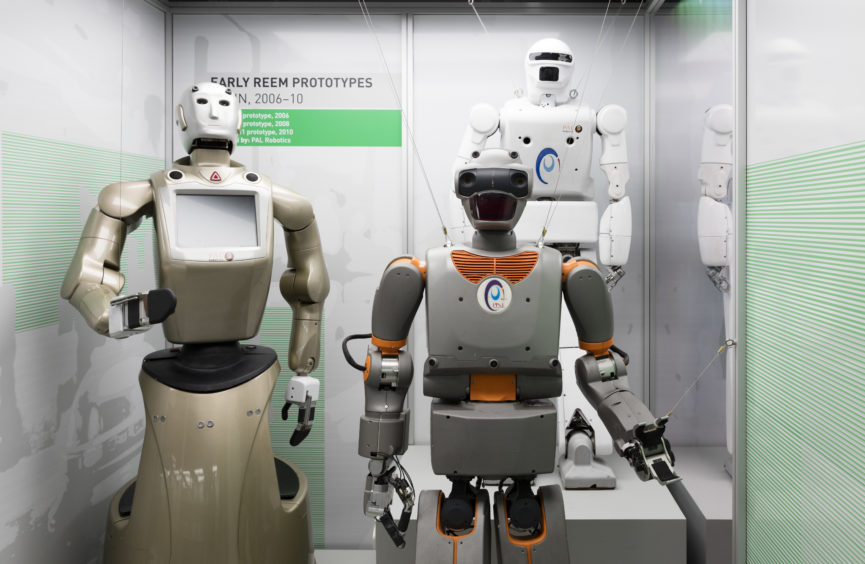 Yet at the developmental stage, Tayce said the robot still had to be supported by slings – a reminder how technically challenging it can be for scientific fact to catch up with the imagination of science fiction.
At the same time, it's acknowledged that going further to make robots look even more humanoid can make some people feel uncomfortable.
The term 'uncanny valley' was first used in 1970 by Japanese roboticist Masahiro Mori to describe a sudden dip in a person's comfort levels with a robot's appearance.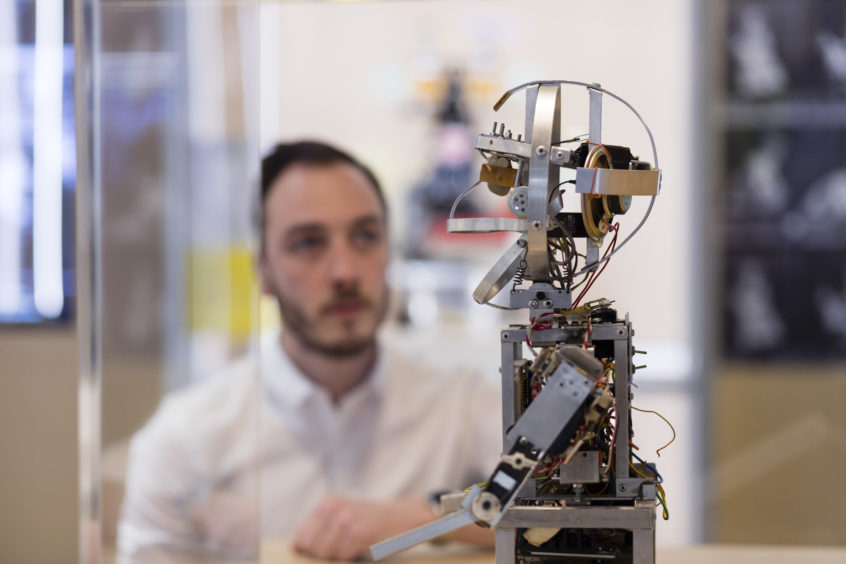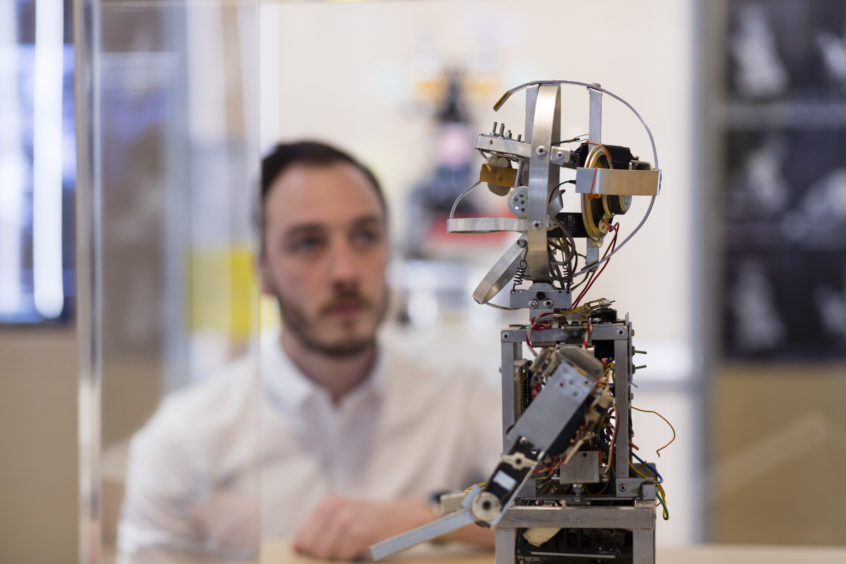 However, acceptance levels rise again when a person cannot differentiate between a robot and a human.
Tayce said a lot of the exhibits are "retired" robots. They were built in a lab only to work for a very short period of time.
The antique ones are similarly 'worn out' while some of the sci-fi ones were never intended to work at all.
But of the modern inventions, Tayce said her favourite is RoboThespian – a life-size humanoid acting robot which she describes as a "complete extrovert".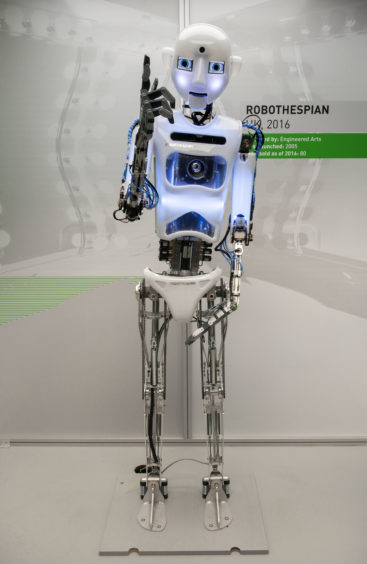 Another of the historic ones which "absolutely astounds" her is the late 19th/early 20th century mechanical automata of a rabbit in a carriage.
She also explains that during the industrial revolution, it was the mechanisation of repeated tasks that proved to be the catalyst for change.
Tayce added: "A favourite quote of mine is from (American physicist) Joseph Engelberger who was one of the pioneers of industrial robots.
He said 'I can't define a robot but I know one when I see one'. I think that's very true.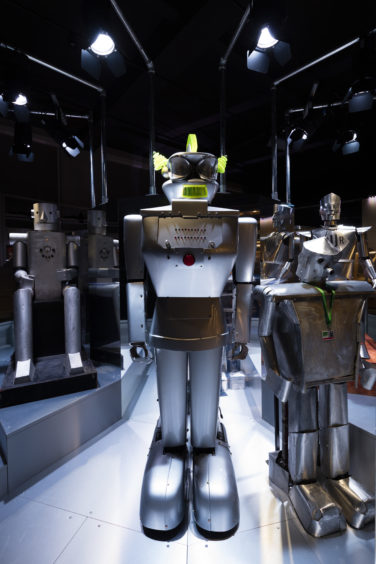 "But advancements have also highlighted the limitations of mechanisation. For example, the huge challenges of getting a robot to cope with a changed environment, whether a broken thread in a loom or a robot vacuum encountering stairs, or the dog asleep on the floor or whatever and responding to the environment.
"These things are absolutely crucial as we move towards things like self-driving cars."
Tayce thinks it will be a while until all the different capabilities of robots come together into one humanoid form. But she thinks it will happen.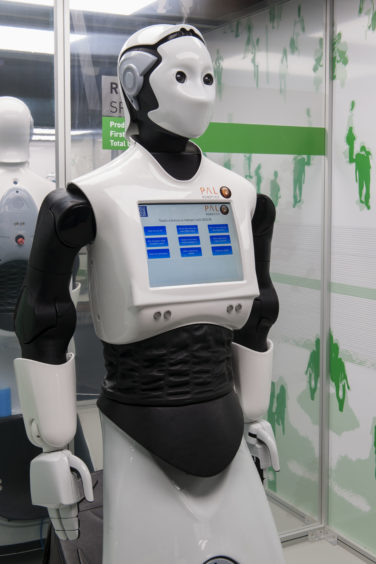 And with household technologies such as Siri and Alexa already responding to human speech while humans are also getting better at coping at interaction, the increased meshing of human and robotic technology can only continue.
Visitors to the exhibition will be invited to imagine what a shared future with robots would look like and see some of the latest humanoid robots in action.
Meanwhile, Dundee-based technology firm Waracle, which is one of the UK's leading mobile app development companies, has explained how technology is continuing to impact on peoples' lives.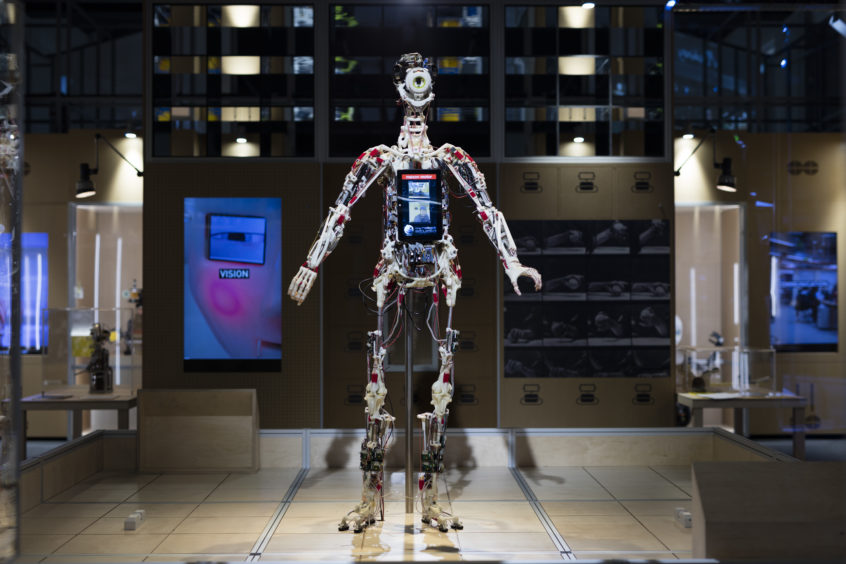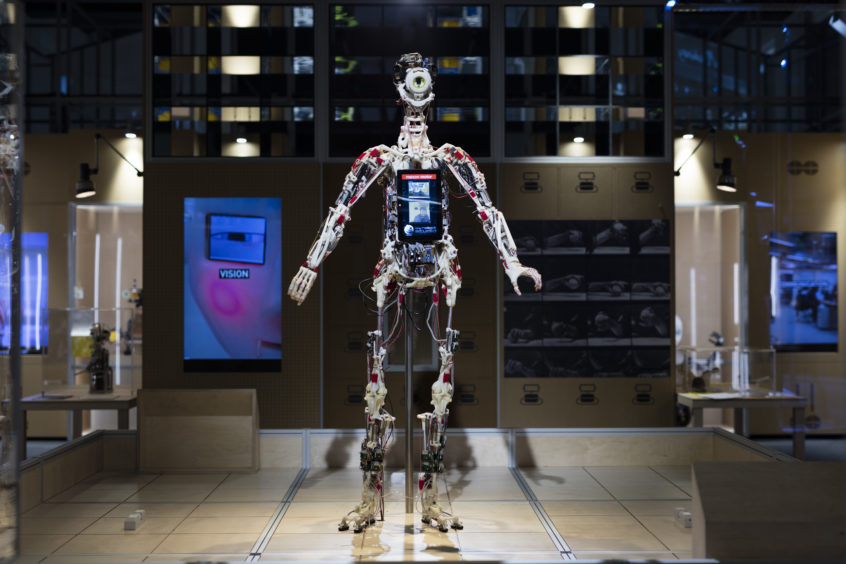 The company is "obsessed" with helping clients to innovate faster and transform their processes through development of the latest digital technologies.
Emerging technologies like AI, machine learning, voice control, augmented reality (AR) and blockchain are radically impacting how it designs, develops and deploys mobile app projects for its clients across all sectors from digital health to financial services.
These new technologies combine together to offer new opportunities for people to live better, be more healthy and help businesses to be more efficient.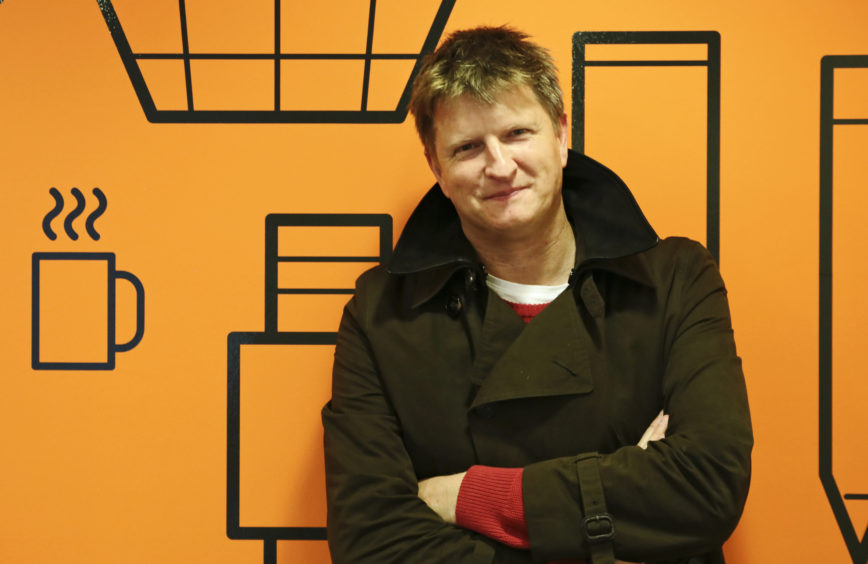 Chris Martin, CEO, Waracle, said:"It's for this reason that we've taken multiple investments in Scottish companies who are working in emerging technology areas that we think will be relevant:  Wallet.Services – Blockchain, Mozeniz – Augmented Reality, Kumulos – Analytics."
One particular sector which is fast adopting new technologies is healthcare. The digital health team at Waracle is working on technology for wearables and smart fitness trackers which are aiding major international clinical trials.
Chris added: "The only way the healthcare system can work as our population grows, and ages, is by adopting automation and digital health.
"It's a fascinating area which involves multiple leading edge devices, games design and data analysis.

"The Waracle team are proud of the impact of the healthcare work which is being used to improve the lives of people suffering from diseases."  ​
Chris said voice technology is the future and is fast becoming a part of everyday life. Citing the growth of Amazon Alexa, voice is having a huge impact on education, especially for children who are growing up accustomed to using voice interaction with devices.
Moreover, at the other end of the demographic scale, it's being used as a companion and smart carer for the older generation.
"Finally," added Chris, "a good example of future technology is the effect of electric and autonomous vehicles on our daily commute.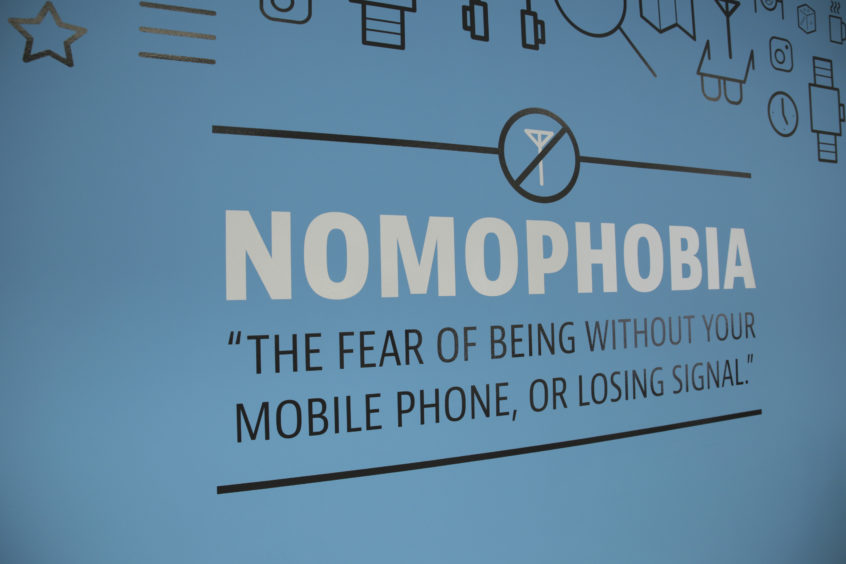 "The car industry is due a shake-up in terms of automotive parts suppliers and just what will happen to petrol stations in the future? It's fascinating to start thinking about the consequences of these technology shifts with the rise of batteries and people being able to generate electricity themselves.
"Technology and automation will continue to impact all of our lives massively and at Waracle we're working hard to keep ahead."
*Robots is at the National Museum of Scotland from January 18 to May 5, 2019. A special 'Science Saturday' event is being held for young people on January 19.  www.nms.ac.uk