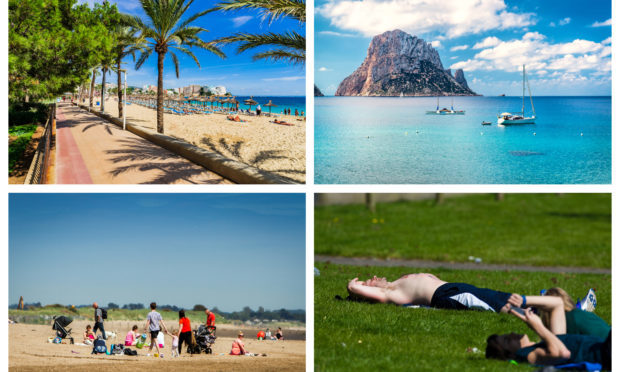 Tayside and Fife could be hotter than the holiday resorts of Ibiza, Majorca and Cyprus this Easter Weekend as Mediterranean heat hits Scotland.
Forecasters say Courier country will be among the best places to enjoy the balmy conditions, with Monday on course to become the hottest day of 2019.
Met Office meteorologist Simon Partridge said the east coast, Edinburgh and the Moray Coast will be the top places to enjoy Scotland's Easter Weekend weather.
Locally the mercury is expected to rise into the "low-20s" on Saturday, to 22C on Sunday and 23C come Monday.
According to the Met Office website, the island of Majorca is only due to hit a high of 18C on Saturday, and 17C on Sunday and Monday.
Elsewhere Limassol in Cyprus will peak at 21C on Easter Monday; while Ibiza will peak at 17C on Saturday and plunge to 16C on Sunday and 15C on Monday.
It comes after the UK experienced the hottest day of 2019 on Friday, with 24.1C reached at three locations in England –  Hurn, St James's Park, Wiggonholt. Lossiemouth was Scotland's hottest place after hitting 23.3C.
Mr Partridge said the weather will become mild despite a cloudy start on Saturday – which could bring rain to western Scotland, the islands and some mountains.
"Most places will stay dry and fairly bright, temperatures on Saturday are still pretty decent," Mr Partridge added.
"It will be a bit milder than it has been of late along that east coast. In inland Aberdeenshire it could be 21C-22C, and (like that) pretty much all the way down the eastern side.
"Along the east coast you are looking at (temperatures in the) high-teens, low-20s."
He said it will be a "cloudy, breezier start" on Sunday morning before the mercury rises once again.
He added: "Monday is even better news. That cloud will have cleared out overnight. It will be a bright and sunny start and it is staying bright and sunny. We could see 22C-23C.
"Eastern and also central Scotland could see a 23C."
The Met Office's weather station in Leuchars is forecast for highs of 22C on Saturday, 19C on Sunday and 20C on Monday.
A top temperature of 20C is expected on all three days at the other local observation point at Strathallan Airfield.
The weather is being caused by high pressure over Scandinavia, which is allowing warm air to arrive from central-eastern Europe.
Mr Partridge said: "Basically because we have got high pressure over Scandinavia. It is bringing in warmer air from the south-east, dragging air from the central-eastern Mediterranean, so from Greece."