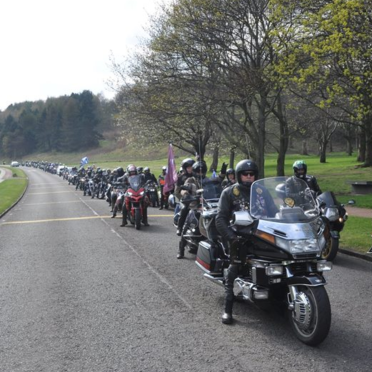 Bikers from Tayside and Fife will be amongst hundreds expected to roar into the centre of Edinburgh on Friday to protest against the prosecution of a British soldier who allegedly murdered two people during Bloody Sunday in the Bogside area of Londonderry in 1972.
Motorcyclists, their pillion riders, plus many supporters on foot, from all over Scotland and other parts of Britain, will take part in a peaceful demonstration in support of military veterans and members of civilian law enforcement agencies facing prosecution for historic events which took place in Northern Ireland and other theatres of conflict around the world over the past 50 years.
'Rolling Thunder Scotland – The Return Ride – End The Witch Hunt Now' follows on from a previous demonstration on April 12 which attracted in excess of 600 attendees on vehicles and many others making their way to St Andrew's House, Edinburgh on foot.
That event also saw an estimated 7000 bikers from all over the country descend on Westminster.
Taking the parade at St Andrew's House will be Lt Col (Rtd) John Charteris MBE MC who was the first member of the British armed forces to be awarded the Military Cross for operations on British soil.
Also joining the group will be Gavin Harry Wragg, founder of the original Rolling Thunder protest on April 12 and members of his support team.
Organisers, including Fife-based Northern Ireland army veteran Andrew Wright, say the demonstrators wish to "keep awareness of their anger over the unfair treatment of veterans to the forefront of all politicians minds, regardless of whether that politician is an MP, MSP, Assembly member or councillor."
"The organisers, fellow veterans and their supporters feel that MSP's in Holyrood and MP's in Westminster are also complicit by their silence: by not speaking out in favour of the plight of Northern Ireland veterans they are, in effect, condemning them," a spokesperson said.
Soldier F faces charges for the murders of James Wray and William McKinney and the attempted murders of Joseph Friel, Michael Quinn, Joe Mahon and Patrick O'Donnell, Northern Ireland's Public Prosecution Service has said.
Bloody Sunday helped galvanise support for the Provisional IRA early in the Troubles.
Some relatives of the 13 killed in Londonderry on January 30 1972, one of the most notorious days of the Northern Ireland Troubles, have long campaigned for justice.
A public inquiry conducted by a senior judge shortly after the deaths was branded a whitewash by victims' families and a campaign was launched for a new public inquiry.
A fresh probe was eventually ordered by then prime minister Tony Blair in 1998.
A decade-long investigation by Lord Saville concluded that the troops killed protesters who posed no threat.