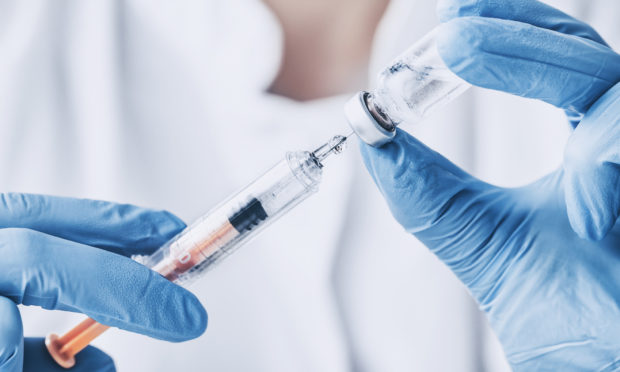 Death rates could rise this winter if a no-deal Brexit disrupts the supply of the flu vaccine, a charity has warned.
Age Scotland is urging people who are eligible for the jab to get it before Britain leaves the EU on October 31 amid fears a bad flu season will place extra pressure on the NHS.
The drug cannot be stockpiled as it has to be kept in special conditions, leading to concerns that Scots GPs could run out.
Doctors and NHS leaders have warned a no-deal Brexit would make it "likely" there will be a delay in flu vaccine supply this year.
One of the main suppliers, Sanofi, has already reported delays due to a manufacturing problem in France. Around 40% of its deliveries are affected and could be a week or two late in reaching their destinations.
There is also the risk that the cost of supply might go up if there are no trade and tariff agreements in place.
Brian Sloan, chief executive of Age Scotland, said: "We have serious concerns about the impact of Brexit on Scotland's older and most vulnerable people.
"It's really important that older people get the life-saving flu vaccine as we head into winter, particularly if they have underlying health conditions which could be exacerbated if they were to contract the flu.
"It's quick, safe and prevents hundreds of deaths and thousands of GP and hospital hours each year and Brexit shouldn't be a barrier."
The charity is also calling for urgent reassurances that anyone who depends on a particular medicine will still be able to access it or a suitable alternative, and that these will be fairly distributed to those who need them most.
"Age Scotland has tried repeatedly to meet with the Secretary of State for Scotland but have only heard radio silence," he said.
"Any delay in giving vulnerable patients this vaccination at the start of flu season is wholly unacceptable.
"Ultimately, this could lead to hospitals being overwhelmed and an increased risk of avoidable excess deaths if there were to be a heavy outbreak of flu this winter."
A UK Government spokesperson said: " Patients can be fully reassured that we will have enough flu vaccines in the UK to meet demand before October 31. The vovernment is making all necessary preparations to help ensure an uninterrupted supply of medicines and vaccines following Brexit on October 31.
"Preparations include but are not limited to an express freight service to bring medicines and medical products into the UK within 24 to 72 hours if needed and instructing suppliers to stockpile at least six weeks' worth of stock of medicines and medical products, over and above the usual buffer stocks."