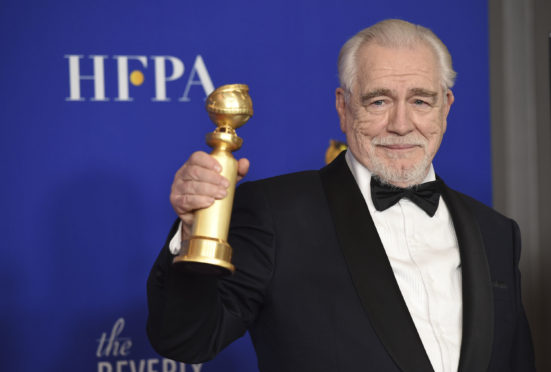 Well, that's Brian Cox's appearance in stoner comedy Super Troopers explained at last.
The Golden Globe and Emmy-winning actor, Dundee lad made good, star of stage and screen, is, we now know, a reefer-fuelled drug fiend.
He enjoys joints, spliffs, blunts, doobies, Camberwell Carrots and the occasional fatty boom batty.
By his own admission he is a smoker and a midnight toker, someone who probably owns copies of Legalise It by Peter Tosh and Black Sunday by Cypress Hill.
He may even, we can suppose, have tried synching Pink Floyd's Dark Side Of The Moon with The Wizard Of Oz.
Brian Cox is also, quite clearly, having the time of his life.
He revealed his fondness for bud – because marijuana smokers' favourite topic of conversation invariably is how much they love to smoke marijuana – in a wide-ranging interview with The Guardian where he also revealed Princess Margaret "touched him up" backstage.
The Glamis-born princess was, of course, only human and won't be the last Angus lassie to have her head turned by a Dundee bigshot.
But Cox's comments about marijuana didn't go down all that well in his hometown where the Mid-Lin Day Care Centre ditched the actor as a patron, with chairwoman Joyce McIntosh saying he could not continue in his role while drugs are killing so many people in Dundee.
Cox responded with mellow good grace, pointing out that he believes in the medicinal benefits of cannabis and has only smoked it in places where its use is legal.
The Mid-Lin Day Centre's wish to distance itself from Mr Cox may seem like an overreaction but it does highlight the need to reform the UK's drug laws.
While the rest of the world is decriminalising cannabis, and in some places harder drugs, the UK continues to treat all recreational substances the same bar, of course, the legal methods of self-destruction: alcohol and tobacco.
Drug-related deaths in Dundee are a national scandal but the killers are heroin and street Valium, not marijuana.
So people who smoke marijuana – a drug that is not addictive, doesn't kill you and has a number of health benefits – can still find themselves with a criminal record for using it, just as those caught in possession of Class A substances such as cocaine and heroin could be.
Nevertheless, millions of people continue to use it and rather than the taxman taking a slice of the pie, all the money spent is funnelled to dealers – who may also push harder drugs – and criminal gangs.
Of course, no drug is entirely risk free.
Smoking cannabis, especially mixed with tobacco, is harmful. High-strength skunk has been linked to mental illness.
But regulating what is sold legally still seems a no-brainer. Not only would this limit the strength of what is available, it would also plough millions into the economy, as states in the US where the drug is now legally available have found.
Canada, meanwhile, has not descended into anarchy as some suggested it would when it legalised the drug.
Mr Cox said he only began smoking cannabis once he hit 50. His career over the past 23 years has certainly not been impeded by his habit.
He may have been doing no more than providing good copy in his interview but hopefully his comments will help nudge the argument for a sensible drugs policy forward rather than just disappearing in a puff of smoke.
Big Weekend
Radio One bringing its Big Weekend back to Dundee in May is great news for the city.
It's less fantastic for those of us old enough to remember the previous event, 14 years ago, and who are being reminded how the intervening years have fattened their faces and thinned their thatches.
This year's line-up of popular beat combos riding high in the hit parade will no doubt make the middle-aged and grizzled veterans of 2006 feel even older.
But Dundee hosting an event the size of the Big Weekend, which last year featured acts like Miley Cyrus and Stormzy, can only be a good thing for the city and reinforces the message that Dundee is, still, a city on the rise.
Bridge troubled over motors
Transport bosses have warned the new Queensferry Crossing is already being used by more cars than it was designed to carry.
Around 80,000 vehicles cross on a daily basis with numbers expected to increase over the next decade. Our love affair with the car is far from over, despite the need to cut carbon emissions. Until public transport becomes reliable and affordable, cars will remain the preferred option.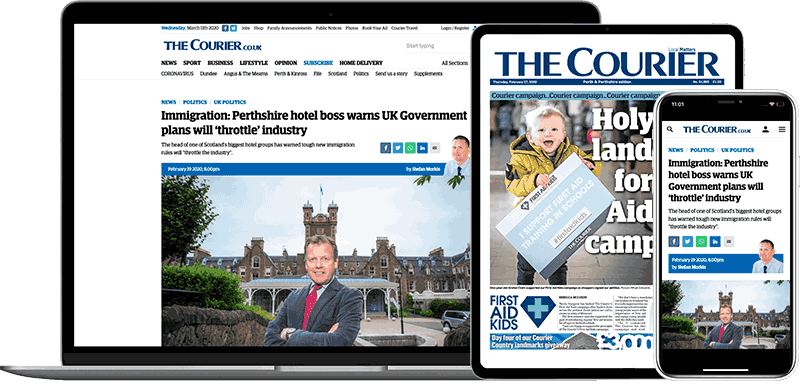 Help support quality local journalism … become a digital subscriber to The Courier
For as little as £5.99 a month you can access all of our content, including Premium articles.
Subscribe