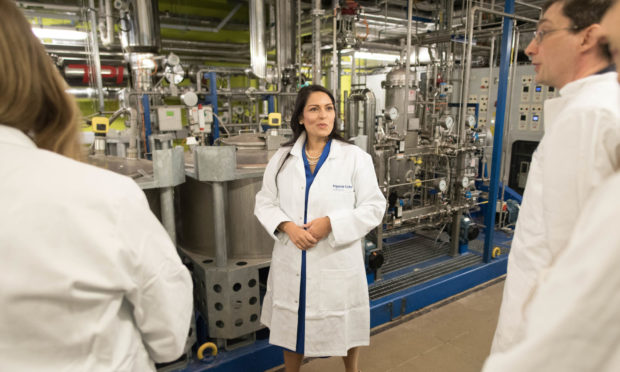 Sir, – For how much longer must we listen to self-interested politicians and businesses that exploit cheap labour, telling us what a disaster it will be to see tighter immigration controls in the UK (Anger over immigration sparks Scottish visa call, Courier, February 20).
While we can all understand, but nevertheless abhor, the games played by Scotland's politicians, it is more difficult to accept the protestations of businesses who exploit citizens of other countries for the purpose of boosting financial reward to business owners.
It is disappointing to see the statement published today by Scotland's NFU.
The farming industry in UK is becoming increasingly automated and I'm pretty sure that with a bit of effort, "unskilled" seasonal manual jobs would gladly be accepted by our own hard-up, hard-working families.
It's not so long ago that Scotland's farmers were employing mothers and their older children to pick tatties every year.
I don't recall a need at that time to be employing citizens of Poland, Latvia, Romania, Bulgaria, etc to do these jobs.
I think strawberry and raspberry picking would be a much more acceptable job to our young people, than the former physical labour of the tattie picking.
It was formerly the case, and most likely will be again, that employers who need foreign labour will be allowed to make their case for sponsoring and controlling their workers instead of employing them from gangmasters whose principal concern is to get rich quick at others expense.
Derek Farmer.
Knightsward Farm,
Anstruther.
Challenge must be at UK level
Sir, – Many thanks for Alex Bell's opinion piece (A threat to our way of life, Courier, February 20) which to the most part was well detailed and excellent.
He is right there are no pools of untapped labour in the UK.
Points-based immigration will materially affect those in hospitality, health and social care, construction and farming.
And yes, unfortunately, many Brits show no sign of wanting these types of jobs.
I find it frankly offensive to call working people "low skilled" who are looking after the ill, infirm or aged, or building the homes across Britain we desperately require.
Just one example – fresh fruit and vegetables are being grown and picked at just one East Coast farm group by around 400 migrant agricultural workers – without them there will no food in our shops.
This is not though as Alex Bell seemed to suggest a Scottish problem but one that effects everyone in the UK.
Only by attacking and arguing against these proposals on a UK level have we any chance of modifying or removing this ludicrous scheme which panders to the ill-informed and prejudiced but thankfully very small minority.
Cllr Bill Porteous.
Scottish Liberal Democrats,
East Neuk and Landward Fife.
UK should use own labour
Sir, – Is it not morally reprehensible for the UK – or any part of it – to plunder poorer European Union countries of their workers with the bribe of better wages and higher benefits?
Are we not using them as a breeding ground for our use?
In the EU are there no elderly who require carers, are there no sick and poorly who require nurses and doctors to heal them?
There must be businesses who are struggling to find workers because they are persuaded to come to the UK.
Are EU farmers just supposed to let their crops rot in the field because their workforce gets better wages in the UK?
Many EU countries are trying desperately to develop their economies but are being restricted by the loss of many of their essential workers to the UK's unlimited immigration policy.
Let the UK educate,train and employ its own and stop using the lazy,easy option of courting and recruiting and hiring the bworkforce of developing EU countries.
Mike Rogalski.
82 Feus Rd,
Perth.
Hypocrisy over immigration
Sir, – In response to Home Secretary Priti Patel's announcing of a points-based immigration system for the whole UK, Nicola Sturgeon tweeted that "it is impossible to overstate how devastating this UK government policy will be for Scotland's economy".
Prior to the 2014 referendum on separation, The Scottish Government's own White Paper advocated a similar approach, saying "We plan to develop and operate a controlled, transparent and efficient immigration system that best meets Scotland's needs. This will include a points based approach."
It is impossible to overstate the hypocrisy of the SNP when it comes to criticising anything that comes out of Westminster.
Maggie Openshaw.
42 Earlswells Road, Cults,
Aberdeen.
Workforce is very small
Sir, – The Home Secretary has announced new limits on immigration. This will leave a massive gap in workers.
Priti Patel says the 8.8 million economically inactive people in the UK can fill the gap.
But, according to the governments own numbers, of the 8.48 million economically inactive people 27% are students, 26% are sick, 22% are carers and 13% are retired.
So the actual number of "discouraged workers" in the UK today is 33,000.
Alan Hinnrichs.
2 Gillespie Terrace,
Dundee.
UK is out of step on potholes
Sir, – Regards our roads' pothole scourge (Monster pothole blamed for wrecking multiple cars, Courier, February 15).
It is not only the A907 of course which suffers from appalling pot holes.
I have occasionally queried why roads throughout the UK seem to suffer far more from potholes, in-filling and short-term patchwork repairs than in other European countries with similar, or worse, heavy traffic and weather/climate conditions.
Regrettably but not surprisingly, and despite my specific requests, not one MP, MSP, MEP, councillor, official or civil engineer has ever deigned to reply.
But recently, I did get a response from a reader – though admitting he was no expert – that in the UK the tarmac is generally laid in successive thin layers, leaving them vulnerable to water ingress, freezing and raising the layers above, which then break up.
Whereas elsewhere in Europe the roads are stripped down to a smooth sub-base, with a single 4-inch/10cm tarmac layer which is then densely compressed.
That accords with my own observations in The Netherlands.
If that is the sole or even a major reason, the question then becomes why on earth the UK road-surfacing industry does not do the same, which is probably cheaper in the long-term, particularly including the inevitable vehicle and bicycle damage, insurance claims, and potential personal injury (or worse).
So if any of them do respond I trust they will not just blame those of us who are retired or active bean-counters.
John Birkett.
12 Horseleys Park,
St Andrews,
Fife.