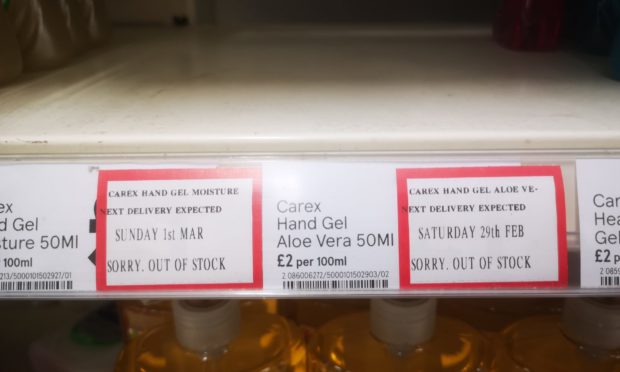 Sir, – With the news that we now have coronavirus in the Tayside region I'm sure many of us are wondering what can be done to alleviate its spread.
We also know there are members of the public more susceptible to coronavirus than others. The advice we have been given is to be vigilant about washing our hands.
This morning I spoke with Tesco and Perth and Kinross Council's environmental department and I asked the question about whether it would be sensible to install hand sanitisers at the doorways to shops given we touch goods whilst shopping.
Supermarkets also have the extra problem of trolleys requiring washing.
Neither had a definitive answer but were very positive about the suggestion and said they would pass it on.
I realise the virus might not be as dire as some imagine but if putting these ideas into practice could stop vulnerable members of the public from falling ill would it not be a good idea?
Plus there could be savings to the already stretched NHS coffers.
An additional bonus might be the fact, as we are being encouraged to stop buying packaged goods, that knowing, in the main, what we are touching is clean might make unpackaged goods more attractive.
If this idea caught on it could become permanent.
Alexandra Ramsay.
Blairgowrie,
Perthshire.
Cleanliness next to Godliness
Sir, – I wish to reply to Paul Lewis (Coughers must cover up, Courier, February 28) who finds it frustrating to see people who do not wash their hands.
Well, I hark back to my young days out in the fields picking potatoes long before technology took over.
People's hand were dirty with the earth off the spuds and, come time for a break, there was not a tap for miles or soap.
We just rubbed our hands together.
They were not clean but we happily ate our sandwiches with no harmful effects whatsoever.
I know Mr Lewis's feeling upon hygiene with this virus, but I often think if cleanliness is next to Godliness, is it also so for the immune system?
It was always said that a wee bit of dirt does you no harm.
Thousands of people all over the UK who were out picking tatties or berries are living healthy lives.
Thomas A Brown.
18 Garry Place,
Bankfoot,
Perthshire.
Disgusted at council's antics
Sir, – I find myself utterly disgusted at the way Angus Council and councillors are acting.
Everyone apart from the aforementioned know that they have totally killed the towns in Angus with their car parking fiasco.
Councillor Fairweather say you can have either parking charges or potholes – we have both.
As for rapid response teams to deal with fly-tipping, add the cost of this to the cost of fly-tipping and I would think it would be more than reinstating the skips/recycling centres in Carnoustie and Monifieth to take general waste.
Now they are telling us to brace ourselves for an increase in council tax and, as for Ms Whiteside wanting to create a fund of £2.5 million to refurbish empty retail properties – it was you lot that caused this.
Here is another suggestion. Why not reduce council and councillors' salaries and expenses by a minimum of 10% over £35,000.
All we seem to hear is councils blaming Holyrood who blame Westminster.
Meanwhile, the lowest paid – pensioners etc – are the hardest hit. Angus Council and its councillors, get your act together. Quickly.
Thomas G Mitchell.
7 Links Avenue,
Carnoustie,
Angus.
Manufacture goods in the UK
Sir, – Sad as it is that a lot of people are very ill, as well as the loss of people, this coronavirus has disclosed a massive problem.
The problem of shortages in low-priced products, produced in China and other countries with cheap labour power.
Due to the fact that companies here in the UK use cheap products from overseas rather than products from our own country, production here is threatened now because of shortages, as production in China has reduced immensely.
Isn't it time that production of products should be activated here in the UK?
It would lower unemployment rates, it would bring in more taxes and it would reduce CO2 immediately worldwide.
Less transport, less fuel use etcetera is better for the environment.
However threatening and frightening this coronavirus is, I hope it opens eyes and makes us realise that we have become too dependent on products from far away.
We have the knowledge and the power to produce things ourselves.
Mrs Maaike Cook.
Cash Feus,
Strathmiglo.
Look after the UK's drains
Sir, – Perhaps the people who decry the fact that global warming is not a danger should watch the news reports on the flooding in parts of Britain.
They should take their heads out of the sand and watch the permafrost and glaciers disappearing.
Our prime minister should divert funds to help these people who are wading through three feet of water in what was once their home instead of spending billions of pounds on a high speed railway.
Put more effort into dredging the rivers in the flood plains of Britain. These rivers are the drains of Britain, if you don't look after your drains you are asking for trouble.
Alister Rankin.
93 Whyterose Terrace,
Methil,
Leven.
Voters mature enough for jail
Sir, – The Scottish Sentencing Council tells us that fewer people under the age of 25 should be jailed because their brains are immature (No jail for under-25s is a charter for misdeeds, Courier, February 29.).
This goes even further than the Named Person proposal which prescribes that each youngster under 18 is sufficiently immature to need a (non-parental) guardian responsible for their welfare.
There is a potential contradiction, however.
In Scotland, those aged 16 are now considered by some as mature enough to decide to change their gender identity.
Further, the voting age has been reduced to 16.
Is it really appropriate that people with what the council calls "immature brains", who are not fully capable of "regulating (their) behaviour" and whose behaviour is "emotion-driven" and characterised by "risk-taking", should be able to change their gender at will and have the weighty responsibility of casting votes in elections?
Jill Stephenson.
Glenlockhart Valley,
Edinburgh.
Tory party is getting worse
Sir, – Theresa May publicly acknowledged that the Conservatives had acquired the label "The Nasty Party" and pledged to improve that image.
Alas, to quote her, albeit in a different context: "Nothing has changed!"
If anything, it has morphed into the Thoroughly Nasty Party, featuring Johnson, Cummings and Patel.
James Stevenson.
Drummond Avenue,
Auchterarder,
Perthshire.