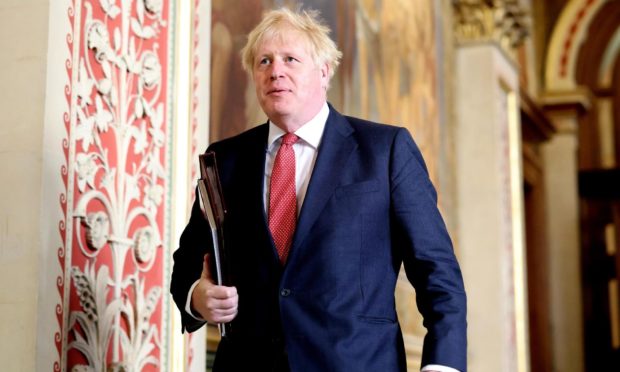 Sir, – To say people have been less than impressed with the way the UK Government has handled the first stage of the Covid-19 crisis would be something of an understatement.
Bearing this in mind it absolutely beggars belief that Boris Johnson now seems intent on delivering a no-deal Brexit (so much for the oven-ready deal he was boasting about just a few months ago!)which, according to his own Yellowhammer report published last year, is likely to have a number of seriously adverse consequences for those of us who do not have millions stashed away in tax havens, including disruption and shortages in the supply of life-saving drugs and medicines.
If we are in the midst of Pandemic 2 and also having to cope with winter flu this could be devastating, especially for the over 60s whose immune systems are not as strong as those of younger people.
On the rare occasions Boris Johnson graces our TV screens these days, he seems likely either to be wearing a Bob the Builder hard-hat on some construction site, or raging about there being no live singing of Land Of Hope And Glory at the Proms.
After Brexit these, apparently, are his priorities.
I would urge Scottish Conservative Party leader Douglas Ross and our recently elevated Baroness Davidson to stand up for the people they purport to represent, track down our elusive prime minister and tell him in no uncertain terms that a no-deal Brexit is completely unacceptable to those of us north of the border.
If this is not done I worry and despair for the world our children and grandchildren are going to grow up in.
Alan Woodcock.
23 Osborne Place,
Dundee.
Core values and clear messages
Sir, – I would like to correct a number of misleading statements made by your correspondent Ken Clark in his letter ('Deflection and politicking', September 9).
Firstly, I am not and never have been a member of the Conservative Party.
I was a member of the Scottish Liberal Democrats for 10 years through to 2018 or so.
That is no longer the case, although it still represents my basic politics on most issues.
I am one of many supporters of Scotland in Union (SIU), but hardly a "leading member".
SIU is not and has never been a front for the Tories.
A quick look at their key personnel will tell you that, if anything, any bias is in favour of the Labour movement in Scotland.
This reflects the reality that they produced the majority of pro-Union activists in 2014 and, also, Labour activists tend to understand the value of being in a union better than anyone else, a point which their current leadership would do well to remember.
It is one of their core values.
On the substantive issue he raises, it is undoubtedly the case that many people are totally switched off now to the Covid messaging, and a fresh approach is required going in to this autumn and winter.
Everyone involved in campaigning or advertising knows you have to freshen things up at key intervals or things become stale.
We have long passed that point.
Ms Sturgeon needs to delegate this particular job now.
There are plenty of articulate people around who can do it if they were allowed to.
There is nothing political about saying that.
Victor Clements.
Mamie's Cottage,
Aberfeldy,
Perthshire.
Scotland's own 'charlatan'
Sir, – "Charlatan" she cried at Boris Johnson! Well that's rich.
This from Nicola Sturgeon who has the reputation of fraudulently promising jam tomorrow with every breath she takes.
Sturgeon conned everyone with her promise that the education system would not fail our underprivileged youngsters.
Sturgeon cheated the business community with her Scottish Growth Fund which didn't pay out.
Sturgeon's takeover of the Ferguson shipyard and Prestwick Airport have been disasters. Sturgeon's pretence to lower energy costs with her energy company is another example.
She's a brass-necked imposter and for her to refer to anyone as a charlatan takes breathtaking gall, in her world of politics where her actions have increased child poverty and child homelessness exponentially.
Now she says we should "lift our eyes, find hope in our hearts and plan for brighter days ahead" but the only thing in her heart and mind, as always, is Indyref2.
Her only plan is to reduce Scotland to an outpost on the edge of Europe and alienating our nearest neighbour, creating a hard border between ourselves and our largest trading partner, England.
Stan Hogarth.
11 Young Street,
Strathaven.
Arena for non-gamers too?
Sir, – Brilliant news on the Esports arena proposal and fingers crossed for the Eden Project.
Collectively these will really put Dundee on the map. But please can we sell the arena more widely to our community in terms of its appeal?
Will it truly be a venue for broader entertainment (theatre, music, concerts) and not just gaming?
The Courier article ('Esports arena plan revealed for waterfront, September 9) focused only on the latter.
It has to be built and sold with more in mind (speaking as a non-gamer or course!).
Howard Davies.
Station Road,
Invergowie,
Dundee.
Street furniture has shut Perth
Sir, – I needed to pick up a prescription at the chemist at the top of Perth High Street the day The Courier carried an article about the unsightly boxes and virtual closure of this important thoroughfare ('Street furniture 'killing business', say retailers', October 31).
The street, on a beautiful day, was empty. Much of the previous footfall came from the cars which briefly parked there. Gone! There was nobody else there.
It is difficult to imagine what kind of brain conjured up this scheme which can only serve to drive more High Street shops out of business and inconvenience shoppers, all of whom pay rates or council tax, but I hope there is sufficient funding left to remove these eyesores.
Alastair H Anderson.
Dunsinnan Road,
Wolfhill,
Perth.
Perth boxes worst idea yet
Sir, – I cannot believe the planning department sanctioned by the Conservative administration in Perth and Kinross Council thought there was any benefit to anyone when they placed those ugly, poor quality boxes in Perth's city centre.
Who in the planning department thought these eyesores would attract pedestrians to congregate and spend money at the shops in the vicinity?
I predict the floral displays will not exist after a few weekends, thanks to the actions of inebriated youngsters.
The only way to make reparation is for the council to make a zero rates demand for shopkeepers affected until the eyesores are removed.
Over my lifetime I have seen many administrations come and go, but it has to be said that this lot are the most incompetent to date.
Jim Ferguson.
3 Feus Place,
Perth.