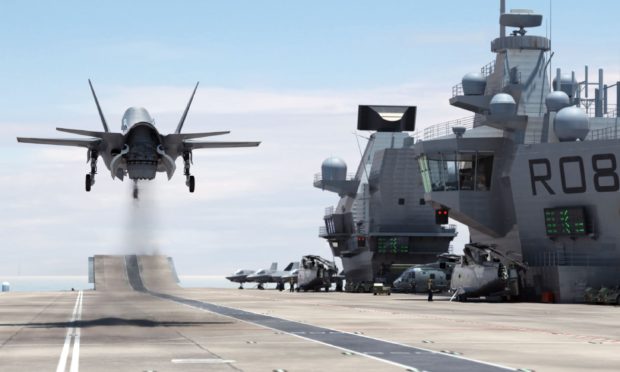 Sir, – So the Tories have decided to give the defence industry a £24.1 billion taxpayers money.
This is the biggest increase in 30 years.
The aid budget will be slashed to pay for it.
Yet again Tory priorities are giving money to the fatcats, the cronies and the donors at the expense of those in most need.
This profligacy is being done on the same day that warnings are being issued that the UK economy faces the worst contraction in 300 years.
Johnson laughably claimed he is doing this to keep "the public safe".
This is the kind of imperial fantasy that the Tories have of a post-Brexit return to the days of Empire.
Britannia once again ruling the waves.
This is blather. Under Johnson the UK has become a pariah and a laughing stock.
Scotland now has an opportunity to leave.
What is unforgivable is that Nicola Sturgeon and her gang have given Johnson a veto on when any referendum can be called.
The SNP leadership are trying to turn the independence movement away from radicalism.
The voices they want to hear are; pro-NATO, pro-banker, pro-landlord, pro-hunting, pro-landowner. All to be "respectable".
These are not the voices that will win independence. The time for direct action is almost here.
Alan Hinnrichs.
Gillespie Terrace,
Dundee.
Indy question 'never more transparent'
Sir, – "Their jobs, businesses, future livelihoods?"
Jenny Hjul (Courier, November 16) says these are the most important concerns of people of Scotland.
Well no revelation there.
In suggesting that "independence" does not underly those aspirations, Jenny simply ignores modern history and the whole Brexit campaign to make the UK "independent" from the EU.
The question for people in Scotland has never been so transparend.
Should we ensure our most important concerns are made in Scotland by governments we democratically elect, or should we to give ourselves up to London governments and officials, unelected by the people of Scotland?
Kevin Donnelly.
Mill Street,
Kirriemuir.
Johnson 'too weak to wield the axe again'
Sir, – – An investigation has found that Priti Patel has been found guilty of bullying.
It has taken nine months to get to this report and, with the going of Cummings, Patel should also be binned, to rest the style of Government that has been intimated.
The breaking of the Ministerial code is a sacking offence.
It would send the signal that abuse of power is unacceptable.
I suspect however that Patel will not be sacked by Johnson as he is too weak, to wield the axe again this week.
Alistair Ballantyne.
Birkhill,
Angus.
Why no Welsh and Northern Irish anger PM devolution comments?
Sir, – Regarding Alex Orr's letter (Scottish Parliament is under threat, Nov 19th)
Devolution and the creation of Holyrood, is a historical event that constitutionally, cannot be easily overturned.
However, we should be asking Mr Orr to explain why similar "threats" are not causing discomfiture in the Welsh and Northern Ireland assemblies.
Could it be that the reason for the PM's reported comment is that the SNP is actively plotting to break up the UK, and taking care not to explain to voters the truth about what independence means?
Derek Farmer,
Knightsward Farm,
Anstruther.
Sing it: We are all in this together!
Sir, – Anent recent criticism concerning the awarding of government contracts for PPE etc. – I really don't know what all the fuss is about.
There's nothing wrong with nepotism as long as you keep it in the family. As for cronyism – what are friends for?
We really need a rousing chorus of "We're All in This Together!" to raise morale.
James Stevenson.
Drummond Avenue,
Auchterarder.