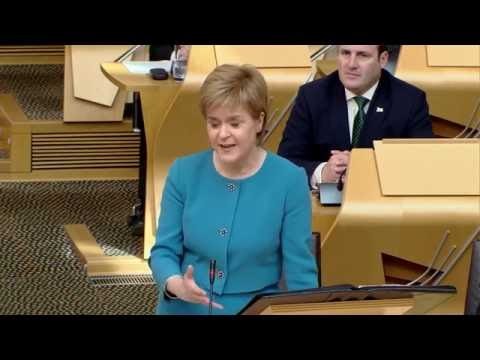 The more things change, the more they stay the same.
Seats have been rearranged, a majority government no longer exists, but First Minister's Questions is reverting to type very quickly.
Both Ruth Davidson and Kezia Dugdale hurled various statistics at Nicola Sturgeon. Each were met with a flurry of counter figures.
"We cannot argue over these facts," the SNP leader said, exasperated, as she did exactly that.
The real ire, however, was reserved not for her current opposite numbers but one of their predecessors.
Iain Gray, the former Labour leader turned party education spokesman, issued a press release over the weekend revealing fewer girls are picking up key science and maths subjects now compared to previous years.
The onslaught arrived: "Iain Gray arrived at his figures by counting only the old higher that was in the process of being replaced and he excluded both the revised and the new highers.
"I think that the question is whether Iain Gray did that deliberately, or whether the Labour education spokesman did not know that highers were being reformed. Frankly, I am not sure which would be worse."
Gray, unsurprisingly, suggested the two "argue about the numbers another time". Sturgeon, to the shock of no one, continued to batter him over the head.
He deserved it but the problem with exchanges seen across this session are that they mask the real issues and throw constructive political debate to the wolves in exchange for meat to keep each party's backbenchers happy.