The UK government launched a national Emergency Alerts service in March. And on Sunday, the new system will broadcast a high-pitched siren from your mobile, even if it is on silent, which will last for 10 seconds.
Women's Aid has expressed concern that the system poses "potential safety risks".
The group says many domestic abuse survivors have a second phone, which the perpetrator does not know. This is an important form of communication with friends or family, says Women's Aid, since some abusers confiscate or monitor and control their partner's phone.
Nearly all social media shares from politicians and well-meaning individuals have focussed on videos and graphics with guidance about switching devices off or putting them on airplane mode for survivors' immediate safety.
Such advice is critical ahead of the weekend test. But as well-meaning as this is, its casualness and quick share nature come across as unintentionally glib.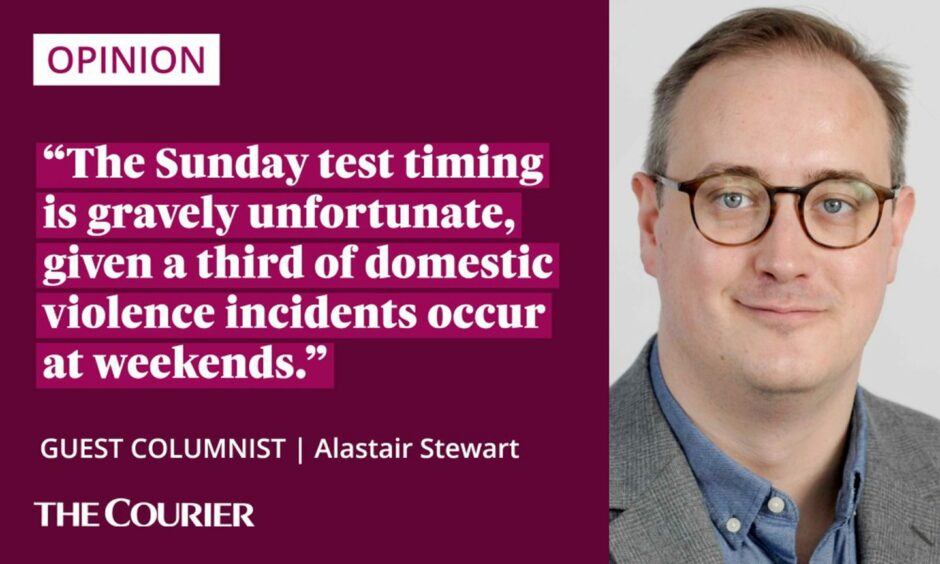 There is little to no discussion calling out the obscenity of domestic violence.
It is harrowing that women are being told to switch off critical alerts about life-threatening emergencies from a primary or hidden device in order to spare themselves emotional or physical harm.
The irony is perverse. The system is meant to alert people to danger. And it is not being discussed.
Emergency alert is opportunity to spark discussion on domestic abuse
The police recorded 64,807 domestic abuse incidents in 2021-22, nearly all of them perpetrated by a man.
Just under nine in 10 instances occurred in a home or dwelling.
The Sunday test timing is gravely unfortunate, given a third of domestic violence incidents occur at weekends.
In Scotland this week there has also been intense focus on the new First Minister's "fresh start" policy programme.
More attention should have been paid to supporting survivors of domestic violence. And the emergency test could have started a national conversation.
Maybe politics is not so esoteric or entertaining when remembering the stark realities for those living with bullying, degradation and violence.
Domestic abuse realities should not be hidden from view
A culture of shame and fear permeates anyone with any experience of these issues. And it is so often internalised.
The Domestic Abuse (Scotland) Act 2018 might recognise domestic abuse as a crime for the first time. But there is much more to do to help people to come forward to report that crime.
📢 The #EmergencyAlerts test is taking place this Sunday at 3pm. We understand you may be keeping your phone hidden from an abuser. We've created an #Android guide so you can opt out of alerts to keep your device from being detected. 🔄Share this post.
👉 https://t.co/ATyEbdpZop pic.twitter.com/P2UnGy5yU7

— Women's Aid (@womensaid) April 19, 2023
The most recent Scottish Crime and Justice Survey estimated that fewer than one in five domestic abuse cases are reported to the police.
Women's Aid has said there are "unprecedented levels" of women reporting domestic abuse as the impact of the cost of living crisis emerges. This will likely continue to grow.
Abusers are slimy, manipulative sorts who have mastered lying to the world beyond their four walls.
Domestic violence requires eternal vigilance from all of us to protect those in the most vulnerable positions.
We should be yelling from the rooftops daily that it is unacceptable in modern Scotland.
---
Alastair Stewart is a freelance writer and public affairs consultant.