They say when you take a bad knock, the best thing to do is get right back on the horse.
Turns out that horsey people actually mean that literally.
And when I was a bushy-tailed, saddle-mad 10-year-old, I put that advice to the test.
I'd had a really bad fall. It was no one's fault, just a perfect storm of bad luck – a skittish horse, a steep hill, and an unexpected clap of thunder.
Boom, clap, buck, crash. Tale as old as time.
As little Rebecca somersaulted through the air (three times), she wasn't thinking about how she should've worn a body protector, or the imminent cracking of several ribs as she rattled, flat-backed, to the ground.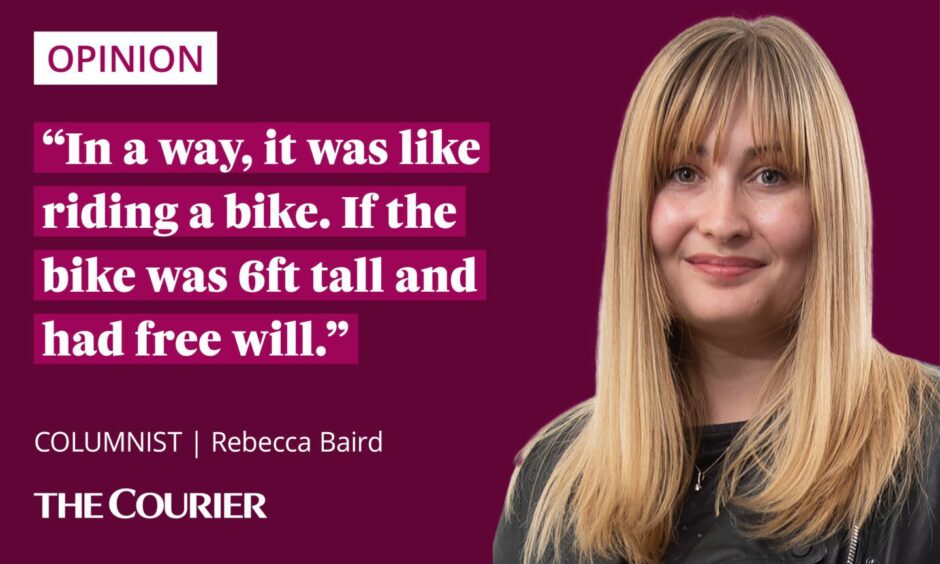 She was worried about Frankie, the horse that sent her flying and bolted.
He was a sweetheart, but a big fearty. I wasn't scared of him, but he was scared of storms, and I felt guilty that because of me (and my poor instructor) he was out in one.
And as I lay winded in the mud, the big silly beast came shuffling up all bashful, bent his velvety snout to me and snuffled worriedly at my teary face. I forgave him immediately, the big lug.
I've always loved horses. It was why I wanted to take riding lessons in the first place, before all the politics and poshness started to seep in.
And I really thought, as my panicked instructor was asking me to wiggle my toes and fingers, that I'd get right back up on the horse.
Then I tried to actually get up.
'I said I'd go back but I never did'
Only then did I realise how right royally wrecked my ribs were. Speaking was impossible, breathing was excruciating. Walking happened, but I don't remember it.
Fast forward a long few weeks and I was healed but tender, and back at the yard fussing over a feisty wee Shetland pony called Basil. He was a biter, but I adored him.
Bringing out a chubby, docile mare called Roxy, my instructor asked if I wanted to try getting back on the horse. And I did try. We rode around the ring three times before vertigo had me sliding out of the saddle.
Weirdly, that left me more shaken than the original fall. It was my first time experiencing a mental block, a total loss of confidence.
I said I'd go back but I never did. It always bugged me, but horsey life is expensive and cliquey, and once I outgrew my kit, I let the hobby die.
The love never did, though.
So when, last week, one of my friends asked me if I fancied going on a hack with her, I found myself saying 'yes'. I didn't know how much I wanted to until I was asked.
Off we went to Muirhead Stables on a sunny, crisp November Saturday. All the way there in the car, I was fronting enthusiasm – and hiding a mounting terror.
What if that mental block happened again, all these years later?
Taking the reins and facing my fears
Flushing hot then cold, I debated whether I should take my jacket, wear a hat under my helmet, or if gloves would help or hinder my sweaty grip.
But despite my best efforts to delay it, the moment I was most afraid of arrived, and aided by one of the stablehands (and feeling safer for it) I stuck my foot in a stirrup and swung myself on to a horse's back for the first time in almost two decades.
In a way, it was like riding a bike. If the bike was 6ft tall and had free will.
Come to think of it, the last time I rode a bike, I ended up in a canal, but that's a story for another time.
But to keep to the tenuous analogy, I did find that after 10 minutes of sheer panic, muscle memory kicked in. I remembered how to hold the reins looped under three fingers, how to brace my weight against the saddle and stirrups.
And by the time we started trotting, I was rising in rhythm with my equine pal, Ebony.
As we made our way through the Coupar Angus countryside, I remembered why I loved doing this in the first place.
Joys of being back in the saddle
Horseriding is one of the few modes of transport where you can feel the wind in your hair one minute, and stop and smell the roses (or untangle your hair from the branches) the next.
There's something so satisfying about the clip-clop of hooves on the ground being the only sound for miles. And though it can be harrowing when it goes wrong, it's humbling to put your trust in one of these intelligent, majestic creatures.
More than anything, it opened my eyes to one of the best things about no longer being a 10-year-old kid: I can do anything I want.
Even if I'm scared, or inexperienced, or rubbish, being an adult means having the opportunity to face your fears on your own terms, in your own time, on your own dime.
So it might have taken me 18 years – but I can now proudly say I did get back on the horse.