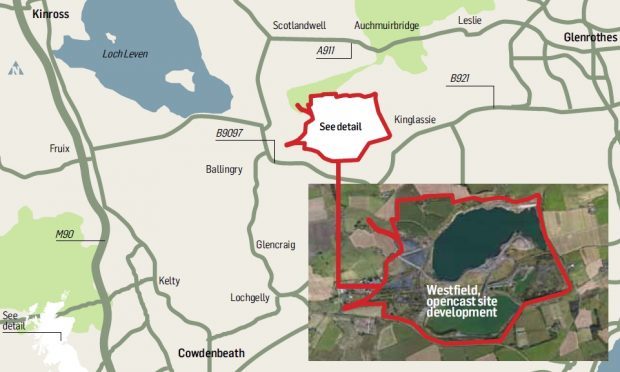 Sir, – It is good to see an SNP councillor, Ross Vettraino, raising serious concerns at Fife Council's planning committee about the proposed Westfield waste incinerator and associated developments (October 24).
All the heavy traffic associated with these developments will be directed into Perth and Kinross along the B9097 past the RSPB's Vane Farm and Loch Leven.
The south side of the loch will become a death trap for anyone trying to walk or cycle along the same route.
This is why Perth and Kinross Council and Portmoak Community Council recommended that an off-road walking and cycling route be constructed alongside the B9097 from Westfield to close by junction five of the M90 motorway before any HGV was allowed to use Westfield.
This plea was dismissed by Fife planning officers who told the committee that the Highway Code was sufficient to deal with all traffic problems.
They would not dare say this about any development in Fife with its well-established walking and cycling routes. Good luck to Councillor Vettraino as he tries to prevent a tragedy on the B9097 and to bring Fife's planners to their senses.
Dave Morris.
2 Bishop Terrace,
Kinnesswood.
Failure of EU regulations
Sir, – Professor Colin Reid of Dundee University warns of a race to the bottom in environmental standards resulting from Brexit (October 24).
One wonders exactly what protection actually is afforded specifically from EU regulations when in Scotland we see rich developers like Donald Trump ignoring SSSI status to build a golf course.
Some EU countries such as Italy have an appalling record of reckless disposal of toxic and industrial waste in the countryside. The CAP has encouraged waste, payment for non-production and the emergence of biofuel mega farms at the expense of smaller, diverse producers.
The EU continually pays lip service to science on issues such as pesticides and global warming, but invariably only tinkers at the margins with regulation in order to protect corporate interests.
I am no supporter of this inept Tory government, but in fairness, I have seen no indication that anyone is proposing a diminution in standards.
It is not an inevitable result of Brexit, and it is simply scaremongering to suggest so.
We should not forget that most of the protections for both society and the environment in the UK have been fought for and won by unions, charities and pressure groups, many of which were established here long before the founding of the EU.
Andrew Smith.
16 Bingham Terrace,
Dundee.
Generational experiment
Sir, – Defenders of hitting children always use playful euphemisms: tap, clip, light smack and the delightfully couthy Scots skelp.
Those adults for whom hitting children was normalised in their own early years invariably use the line: it never did me any harm.
Here's a thought experiment. Let us find an adult who was not hit as a child but who now believes their parents were wrong and advocates hitting their own kids.
Neil Barber.
Saughtonhall Drive,
Edinburgh.
Parties should work together
Sir, – Les Mackay misunderstands my letter. I did not blame the Labour Party for the Brexit mess, I merely said that if it was an economically reliable party it could work with the Conservative government to achieve a Brexit result.
But, as he says, it put its own interests first when now is not the time for adversarial attitudes. Now is the time for political differences to be put aside for the sake of Britain's future.
Malcolm Parkin.
Kinnesswood,
Kinross.
Poor will be strung along
Sir, – Much has been said about the citizens' basic income.
Nicola Sturgeon's own adviser Liz Hawkins, briefed her in March that it would cost £3.6 billion, others as much as £13bn, economist Joe Stiglitz advises against it, the Tories are dead against it and most of the people who have heard of it either imagine it can keep them idle and happy so they love the idea or it will keep others idle and happy, so they hate the idea.
But two Scottish think tanks from ether end of the political spectrum, Commonweal and Reform Scotland, are in favour of the concept because it is an opportunity to radically reform the benefits system to make it fairer and encourage and smooth the process of people into work.
But few people either know or are prepared to admit that it is a replacement for all relevant benefits, not a layer on top.
In fact Commonweal says the system would be cost neutral, and Reform Scotland says it will shave £3.6bn off Scotland's £18bn share of the UK's £200bn annual benefits bill. Nicola Sturgeon wants to closely examine it.
A cynic would say that since she looks like leaving 374,000 higher income voters swinging in the wind she can concentrate on stringing along the disadvantaged and, of course, the Greens, but perhaps just once she will look at this in terms of what is right for the Scottish people and the public purse.
Allan Sutherland.
1 Willow Row,
Stonehaven.
Greens' strong hold over SNP
Sir, – So a skelp on the lug of a teenager behaving nastily is to join the list of prohibitions initiated by the Greens who seem to have a Rasputin-like hold over our political masters.
No fracking although it would bring clean, cheap energy and tackle fuel poverty. No diesel and petrol cars which are the most efficient and have no issues with bioelectromagnetics.
No thermal power stations so we must rely on stuttering wind power.
No nuclear which will remove much of the base load from the grid.
No analogue electricity meters which, unlike smart meters, are ultra reliable, safe, and invulnerable to hacking.
No hygienic polybags although we know that reusable bags harbour germs.
Oil to be left in the ground although vital goods are made from it.
William Loneskie.
Amulree.
9 Justice Park,
Oxton.