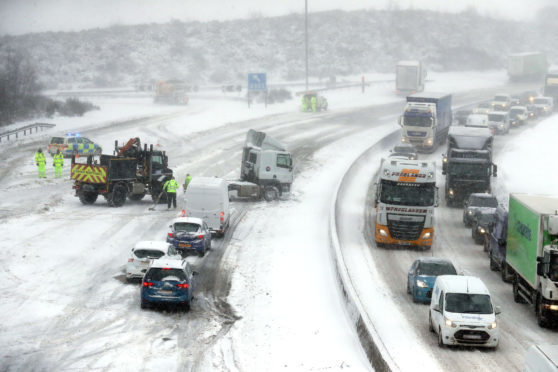 Sir, – I refer to Graham Huband's article in BusinessMatters (The Courier, February 28) about the country grinding to a halt. In his opinion, it is all unnecessary.
Is a snowstorm in winter so extraordinary, he asks. Has he not noticed this is now spring?
He mentions the Scandinavian countries and Canada, who cope admirably with such conditions.
Yes, because they experience such weather on a regular basis.
How many people in this country would be willing to pay the extra money through their council tax just to have expensive machinery standing around in case it was needed?
I'm willing to bet, if he asked around, it would be very few.
He mentions the loss to the economy back in 2010, when the weather cost something like £1 billion per day.
A similar amount would be required to make an investment into the sort of machinery he would like to see provided.
Also, he writes as if this was a common occurrence.
We have lived in a rural part of Fife for more than 30 years and can honestly say that the wind which caused much of the drifting dumped the biggest load of snow I have seen around these parts in that time.
Although we were cut off for the best part of four days and cleared our half-mile of road by our own efforts, I salute the roads staff and emergency workers who worked tirelessly to help those affected.
Incidentally, I bet Graham Huband stays in a townhouse in the middle of Dundee.
Sylvia McHardy.
Endrigs,
Kilmany,
Cupar.
Dubious claims made about EVs
Sir, – In his letter (The Courier, March 7), David Churchill makes many dubious claims about the competence of electric vehicles (EV) in response to a challenge of their usefulness in severe weather conditions. I would like to address a few of them.
Firstly, he fails to mention that EV battery capacity reduces by around 30% in freezing conditions, Secondly, he claims that heating the car in such conditions results in negligible battery usage and that the car's heating could be maintained for 12-15 hours – this is nonsense, as any EV owner will tell him.
Thirdly, he cites the Tesla articulated lorry technology as proof of his claim that snow ploughs could operate for 300 to 500 miles.
He fails to mention that the Tesla lorry is a concept and does not yet exist and that the mileage claimed is in the temperate climate and expansive highways of the USA – nothing like the rigorous requirements of a snowplough.
That said, I am prepared to be proved wrong by an actual EV owner who had the misfortune to be stuck on the M80 for 15-plus hours.
Dr GM Lindsay.
Whinfield Gardens,
Kinross.
Failing to accept the downside
Sir, – In his response to the letter from Malcolm Parkin, David Churchill reveals that he can see no downside to electric vehicles (The Courier, March 7).
Readers must therefore assume he is the proud owner of one on which he received a substantial grant (up to £5,000) from taxpayers, pays no emissions tax, pays no fuel tax and gets the electricity he needs free from public charging points.
He makes the point about reducing emissions but Scotland has a miniscule 0.13% of global emissions.
There are estimates that there will not be enough electricity available as the number of EVs grow and blackouts will be targeted in specific areas triggered by smart meter technology.
Taxes will rise since fewer people will be paying fuel duty of 57.95 pence per litre.
The grid will have to be upgraded to cope with the increased demand from EVs and the cost for Scotland's taxpayers has been estimated at £200 million.
Thus the EV owner who can afford to buy his vehicle is subsidised by taxpayers – many of whom cannot afford a second-hand car, never mind an EV.
Clark Cross.
138 Springfield Road,
Linlithgow.
Beware the 'vampire drain'
Sir, – What is not common knowledge about battery-driven cars is their so-called 'vampire drain'.
This refers to the steady discharge of the battery when the car is parked up – not only because of the natural drain on Li-ion batteries but also because of various electrical systems in the car.
There is a video on YouTube of a family leaving their Tesla at the airport to go on holiday – when they returned the battery was flat and a tow truck had to be called.
Remember, you cannot push an EV.
Bjorn Nyland, a Tesla fanatic who posts on YouTube, reports that he parked his Model X for six days, reducing its range from 176 miles to 116 miles though it moved not a yard.
William Loneskie.
9 Justice Park,
Oxton.
Seeking name for next storm
Sir, – Everyone will be relieved that Storm Emma and the Beast from the East have finally passed and that better times lie ahead.
Parts of Scotland and Britain have suffered serious disruption with problems caused to infrastructure, transport and road quality.
The health service was also put under increasing strain, adding to the difficulty connected to the shortages of GPs. We have heard of increased waiting lists.
Police services were stretched to the limit with additional organisational troubles.
Education services have also been negatively affected and the taxpayer has been faced with unwelcome and unexpected costs because of the nature of the storm.
As these conditions are usually given a female name, I wonder: should the next storm be called Nicola?
Iain G Richmond.
Guildy House,
Monikie.
No need to press panic button
Sir, – I fully agree with recent comments on today's almost-total dependence on other people sorting or digging you out in an emergency.
I remember the 1947 snowfall when the entire country came to a halt.
I walked to school through two-foot-deep snow.
Only when the outside toilets froze was the school closed.
Now, some 5cm of snow brings public services to a halt.
It only takes one HGV to jack-knife to bring entire motorways to a halt. Could it be that poor driving is the fault in the first place?
Something needs to be done to waken up the people in this country – to start to take responsibility for their actions, before they press the panic button.
Bob Smart.
55 Bellevue Gardens,
Arbroath.
Ordinary people are ignored
Sir, – Some time ago the EU floated the idea of levying a tax of 0.05% on all financial transactions passing through its stock exchanges.
It is not a large sum of itself but the money raised would be in the region of billions of euros, which would be enough to eliminate world poverty.
The sole opposition came from the UK, in its role as protector of the interests of the City of London.
At the same time, a certain Nigel Farage came into the public eye as the champion of Ukip.
He made his fortune as a stockbroker in the paper economy.
Further back in time, it was Margaret Thatcher who promoted the activities of the City and presided over the demise of Britain's manufacturing industries, leading to an over-dependence on the provision of financial services.
Step forward to the post-referendum period and the current fiasco of trying to secure what I would term a have-your-cake-and-eat-it deal.
I believe this is unlikely to live up to the hype being put forward by the Brexiteers.
Enter Chancellor Philip Hammond to make it quite clear that it would not be in anybody's interests to attempt to interfere with the activities of the City of London in arriving at an exit trade deal.
What he can't say, however, is that it would not be good for those who make their fortunes from stock exchange manipulation, while the rest of us don't count.
Allan A MacDougall.
37 Forth Park,
Bridge of Allan.