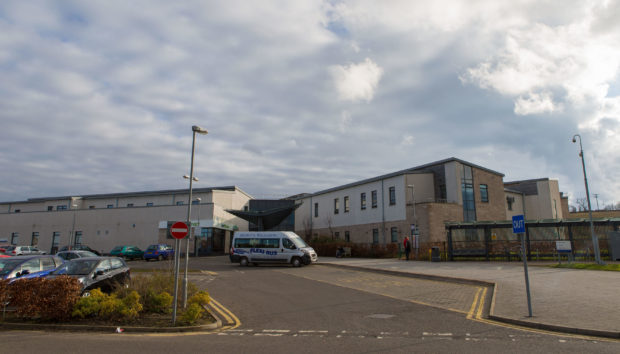 Sir, – The ongoing closure of the out-of-hours service is causing increasing concern and has implications for all St Andrews, greater North East Fife and East Neuk residents, visitors and workers who come into the area, especially on night shifts.
Winter is coming.
This will affect the rates of some illnesses in the population and road conditions will be negatively affected by the weather, making night-time trips to Kirkcaldy more difficult and adding to already stressful situations.
Surely one of the main points of building our Community Hospital in St Andrews was to eliminate long anxious journeys to Ninewells and Kirkcaldy for medical attention.
As your readers may know, there is an online petition against the closure of the out-of-hours service at St Andrews.
In a short time, more than 3,000 people have signed it.
It is hoped that a signing opportunity will be provided in Church Square, St Andrews later in the month which will be advertised through the usual channels.
In addition to the petition, there is an online consultation by Fife health and social care partnership.
This includes more areas of proposed health provision in Fife than just the out-of-hours care.
Apparently, few people have completed this.
A low response rate could be taken as an indication that people are content with the proposals.
So, if you disagree with what is being proposed, it is important to make your views known by October 8.
Finally, there is a "consultation workshop" from 6.45pm to 8.30pm in St Andrews town hall on September 24.
I urge everyone, if able, to attend.
Callum MacLeod.
36 Radernie Place,
St Andrews.
High praise for penguin parade
Sir, – Forget arguing about Brexit for a moment, stop questioning whether the V&A is value for money.
Instead celebrate the brilliance of local artists as seen in the beautiful Maggie's Penguin Parade.
Every one is a real work of art, every one unique, but built on the same frame.
I would never have believed such an out-pouring of ideas, imagination and creativity was possible on a common theme, and every one is a credit to the sponsors.
Well done to The Courier for publishing the souvenir guide. It brightened up my day.
Peter Stewart.
5 Mill Lade Court,
Auchterarder.
Let us know what you do
Sir, – Much has been made about the demise or otherwise of community councils.
It might help if we were to know when they meet and what happens.
I do know that we have one locally, but what they do and when is rarely made public.
I am sure that The Courier would publish any information submitted. Hopefully this would lead to more people becoming interested.
Bill Ledger.
Dreelside,
Ansthruther.
Attainment gap conundrum
Sir, – Some are suggesting that the SNP's hostility to independent schools is fuelled by horror at the prospect of children being educated outside of the manifold wisdom of the Scottish Government.
This is not true.
Education Scotland vigorously enforces the state's philosophy of education on independent schools, so the SNP can be confident that every child in school in Scotland is well and truly under their influence.
So what does fuel their attack on independent schools?
As with every other SNP education policy, it is all about "closing the poverty-related attainment gap".
This ideological drive for equality of outcome can be fulfilled by boosting performance in less wealthy areas, but this is proving difficult – announcing yet another injection of cash into these schools makes a good media splash, but progress is elusive.
So, how about closing the attainment gap from the other end?
Independent schools provide an excellent education for the wealthy – thus widening the attainment gap.
So, do away with them, and the holy grail comes closer to their grasp.
The poorest kids won't be doing any better, on average, but at least the wealthiest won't be doing as well.
Mission accomplished.
Alien to the SNP is the idea that highly educated people are an asset to Scotland, boosting the economy, fulfilling vital functions and enriching cultural life.
Higher academic standards anywhere are always a good thing.
Fair enough, pay particular attention to areas of need, but Nicola Sturgeon and Ruth Davidson are wrong: an ideological drive for equality of outcome is counter-productive.
Richard Lucas.
Leader of the Scottish Family Party,
272 Bath Street,
Glasgow.
Bigger stores may Jack it in
Sir, – It is surely good news that Tesco have bowed to the inevitable and opened "Jack's" in competition to Lidl and Aldi.
Hopefully it marks the end of brainwashed shoppers paying a premium for the same, or often inferior, goods at inflated prices just because they have a brand label.
No doubt the other supermarket giants will follow.
The logical result of this retail revolution will be revived high streets.
The end of huge out of town emporiums selling everything from beef to buckets is an opportunity for locally-owned independents selling a wider range of goods, benefiting from a wider, post-Brexit variety of products based on quality and price.
We might even see the emergence of another European phenomenon, namely the small, low cost, town centre supermarket such as Edeka (similar to William Low's) in Scottish High streets.
The only problem I can foresee is the lack of parking in town centres.
Allan Sutherland.
1 Willow Row,
Stonehaven.
Learn lessons of the past
Sir, – Against the background of an increasingly dangerous and unstable world situation, Britain's armed forces have been axed to a historic low and we struggle to maintain our UK defence spending at a meagre 2% of GDP.
During the disastrous disarmament after the First World War which encouraged Hitler's aggression in the 1930s, it was strongly argued that the UK defence spending should not fall below 20%, a full 10 times greater than at present, and that was against a background of economic austerity far worse than today's.
Yet even the 20% target proved tragically inadequate and the consequence of complacency was the cataclysmic Second World War.
By contrast, after the great wars against Napoleon, Britain made a huge investment in rebuilding her Navy, with a fleet of such state-of-the-art ships as HMS Unicorn to act as a strategic deterrent.
The result of this wise investment was a century of world peace, the famous "Pax Britannica".
Perhaps we should learn from history.
Roderick Stewart.
Dronley House,
Dronley.
New block is a big carbuncle
Sir, – Why on earth have planners permitted the carbuncle of an office block to exceed the height of the V&A building, which presented a wonderful view looking down Union Street?
It is an absolute disgrace to permit this to happen.
As regards comments on the V&A looking like a big skip, it is designed to have a look of a ship rather than a skip, and reminds us of the historic ship building past which once dominated the waterfront. It is most apt as, after all, we are a seafaring nation.
Bradley Borland.
Beechwood,
Kinfauns.
Wind claims were hot air
Sir, – When the new Queensferry Crossing was opened I seem to recall that the First Minister or a minion said it would never close due to high winds.
It closed the other day to high sided vehicles.
Why?
The Severn Bridge which opened in the mid-90s has never been closed due to weather.
Did something go wrong with the SNPs flagship project?
Ronald James.
7 Golf Place,
Northmuir,
Kirriemuir.