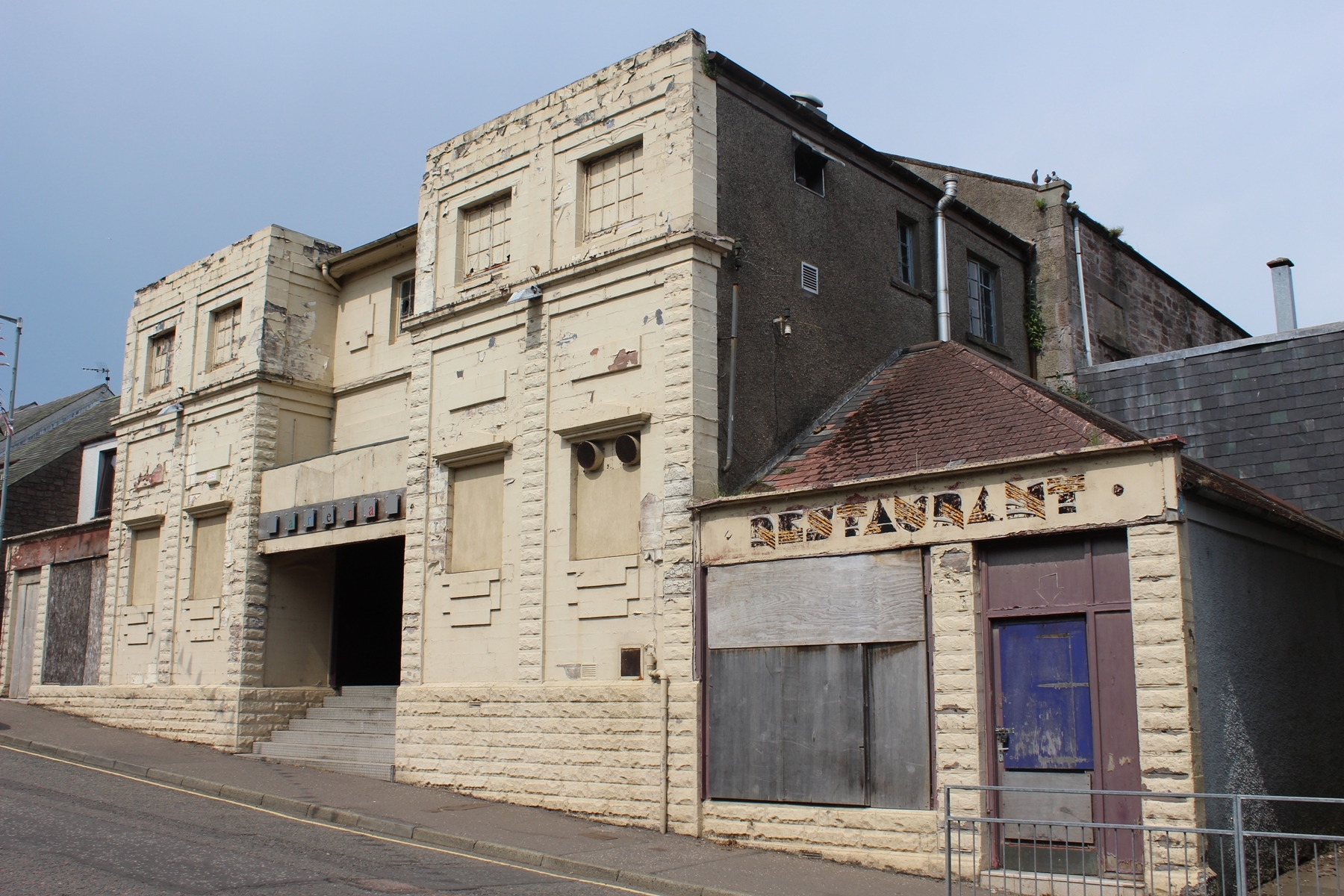 Sir, – As a child of the 80s, how sad to see the former nightclub and cinema, Flicks in Brechin, languishing unloved and neglected since closing 20 years ago.
As a teenager, an evening at the then-nightclub was a sublime experience.
Not withstanding the fact management once saw fit to allow my mother in to look for me and my sister when we failed to meet our curfew – the embarrassment! – it was above and beyond.
It was like stepping in to a wonderland, complete with laser lights and cocktails.
Life thereafter in Edinburgh and Glasgow highlighted what a gift of an experience we youngsters in Angus received from Flicks and humble Brechin.
Surely this once grande old dame should not see her twilight years being the subject of a crass auction between Angus Council and developers ("Brechin's former Flicks nightclub poised to go under the hammer," The Courier, October 4).
Like mine, her clubbing days are over, but she remains an art deco treasure.
I'm certain many other teens of the 80s will agree it is an establishment worthy of restoration in some form.
And thanks, Flicks, for the memories.
Jane Simpson.
3 Hillbank Terrace,
Kirriemuir.
Golf spectators safety call
Sir, – The recent Ryder Cup accident, resulting in a spectator losing the sight in an eye, means that someone has to take the blame.
The organisers of major golf tournaments should be well aware of the risk of balls in flight. There is always a danger to spectators from a stray ball, even if they are not in close proximity to the field of play.
Something must be done to improve the design and safety of these temporary and makeshift spectator sites, and not left to the unregulated discretion of individual tournament organisers.
Thomas Murray.
Bayview,
Westhaven,
Carnoustie.
Caveat emptor: where to begin?
Sir, – I am at a loss to know where corporate responsibility should end and individual responsibility begin.
Two recent incidents involving Corine Remande being struck in the eye at the Ryder Cup tournament and the death of Natasha Ednan-Laperouse from anaphylactic shock on a BA flight from London to Nice have brought this to the fore.
I feel great sympathy for Remande's loss of her right eye but unease about her declared intention to sue the organisers.
Spectators at a golf tournament are warned of the risks and, for such an "avid golf fan", she was standing in a very dangerous spot while those around her are seen ducking down as the shouts of "fore" sound out.
As regards Natasha Ednan-Laperouse, I am appalled the BA cabin crew refused to supply the plane's defibrillator to the doctor trying to save her because they were "manning the doors" as the plane landed.
But should a child with such a complex range of allergies ever buy a commercial product, rather than bring a home-made sandwich?
Rev Dr John Cameron.
10 Howard Place,
St Andrews.
Fix hospital cleaning woes
Sir, – Correct me if I'm wrong, but I remember the Scottish Government stating some time ago that due to problems with cleanliness in hospitals, they were going to return the cleaning of hospitals to in-house.
Having recently been a patient in Ward 23 of the Victoria Hospital, Kirkcaldy, I agree that suggestion be acted upon forthwith.
The cleaning of this ward consisted of an outside cleaner running around with a dry type of mop which merely left behind a white dust.
The making of beds consisted of being asked to get out of bed while it was made up – which consisted of the undersheet and topsheet being tightened up.
Having been a patient in a private hospital in my time, the difference in cleanliness can only be described as amazing. Come on NHS Fife, you can surely do better.
Allan Murray.
Napier Road,
Glenrothes.
Deadly Carry on Brexit farce
Sir, – The reality of Brexit is becoming clear.
Far from being a land of milk and honey as the Brexiteer liars claimed, the chickens are coming home to roost.
The downmarket Sunday tabloid (owned by the billionaire tax-exile, Jonathon Hemsworth, aka Lord Rothermere) is warning its readers about food, medicine and power shortages, massive tailbacks at ports and airports and the Army being drafted in.
This same paper was the biggest cheerleader for leave and the biggest source of Brexit misinformation.
The absurdity of Brexit was further underscored by Michael Gove.
This arch-Thatcherite wants local councils in England to allow people onto dumps in order to see if they can repair and recycle rubbish.
Gove once said families relying on foodbanks did so because of poor financial planning.
Gove's comments are not an aberration; 14th Century throwback Jacob Rees-Mogg stated he would like to see UK health and safety standards fall to the same as India.
He seemed never to have heard of the Bhopal disaster in 1984. Some 40,000 people were killed and 500,000 injured in this industrial accident.
The Work and Pensions Secretary Esther McVey is said to have conceded privately to cabinet colleagues that the disastrous Universal Credit scheme is costing families up to £200 per month. Despite this, the Tories are carrying on with its roll out because of ideology.
So bad is the looming Brexit disaster that the Tories have appointed a minister for food shortages for the first time since rationing was abolished in 1954.
With the looming catastrophe pending all Theresa May could do was come onto a stage to the song, Dancing Queen.
Even that turned into a disaster with Abba now threatening legal action for using their music without permission.
This Carry On Brexit is farcical, yet its consequences will be deadly.
Alan Hinnrichs.
Gillespie Terrace,
Dundee.
Independence? Not really
Sir, – Once again the threat of a second independence referendum has reared its ugly head.
Independence? Not by my dictionary definition.
Ms Sturgeon's dream is to remain in the EU, controlled by the unelected members of the European Council who have yet to produce a set of accounts to show where all the money given to them has gone.
Ms Sturgeon is of the opinion an independent Scotland would be welcomed with open arms by the EU – which is far from a certainty.
There is no way we would meet the main criteria of membership of the EU whereby our country's level of debt would be no more than 3% of our GDP.
With the level of our present debt, plus our share of the UK debt, and the cost of setting up an independent Scotland, our debt would be far in excess of that.
We would have no control over new policies and laws made by the EU, we would have to accept all that came our way, whether we like it or not, and that includes our concerns over agriculture and fisheries.
All this is hypothetical if people were to vote YES for independence but what if the result were to be the same as the last referendum?
Will the SNP "rent-a-mob" be sent out again with their flags and banners seeking a third?
Voters of both convictions should have a long, hard think about independence and its consequences.
If a referendum was to take place then they have to decide that, if they agree with Ms Sturgeon's definition of "Independence" then they vote YES accordingly .
If they disagree then they vote NO.
Only time will tell if we are ever given the chance in the future.
John M Page.
Panter Crescent,
Montrose.