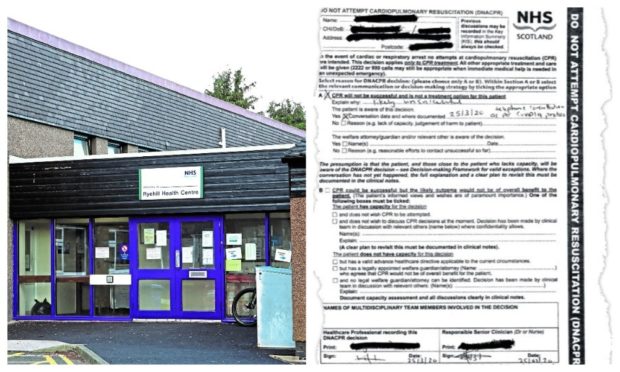 Sir, – I refer to your headline 'Do Not Resuscitate' (Letters, April 3).
As a GP with a special interest in palliative care, I believe this is an important matter to discuss. It is time we brought the issue of resuscitation into the public conscience.
CPR is portrayed on television as an intervention which produces good results.
This is misleading. The grim facts are that cardiac arrests outside of hospital have a survival rate of less than 10%.
They are traumatic and undignified. Those who do survive are often left with painful traumatic chest wall injuries such as rib and sternal fractures.
Furthermore, an inevitable interruption of oxygen to the brain, leaves many with long-term neurological problems. Needless to say, many of these individuals have a very poor quality of life on recovery.
It is important to stress that a 'Do Not Resuscitate' order means only that. It is not a sign that doctors are 'giving up' on patients. It does not affect their medical care in any way.
It is simply a decision which guides the events surrounding their death and may make the difference between dying peacefully and preserving dignity or having a traumatic procedure carried out in the immediate aftermath.
As doctors, we often find that patients themselves would not wish to undergo CPR, but it is their families who oppose this decision.
Nobody likes to talk about dying; it is, however, our responsibility to do so.
Having this conversation is not new. We have been discussing wishes surrounding end of life with patients for a very long time.
In doing so, we are trying to treat patients with respect, consider their wishes and empower them in making informed decisions, thus giving them a degree of control in the management of their death.
This is not about allocation of resources and there should be no pressure on patients to make this decision.
If, after considering the information I have mentioned above, patients still wish for CPR to be performed, this is respected and recorded.
It is understandable that family members are upset about these discussions taking place.
In some cases, carrying out CPR can help loved ones through their grieving process, knowing that everything that could be done was done.
I would encourage people to think carefully about their wishes, and discuss these matters with their families and GPs.
It is important that we get this right for everyone's sake.
Dr Natalie Donald, GP.
Bank Street, Cupar,
Fife.
The law also applies to them
Sir, – Having watched what was clearly a visitor drawing up just along the road in front of his presumed holiday home in clear breach of Scottish Government instructions I first verified that this was indeed a holiday home, the owner of which lives in Newton Mearns.
Rather than put my late 70s geggy at risk of a swift heid, I sought somewhere to report this infraction, along with a whole string of similar offences involving holiday homes along the Shoregate.
I tried phoning 101 to be instructed by message to try some websites none of which showed any interest and left no facility for leaving messages.
We seem to be dealing with middle-class 'scum' – those with sufficient capital to afford holiday homes and insufficient social consciences to consider that laws, regulations and advice apply to them.
John Clayton.
29 Nethergate North,
Crail.
Who is next to flout the rules?
Sir, – First Gordon Jackson, Dean of the Faculty of Advocates, resigns after he was filmed discussing Alex Samond's high profile case before the former first minister was cleared, now Dr Catherine Calderwood, the chief medical officer, has resigned after it was found she did not follow lockdown rules and visited her holiday home in the East Neuk, twice.
My granny used to say, these things come in threes – who will be the next among Scotland's "Great and Good" to flaunt the rules, bring shame on themselves and embarrass their professional colleagues?
John Birkett.
12 Horseleys Park,
St Andrews.
The CMO and the prince
Sir, – I fail to see much difference in the conduct of the Scottish chief medical officer, Dr Catherine Calderwood, and that of Prince Charles.
Why has one had to apologise profusely and been vilified in the media and the other has, to a large extent, kept quiet?
Prof Findlay Swinton.
56 Dalhousie Court,
Carnoustie.
Time to end sports subsidies
Sir, – Maaike Cook is right to criticise some big football clubs for furloughing employees working in the background, while paying their players in full (Letters, April 3).
The horrendous cost to the taxpayer of Chancellor Moneybag's Covid-19 profligacy will never remotely be recouped, but we can at least make a start by ending all direct or indirect subsidising of professional sport.
George Morton.
29 Hudson Road,
Rosyth.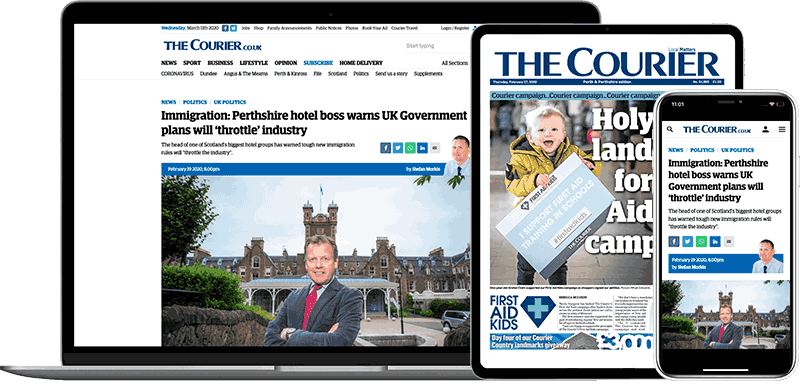 Support The Courier today.
The Courier is committed to delivering quality content to our communities and right now that's more important than ever, which is why our key content is free. However you can support us and access premium content by subscribing to The Courier from just £5.99 a month. Because Local Matters.
Subscribe