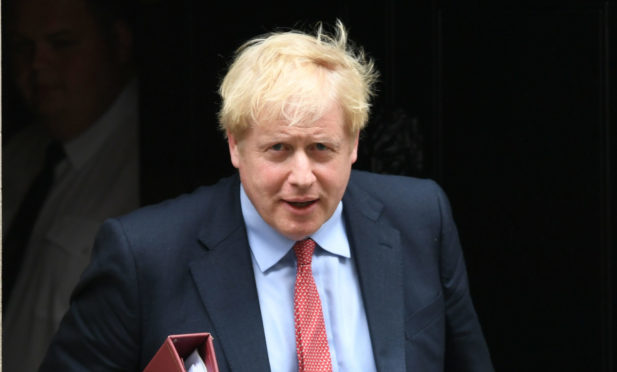 Sir, – Now that the Prime Minister has deigned to visit his fiefdom north of the non-existent border or, as he and his cohorts would prefer, north Britain, this is a chance for all the keyboard warriors that promote the Tories to organise a welcoming party for him and take a rest from letters to The Courier extolling the benefits of the union every other day.
Boris Johnson's aim is to rally the union loyalists because Westminster is alarmed by the surge of support for Scottish independence, as well they might be.
They know the battle to hold on to their last colony is doomed to failure.
Boris and his Cabinet are about to attempt a power grab and deny the Scottish Parliament its ability to legislate on behalf of the Scottish people.
Such a move will delight Jackson Carlaw and the dwindling band of unionists.
But it will only recruit more people to the cause of independence.
I am sure that the Yes movement will afford Mr Johnson a suitable welcome.
James Smith,
Brownhill Place,
Dundee.
Playing Scrooge with licence fee
Sir, – I agree with Jessie Dents' letter of July 18(Licence fee "kick in the teeth" for pensioners).
This is a classic example of "rip-off Britain" – the result of a hard-nosed Government passing the buck over to the "fall guys" at the BBC.
Many pensioners in the over-75 bracket, who have served their country in various forms over the years and put up with some difficult economic times into the bargain, are now being financially penalised.
One can reflect on the three principles of Lord Reith, the first Director General, to inform, educate and entertain.
I do not wish to enter into the realm of current BBC programming as this is not the space to conduct such a discussion.
But suffice to say there is a major difference between a public service broadcaster and a state-run broadcasting system.
Personally, I would rather donate the equivalent of my over 75s licence fee to a series of deserving charities, and goodness knows there are plenty of them at the present time.
Let us maintain the status quo until this present pandemic is finally over before playing Scrooge with the over 75s licence fee!
John Aitken,
Graham Crescent,
Montrose.
Heartbreaking and infuriating
Sir, – During the past period, there has been a huge effort in Strathmiglo to keep people going.
One of the things was a food larder/ swap-shop to support people who needed help but wanted to stay anonymous.
Donations came ftom the people from Strathmiglo
All these months things went well, until today.
One member of the Community Support group went for a check up and found the facility vandalised.
Baby-milk powder opend and strewn about, sauces all over the place, period-products opened up and strewn all over the place, tins opened and left. It is heartbreaking, and infuriating at the same time.
What is wrong with people? What in Heavens name, is the joy of vandalising an important part of our community?
Mrs. Maaike Cook.
Cash Feus,
Strathmiglo.
'Informal' or 'dirty' camping
Sir, – Recent articles decrying the abysmal practice of littering, arson, criminal damage, obstruction, and by their irresponsible actions also trespass, have used the term 'dirty camping'.
This is an apt description, as is another term 'informal camping'
However I note today a full page article by Jamie Buchan repeating the incorrect and old trope of calling it wild camping.
What these people are doing is not wild camping, which is explained in the Scottish Outdoor Access Code.
The criminal acts of the as usual small minority need to be enforced by the appropriate authorities, but itself is part of a wider societal problem.
Making life difficult for the law abiding is not a way of generating respect for the law and a much better level of education and enforcement of existing laws and regulations which cover these illegal activities is required.
If there aren't sufficient resources for this then how will they cope with any new more draconian laws?
Nick Cole,
Convenor,
Perth and Kinross Access Forum.
'Phoenix-like' rise aided by rail
Sir, – Undiscovered Scotland mentions that Levenmouth is "an oddly elusive place".
The main roads from Glenrothes and Kirkcaldy to the East Neuk come together near Windygates, before skirting along the very northern edge of the conurbation.
For most people, Levenmouth comprises little more than Diageo's huge bottling plant and bonded warehouse complex.
In other words, a significant conurbation has been bypassed through inadequate road connections and the withdrawal of rail services.
Levenmouth will be further cut off the main road arteries as the major Kingdom Park development in north Kirkcaldy proceeds, so hope now rests with the return of the railway in 2023.
The possibility of Levenmouth's future phoenix-like revival through renewable energy hub as well as, tourism and leisure hub can be glimpsed but this will depend on maximising the impact of the railway's return and associated regeneration projects such as The Leven and Levenmouth Reconnected.
The Campaign, like the wider Levenmouth community, is still waiting to be at least minimally involved in shaping this future.
Dr Allen Armstrong,
Secretary,
Levenmouth Rail Campaign
Few capable candidates
Sir, – The idea of clapping for Nicola Sturgeon's 50th birthday is ludicrous.
I will be first in the queue to give her a clap when she improves the schools our health service and unemployment, to name but a few after all isn't that what she's getting paid for ?
If she can't deliver she should go.
Unfortunately the SNP are low on capable ministers that can step up to the plate.
Elizabeth Kintrea,
101 Main Street,
Coaltown.
Where were the wiseacres?
Sir, – Professor Howard Davies seems more interested in his letter (Science will see us through virus, Courier, July 18) in playing politics and especially in knocking the UK government,
I often wonder where all the wiseacres we hear from now were five months ago when nobody was clever enough apparently to warn us all of the impending pandemic ?
I have a lot of faith in science but it too has limitations . A vaccine is a good way off yet and scientists and doctors have little idea of the real nature of the virus .
Similarly scientists and medics are even now divided about the efficacy of one meter or two metre for social distancing and whether face coverings are a great precaution or not.
Professor Davies might accordingly want to be a bit less bullish in any future letter on this fraught topic.
Gus Logan,
York Road,
North Berwick.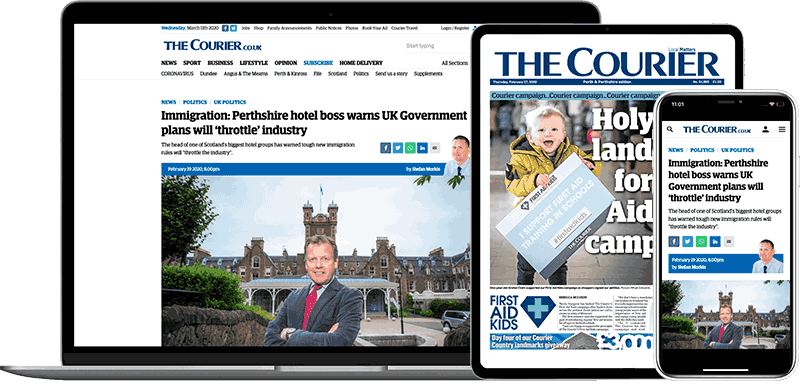 Help support quality local journalism … become a digital subscriber to The Courier
For as little as £5.99 a month you can access all of our content, including Premium articles.
Subscribe