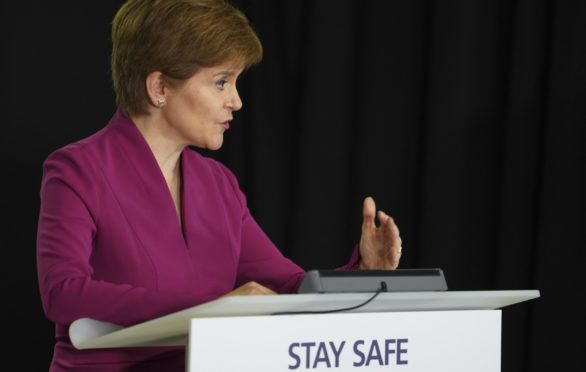 Sir, – I note with some bemusement the successful campaign to keep the first minister on the telly at lunchtime.
In a democracy, no politician has an absolute right to this sort of coverage, and all news programmes should choose their main items on editorial merit only.
The best public service information comes from careful analysis of political events, and is best viewed after the event.
That way, others can put the contents in a better overall context.
To be transparent, I don't watch the Nicola Sturgeon lunchtime show myself, but I did catch it on the radio the other week.
There had been a change in circumstances that had to be reported, and when the first minister said this, I was able to grasp quickly what it meant and why it was being done.
By the time she had repeated it six times in 20 minutes without interruption in slightly different ways, I suddenly wasn't so sure, and now can't remember what she was talking about.
It can't have been that important.
And, here is the problem. The BBC's own figures show that 95% of the population do not watch this programme.
How can this programme be a key plank in any communications strategy when so few people are listening?
Some people will say that older people who are shielding need to see such a programme, but the likelihood is that by listening to this every day, they are just increasing their own anxiety levels.
We know what to do. The core principles have been the same throughout. We will get the news if something significant changes.
We don't need a daily lecture.
Victor Clements.
Mamie's Cottage,
Aberfeldy.
Celebrate rich black history
Sir, – I have been struck by the debate over the renaming of David Hume Tower at Edinburgh University to 40 George Square.
The move is nonsensical because, as has been a well-rehearsed argument, if we judge individuals by the attitudes of the time in which they lived we will be left with very little when it comes to buildings and monuments dedicated to them.
Indeed, George Square itself is named after King George III, a monarch who supported the slave trade and suppressed a slave revolt on the island of Grenada in 1795. Indeed, he issued loans of £1.5 million to slave traders to re-establish slavery on the island.
However, what is also deeply worrying in addition to this is the lack of originality in that this building could have at least been renamed after a black person who historically made a major contribution to Scottish society, particularly that impacting the university.
John Edmonstone, for example, learned taxidermy from naturalist Charles Waterton during his enslavement on a timber plantation in Demerara, Guyana.
Moving to Edinburgh in 1817 and becoming a free man he sold exotic specimens to the university, teaching taxidermy to students, including a certain Charles Darwin, who he had a major influence on.
Thomas Jenkins was likely Scotland's first black schoolteacher and took classes at Edinburgh University in the early 19th Century.
Scotland enjoys a rich black history and if universities are to look at naively obliterating the past, the least they could do is pay tribute to those who this is supposedly being done in the name of.
Alex Orr.
2/3 Marchmont Road,
Edinburgh.
Cast net wide for virus regime
Sir, – That the Scottish Government are to introduce further restrictions on the freedom of the general public because of coronavirus without any effective government measures is guaranteed to cause discontent.
Rather than simply piling more frustration on the general public, other things could be introduced such as airport testing of arrivals, having testing available for anyone who wants it, having prompt results of tests, an effective track and trace system and effective monitoring of those in quarantine.
If these were adopted the public could see that progress was being made.
As it stands it is going to take a long time to get matters down to a manageable level.
Here in Korea today there were 82 cases of Covid, of which 10 were at the airport.
The measures mentioned herein are in place in Korea.
Is the UK so incompetent that they cannot learn from more successful countries.
John McKay.
Busan,
South Korea.
Smart meters all about control
Sir, – Energy watchdog Ofgem is considering plans that would allow distributors to ask homeowners for permission to temporarily turn off high-energy appliances.
They can only do this in households where the occupier was naive enough to install a smart meter.
This situation has arisen because distributors fear that the switch to green technologies will put pressure on the National Grid.
This will get worse when gas is banned and households are forced to use four times more expensive electricity.
Smart meters were justified on the grounds that they would help save electricity but we can now see that it is all about control to avoid imminent blackouts.
Clark Cross.
Springfield Road,
Linlithgow.
Sticking to the agreed terms
Sir, – In a recent interview former prime minister David Cameron made it quite clear that the UK Government has every right to reject any demands for a second Scottish independence referendum, even if the SNP should ever win a Holyrood majority.
He believes this to be the case because of the terms set by the SNP, and agreed by both parties, prior to the referendum event in 2014.
Alex Salmond, and his deputy Nicola Sturgeon, requested permission, under the Scotland Act, to hold a referendum on the question of Scottish independence.
Following the bargaining sessions, Cameron agreed to their demands; and also accepted their request for the vote to be extended to 16-year-olds.
In addition Cameron also confirms that both Salmond and Sturgeon agreed the referendum would be a 'once in ageneration' poll.
A generation is usually defined as being at least 30 years.
Therefore it can be held from these facts that the SNP, Salmond and Sturgeon seem to be incapable of conforming to the terms and conditions agreed.
Robert I G Scott.
Northfield, Ceres.
Philosophers, poets and meek
Sir, – It would seem that certain western societies have eschewed all the positive values of traditional ceremony and aesthetism for mechanistic science and much of its crude by-products.
Today's media broadcasts portents of gloom and doom while instructing the general populace on how to conduct themselves.
It is high time that we hear, also, from some of our good philosophers, poets and the "meek". Political contrivance is causing society to become ever more orientated towards short-term monetary gain, insidious celebrity culture and an almost total rejection of intrinsic values.
Kenneth Miln.
Swallow Apartments,
Union St, Monifieth.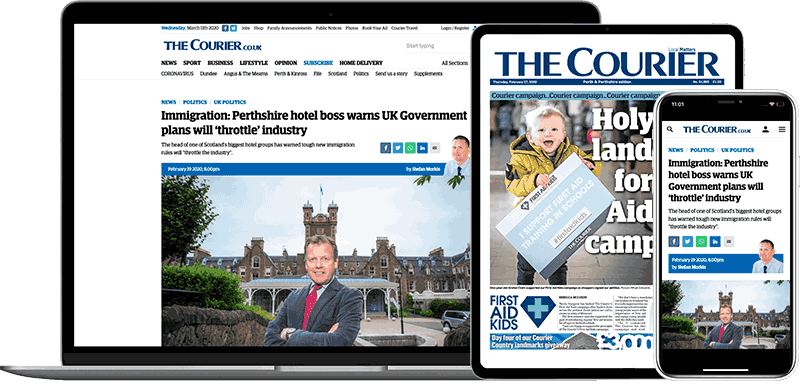 Support The Courier today.
The Courier is committed to delivering quality content to our communities and right now that's more important than ever — which is why our key content is free. However, you can support us and access premium content by subscribing to The Courier from just £5.99 a month. Because Local Matters.
Subscribe