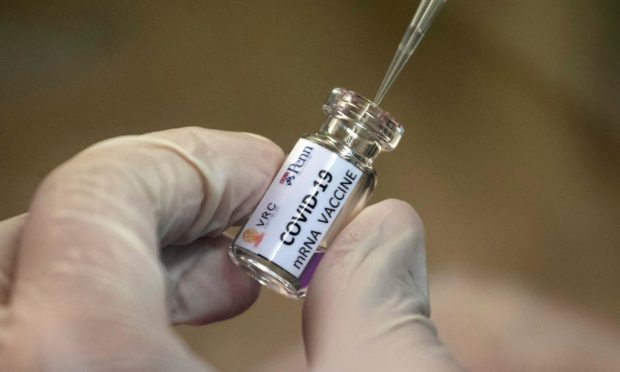 Sir, – I'm a simple chap.
If I'm not well and my GP gives me a prescription and tells me to take one tablet morning and evening, I do what I am told.
And so far it has worked pretty well.
I recently had my flu jab, and hope that this will protect me from a nasty illness over the winter.
And perhaps it will also help to control the spread of flu to others.
Yet now, with world-leading Covid death rates in the country, the NHS and its staff under extreme pressure, the economy collapsing under lockdown and 1930s levels of unemployment predicted as a result, along comes a vaccine which could offer a very high level of protection from a very dangerous virus and save many businesses.
But lots of people are saying that they are not having it.
Well, let me tell you, I'll be queueing at my doctor's door.
And I will be encouraging my family and friends to do the same.
For me, simple chap that I am, it's a no-brainier.
Les Mackay.
Carmichael Gardens,
Dundee.
Give us a good Christmas after a terrible Covid year
Sir, – It should not be a case of if the students go home, they should go home for Christmas!
I really wonder if all the decision-taking politicians have a heart and feelings.
It can't be that they are home celebrating this Christmas with their family but expect the students to stay alone on the campus.
It shows, again, the heartless decisions made, and a total lack of understanding of the impact on mental health all these decisions have on people.
So much has been taken away from us this year, much of it, I do understand, for our own good. But some decisions, like three to five months of locking people away under shielding, was absolutely inhumane, heartless and bordering on torture.
Let the students, and all the people in the UK, at least have a family Christmas.
Give us something to celebrate for heaven's sake.
To all politicians: don't be a Scrooge, show some compassion, show you have feelings too.
Maaike Cook.
Cash Feus, Strathmiglo.
Target protests at the real polluters
Sir, – On Remembrance Day Extinction Rebellion activists trampled over tributes laid at the Cenotaph to erect a climate change banner.
This is shocking, but equally shocking is the lack of action by the police for two hours in removing the banner and their failure to arrest those involved.
The latest Climate Policy Initiative report discloses that coal, oil and gas continue to supply 85% of the world's energy needs.
So why do Extinction Rebellion not target the oil and gas rich countries of China, Saudi Arabia, Iran, Russia, Nigeria, Angola, Algeria, Libya, Egypt and many others?
Extinction Rebellion supporters are cowards.
Clark Cross.
Springfield Road,
Linlithgow.
Has Covid risk been facted into e-bikes?
Sir, – I write in respect of the ebikes which have recently been situated on Blackness Avenue in Dundee (First e-bikes in Dundee hire scheme hit the streets, Courier, November 11).
Despite being an eyesore and a bone of contention with the local residents, I am at a loss to understand why Dundee City Council thought that this was a good idea during this pandemic.
There are no hand sanitising or cleaning station facilities provided.
Has the council forgotten that Covid can remain on metal for some considerable time, even days?
What if someone, unaware that they have Covid, uses a bike and then the virus is transferred to the next person and so on?
I understood that the council were working to get Dundee city out of Tier 3?
Furthermore, the addition of even more street furniture in the West End creates more obstacles for the visually impaired and the mobility-challenged to navigate.
Jim Dryden.
Shaftesbury Park,
Dundee.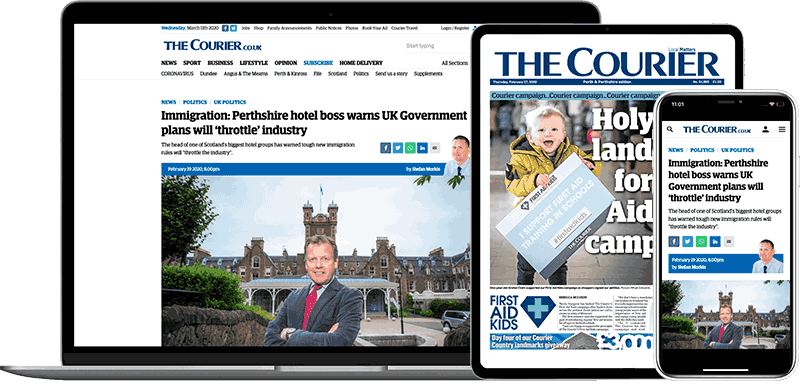 Support The Courier today.
The Courier is committed to delivering quality content to our communities and right now that's more important than ever — which is why our key content is free. However, you can support us and access premium content by subscribing to The Courier from just £5.99 a month. Because Local Matters.
Subscribe