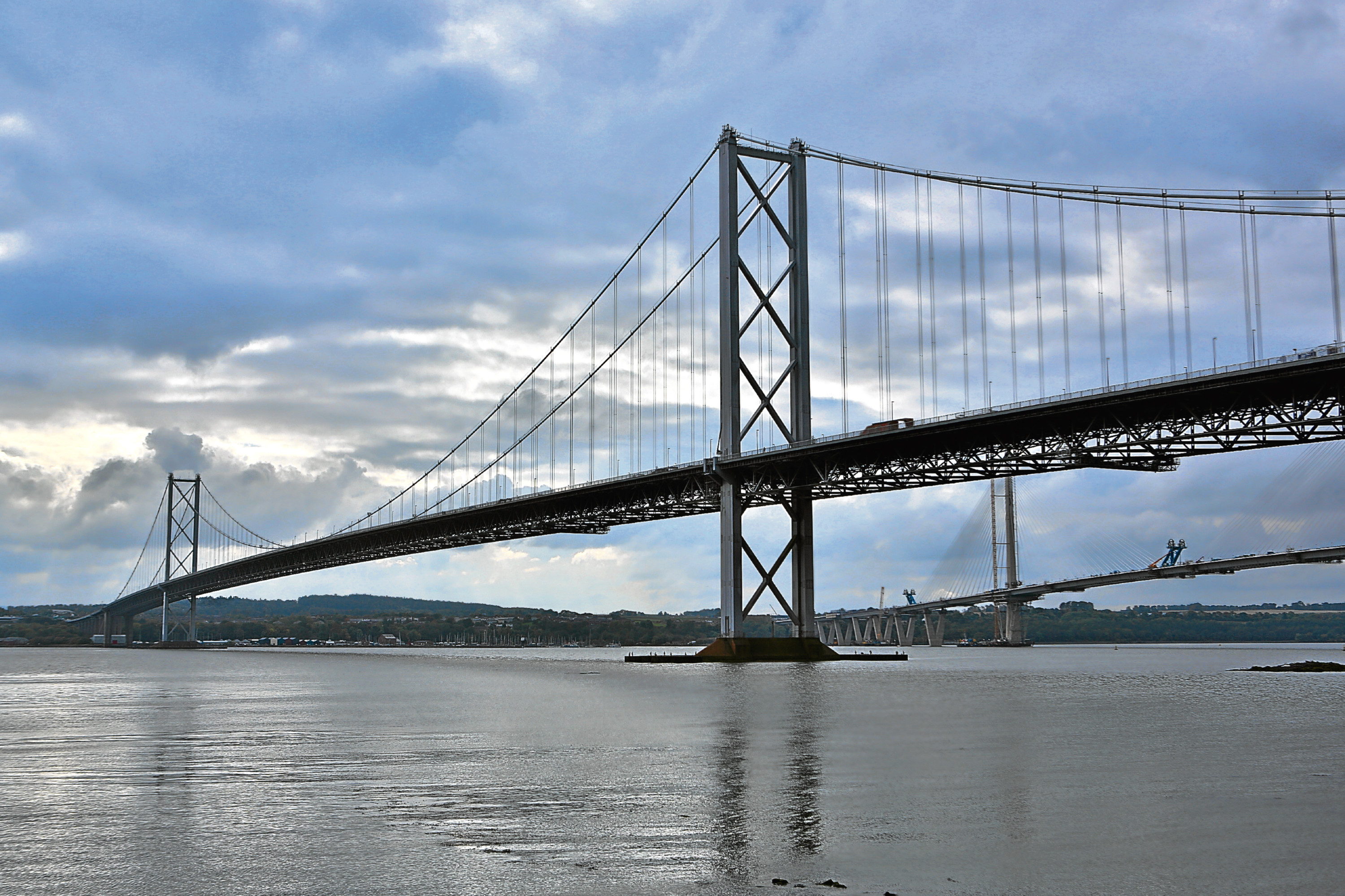 Sir, – Having been unsuccessful in the ballot to walk the Queensferry Crossing, I recently made my own observational cycle trip from Halbeath to Hawes Inn and return, via the Forth Road Bridge.
The complexity of the A90 road layout from the top of Castlandhill down to Ferrytoll is striking.
The changes in the grade and the bends, I believe, give drivers a feeling of restraint which along with the current speed limit and the gantry cameras increases driver anxiety which somehow makes the congestion worse.
Overall there is a cluttered feel on the approach to the Queensferry Crossing and the steeply battered banks are over planted with trees which will soon need thinning.
The Forth Road Bridge has now been open for over 19,000 days and the vegetation on the approaches urgently needs cutting back.
The bridge looks tired and dirty and it desperately needs refurbishment.
Walk over the bridge and stop in the middle and you will feel the constant vibration and experience the swaying back and forth.
Look through the dehumidifying inspection port at some of those 11,618 stalwart steel wires and one gets a real sense of how fragile this vital infrastructure link is.
The Queensferry Crossing is a marvel and will prove to be completely necessary but we are likely to require the service of both bridges in the forthcoming 40 years as much as we have relied upon the Forth Bridge during the last 40.
Sandy Main.
Quarryhill,
Kinloch.
Cyclists show lack of respect
Sir, – Further to recent letters in your pages concerning cycling on pavements, may I say that the number of people indulging in such activity has risen sharply in the last year or two.
Formerly it was only young louts, of whom no better could be expected, who were guilty of this.
Now, however, the practice has been taken up by otherwise respectable-seeming people.
I must say, though, that their language when taken to task for their behaviour is anything but respectable.
It is, of course, for the police and other civic authorities, keeping public opinion in mind, to set priorities for the use of their limited resources.
There is a case to be made – prevention being better than cure – for early action to be taken against this illegal and dangerous practice.
Surely reducing the risk of people being knocked down by cyclists on the pavements would be a better use of resources than kitting out police officers with sub-machine guns, pistols, Tasers, flak- jackets, paratroop boots and other paraphernalia to stand in the High Street in Perth on a Sunday afternoon.
John Nisbet.
5 Bridgend Court,
Perth.
Bid to control cultural output
Sir, – Education secretary John Swinney ignores the many complaints and criticisms about the 'Curriculum for Excellence'.
As with his adherence to the idea of the 'Named Person' for every child, he stubbornly insists that it is right for Scotland. His solution to any problems in schools is to reform school governance.
What has that to do with reforming a curriculum that teachers and education experts have condemned as 'broken'?
It is another squirrel, a diversion from reality.
Meanwhile, culture secretary Fiona Hyslop defends the SNP's 'national cultural strategy'.
Are we really living in a country where the Government plans cultural output?
It seems so, for 'Creative Scotland' has a 10-year plan, going twice better than the old USSR.
Ms Hyslop's view is that artists 'have to have a common understanding of what the country wants'.
These are the words of a control freak.
In any case, there is no 'what the country wants'.
Scots have differing views about most things.
Worse, it is not up to 'the country' to instruct artists about what to produce.
We saw the results of that in the 20th Century, and they were not encouraging.
This is, I am afraid, where we have reached in SNP Scotland.
On the one hand, the Government supports a curriculum that dumbs down education.
It is difficult not to be cynical and believe that a dumbed down populace suits the SNP's political ambitions, rendering people more susceptible to their falsification of facts.
On the other hand, the Government is intent on controlling cultural output.
The proof of that will lie in whose artistic projects are supported by funding, through Creative Scotland, and whose are not.
How have we allowed all this to happen?
Jill Stephenson.
Glenlockhart Valley,
Edinburgh.
Bid to maximise grievance
Sir, – Nicola Sturgeon reveals more than she intends with her latest thoughts on a second independence referendum, as she admits she doesn't know when she will call for another vote.
Effectively she is waiting for a moment of weakness on the part of the UK Government, hoping to maximise the level of grievance she can generate meanwhile over the Brexit process.
The focus is not what is in the best interests of Scotland, but rather how the SNP can exploit developments to engineer a break-up of the UK.
It is no wonder that the fundamentals of good government are drifting so badly under her leadership.
Keith Howell.
White Moss,
West Linton.
An oasis of tranquility
Sir, – No matter how hard some may try to undermine the Scottish Government through the letters page, compared to what is going on among Conservatives the Scottish Government is an oasis of tranquility.
We have Boris Johnson knifing his boss in the back who then does absolutely nothing about it.
The Government's own top civil servant legs it from the Brexit minister David Davis.
David Mundell goes on a trade mission to South America allegedly to drum up trade for Scotland then promptly tells them how bad the Scottish economy is.
People of my political stance are often accused of being determined to break Britain.
I would just make the observation that the Conservative party is doing more damage to the economy of these islands than the Luftwaffe did in the Second World War.
Bryan Auchterlonie.
Bluebell Cottage,
Perth.
A hunting pack of developers
Sir, – While cycling through the unspoilt Dumbarnie area of Largo Bay earlier this year I spotted a pride of the feared top predators who prowl our coastline.
It was a hunting pack of hungry developers and they obviously had this land in their sights as a prospective golf course.
Soon, the first press releases would appear, proclaiming jobs galore and prosperity for one and all.
If this is indeed their aim, why not target areas much more in need of their benevolence, such as the Levenmouth rail link or urban affordable housing in nearby settlements?
This proposed golf development, highlighted recently in the Courier, should be driven far into the rough where it rightly belongs.
When Donald Trump rode roughshod over the supposedly protected Menie estate it opened the floodgates for copycat attempts such as this.
With courses now encircling almost all of Fife's coast it really is a beggar's mantle fringed with golf.
Duncan Leith.
South Lodge,
Elie Estate.
Time to provide free parking
Sir, – Further to parking fines for nurses at Ninewells Hospital in Dundee, is this not an issue that the First Minister of Scotland should take up on the nurses behalf?
After all, MSPs have free parking at Holyrood and can claim expenses on taxi fares.
Ministers are limousined around at no cost to themselves.
Why are nurses even having to pay for parking in the first place?
Nurses save lives, so let's apply the first rule of first aid, as in remove the casualty from the cause or remove the cause from the casualty.
Remove the parking charges from the nurses and guarantee no more fines, then make a set aside area in the carparks just for the nurses.
David M Lansdell.
8 Ash Grove,
Portlethen.