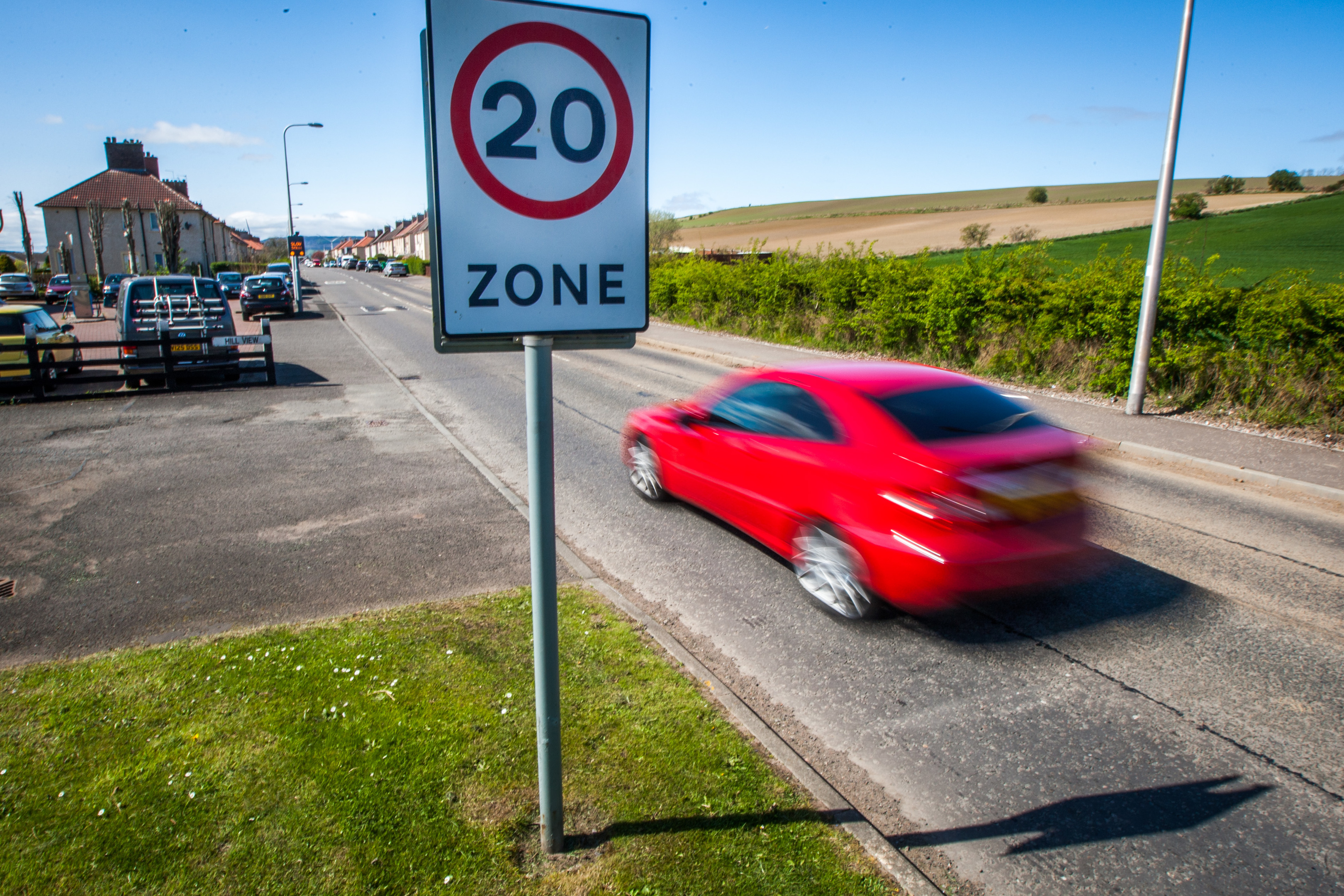 Sir, – In her recent article Jenny Hjul (Courier, May 2) tells us how she "sees it" in regards to 20mph schemes being rolled out across Scotland via my proposed Members Bill.
There are, however, a number of facts that she fails to see.
I have no intention of creating a blanket 20mph speed across Scotland.
Restricted roads – primarily roads where we live, work and play – would become 20mph zones and each council would be able to place 30mph limits on arterial roads where they are deemed appropriate.
20mph is already the norm in Fife and Clackmannanshire where, the last time I looked, the economy had not ground to a halt as a result.
Fife has been rolling out 20mph speed limits for more than a decade with a reported 20.8% reduction in slight road casualties, a 14% reduction in serious casualties and a 100% reduction in fatal casualties.
There is an even higher reduction in child casualties.
It's a shame that Dundee and Perth and Kinross councils have so far not been able to deliver this kind of progress. The community of Coupar Angus, for example, has long campaigned for 20mph limits after the tragic death of a child in a road accident, with little progress.
My bill would ensure there is a consistent approach across Scotland, that's why it is being backed by an overwhelming number of parent councils and community councils across Scotland.
Making sure Scotland's residential streets are a wee bit more like Fife is nothing for Jenny to fear.
Mark Ruskell MSP (Mid-Scotland and Fife).
Scottish Parliament.
Edinburgh.
Lords last resort of rationality
Sir, – The House of Lords has passed a raft of amendments which, while they don't actually contradict the principle of EU withdrawal, attempt to infuse some rationality into this deranged venture.
The most significant of these was the "Cliff Edge Avoidance Amendment" which will prevent the May Government walking away from negotiations next year if MPs reject the deal.
Brexit and Holyrood have both shown the necessity in the legislative process of a revising chamber composed of veteran politicians who are unafraid of government bullies.
In the absence of a functioning opposition, we need somebody with the gumption to challenge Tory backwoodsmen who believe mutually assured destruction is preferable to rational compromise.
They claim we voted to leave the single market and the customs union. Nonsense. The EU referendum said nothing about trading arrangements.
Hard Brexit is the post-imperial fantasy of a Neanderthal clique who think we can return to our imperial past. It shouldn't require the unelected Lords to remind Mrs May it is her responsibility to stop them driving us over a cliff.
Rev Dr John Cameron.
Howard Place,
St Andrews.
Pondering a post-Brexit fate
Sir, – I attended a lecture recently, titled Scotland the Brand, which was really about farming in Scotland and what will happen to farming after Brexit.
This could have been summed up in very few words – after Brexit, there will be no farming in Scotland within five years.
And the threat is not only to farmers.
Today in America, big companies will not take on full-time employees, since they don't have to pay for medical care and other benefits for part-timers. If you take a job in Walmart you automatically qualify for food stamps. Who is in partnership with Walmart? Asda. And who wants to buy over Sainsbury's? Asda/Walmart?
It is not a big leap from there to what will happen after Brexit and a trade deal with America, giving American food companies an outlet for their chlorine-washed chicken, battery pigs, hens and eggs, steroid beef and cattle feed on GM maize.
And if you wish to see what such a diet will do to future generations and our NHS take a look at the average obese American.
No wonder May and her Brexiteers want out of the EU customs union – they don't want to be tied up in EU food standards.
We must be vigilant, to prevent the conquest of ourselves, our minds, our humanity, our self-respect. If we remain silent, victory over us is assured.
September 11 2001 was the catalyst to dismantle the American Bill of Human Rights, and trial by jury here in the UK. Brexit will further erode that by ending human rights through the European Court of Human Rights.
It's time to get proactive. Devolved powers must return to Scotland from Europe after Brexit. Otherwise, we only have one option; we must take back those powers through Scottish independence.
Walter Hamilton.
City Road,
St Andrews.
Sour taste of policy changes
Sir, – The passing of minimum alcohol pricing legislation is a bittersweet moment for me and Nicola Sturgeon.
Sweet because it's a platform for more of the regulation, health education and support services required to remove this curse from Scotland and confirms she has the ability and tenacity to push through legislation in the teeth of opposition.
Bitter for me because most SNP policy and legislation such as windfarms, fracking, education reforms, police, Named Person, Welfare Agency and Brexit were either badly handled, virtue signalling in the teeth of common sense or driven by an obsession with independence.
And bitter too for Ms Sturgeon because it comes too late for many voters to trust her to do what's best for Scotland and, judging by social media reaction, has alienated many SNP supporters, albeit many who never actually vote anyway.
Her "walk on water" days of 2015 are gone. She must regret not accepting the referendum result, outlining the issues and challenges we face as a society and economy and dedicating herself to turning Scotland around.
If she had, and it worked, independence in 2026 could have been a viable option, perhaps even a shoo-in.
Allan Sutherland.
Willow Row,
Stonehaven.
Tough question of identity
Sir, – In the wake of the Windrush scandal, two former Labour Home Secretaries propose introducing identity cards as a way of dealing with illegal immigrants.
This system is not without its drawbacks – my 1960 French exchange family used to point out that the police in Paris were not above stopping citizens of Arab origin and removing their identity cards, prior to beating them and arresting them for having no ID.
I'm sure things have changed since then in France.
Et plus ca change – today, in Spain, we still have Rajoy's guardians of the law indulging in the sort of behaviour that gives police a bad name.
James Stevenson.
Drummond Avenue,
Auchterarder.
A brush with aviation history
Sir, – One evening during the early 1980s I was passing the aircraft museum at Strathallan, near Auchterarder.
This was a time when the ambitions of the Roberts family of Strathallan Castle and estates to establish an aviation museum in Perthshire, housing famous wartime aircraft, was bearing fruit and one of the prized exhibits was a Lancaster bomber.
On this evening, under a clear sky and a rising moon, the Lancaster looked defiantly unique and almost mysterious, silhouetted in the moonlight as I stood and surveyed the scene.
It is an image that comes readily to mind as this month, May 16, brings the anniversary of the most famous event of many in the history of Bomber Command – the Dambusters raid in 1943.
The brave men of 617 squadron would have seen the same scene as I did, standing on a narrow Perthshire road, as shadows fell on their surrounding bomber base and the waiting Lancasters were widely dispersed.
Strathallan aircraft museum is a memory, but one that lives on.
I have reached it by both road and air but come May 16, the anniversary of the famous raid, I will think of that lone Lancaster at peace in a Strathearn airfield.
Thomas Brown.
Garry Place,
Bankfoot.