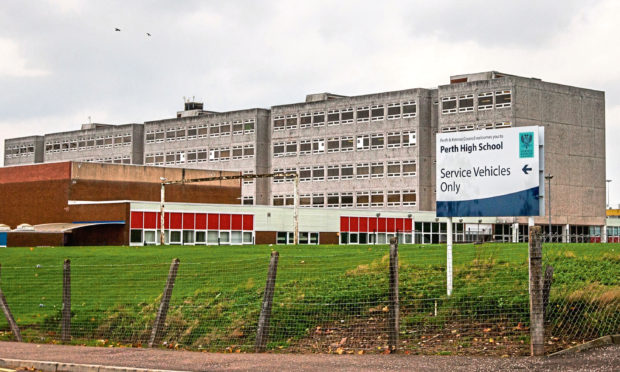 Madam, – I read your headline "Inspectors reveal school concerns" (Courier, January 24.)
As a parent of a child who attends Perth High School, I would like it to be known that my child could not believe the comments reported referred to the school he attends on a daily basis.
My son enjoys school and some of his teachers have gone over and above what would be expected to provide him with an excellent education.
He has had several teachers who have motivated and encouraged him with his learning over the years.
His sister, who left Perth High School last year, achieved an excellent set of exam results and, along with several of her peer group, has moved on to secure a place at university.
That does not sound to me like a "crisis-hit" secondary school.
To receive a satisfactory rating from Education Scotland inspectors does not in any way imply a school is failing, albeit there will be aspects to work on.
Yes, Perth High School has had problems with poor pupil behaviour.
This is always reported in the media, giving Perth High School a bad reputation.
I am sure I am correct in stating that every secondary school will have similar issues to a certain degree.
It is sad that pupils are reaching secondary education and are unable to show respect, manners or acceptable behaviour towards others.
This cannot, though, be the sole responsibility of the school.
Parents should play their part in taking responsibility for their child's behaviour from an early age.
There was very little positive feedback from the inspection in your article, perhaps giving the school more negative publicity.
By reading the inspectors' report, I was able to learn more about the strengths of Perth High School, of which there are many.
In a climate where it is reported teachers are suffering stress along with excessive workload and working hours, reading this article would be highly depressing for a teacher at Perth High School.
I can only reiterate that my children have both received a first class education at this school.
P. McGregor,
Oakbank,
Perth.
Weak response from unionists
Madam, – The argument about who chairs the committee looking at the Scottish Government's handling of the allegations facing Alex Salmond (Concerns as SNP to head up committee for Salmond inquiry, Courier, January 30) shows just how weak the so- called unionist MSPs are at Holyrood.
One Conservative MSP says he is disappointed.
The Labour leader urges Nicola Sturgeon to choose a non- SNP chairman for the committee, while another Labour MSP says "it is now a matter for the SNP to decide if it thinks chairing the committee is appropriate".
Weak, weak, weak.
Unionist MSPs have been far too nice to the SNP for far too long.
It doesn't matter how many banjos are handed to them, they still cannot hit the barn door.
The relationships at Holyrood are just too cosy.
For all our sakes, it is about time the bubble was burst and some proper oversight created in to how our pretendy-Parliament works.
Victor Clements,
Mamie's Cottage,
Aberfeldy.
Brussels will call all of the shots
Madam, – When are these gutless politicians going to stop being humiliated by Brussels and grow a backbone?
We voted to leave Europe so let's leave.
If we stay our politicians will have very little to do as Brussels will call all the shots.
John G Phimister,
63 St Clair Street,
Kirkcaldy.
Churchill critic must grow up
Madam, – Ross Greer MSP calls Winston Churchill a mass murderer.
When he grows up he will know better. So let us be big enough to indulge him in that stupidity, as we presently indulge him in his other Green stupidities.
Malcolm Parkin,
Gamekeepers Road,
Kinnesswood,
Kinross.
City hall can be money-spinner
Madam, – , Notwithstanding the brilliance of ambitions aiming for Perth's City Hall to become a historical and cultural showcase museum, perhaps also to house the Stone of Destiny, those in charge of developments should never forget it has always been a community centre for the people of the county and Fair City.
The museum and cultural attractions for locals and visitors should attract entrance receipts, while the community centre would bring in hire monies for weddings and dances, including Scots country dancing with the advantage of the sprung floor.
A concert hall smaller than the one at Horsecross would be better for smaller concerts, soloists and jazz. City hall is also the ideal venue for an upgraded Tourist Information Centre, with displays of local current attractions and future events.
It is not only a wonderful relief that our hall escaped demolition, but it also now can become a money-spinner offering functions to attract visitors from far and wide.
Isabel and Charles Wardrop,
111 Viewlands Rd West,
Perth.
Cyclists need more protection
Madam, – Courier columnist Mike Donachie was spot-on with his piece "Vaccinations dangerous? – That's just balderdash", (Courier, January 28).
It was a call for the individual to step up and do the right thing.
His pithy observations are very entertaining.
Graham Huband's same date piece (Dundee Matters: Time for a change as expert calles out city's motoring obsession) agreed with the Danish keynote speaker at the Sustrans Raising the Standards Day in rubbishing the acres of tarmac separating the city from the waterfront.
I do hope he forgoes his mobile overcoat and gets on his bike.
He correctly pointed out that he feels vulnerable when cycling on a busy road; that's why we need dedicated cycleways. I hope planners and councillors do more to protect the vulnerable cyclist.
Alban Houghton,
18 Albert Rd,
Broughty Ferry.
Climate change circus rolls on
Madam, – Today's climate researchers over-focus on computer models and ignore earth's climate history contained in geological and archaeological studies. They must also differentiate between climate change and environmental degradation.
Climate science was an obscure branch of the atmospheric sciences and a subfield of physical geography until pounced on by green activists, Big Aid and the BBC, to say nothing of redundant politicos like Al Gore.
Renowned scientists, including Nobel Prize winners, warned the climate system is incredibly complicated and the knowledge did not exist to support such lurid alarmism.
But they were dismissed as deniers.
The complex issue was narrowed to CO2 reduction, the absurd costs of which fall on the world's poor.
But improved measurements show climate model predictions are wrong.
It's time to ask who benefits from this billion-dollar circus.
Rev Dr John Cameron,
10 Howard Place,
St Andrews.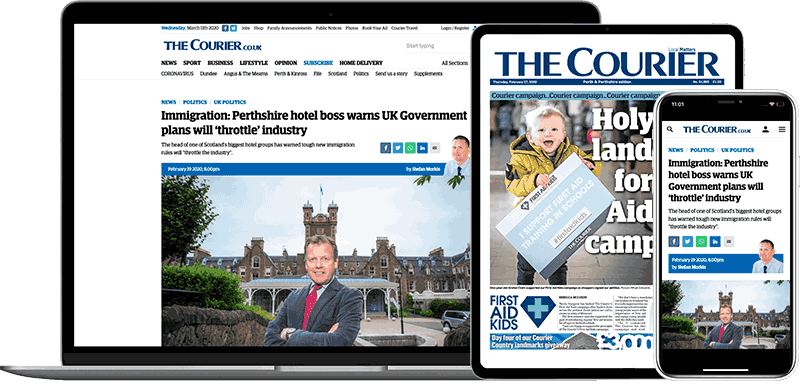 Help support quality local journalism … become a digital subscriber to The Courier
For as little as £5.99 a month you can access all of our content, including Premium articles.
Subscribe