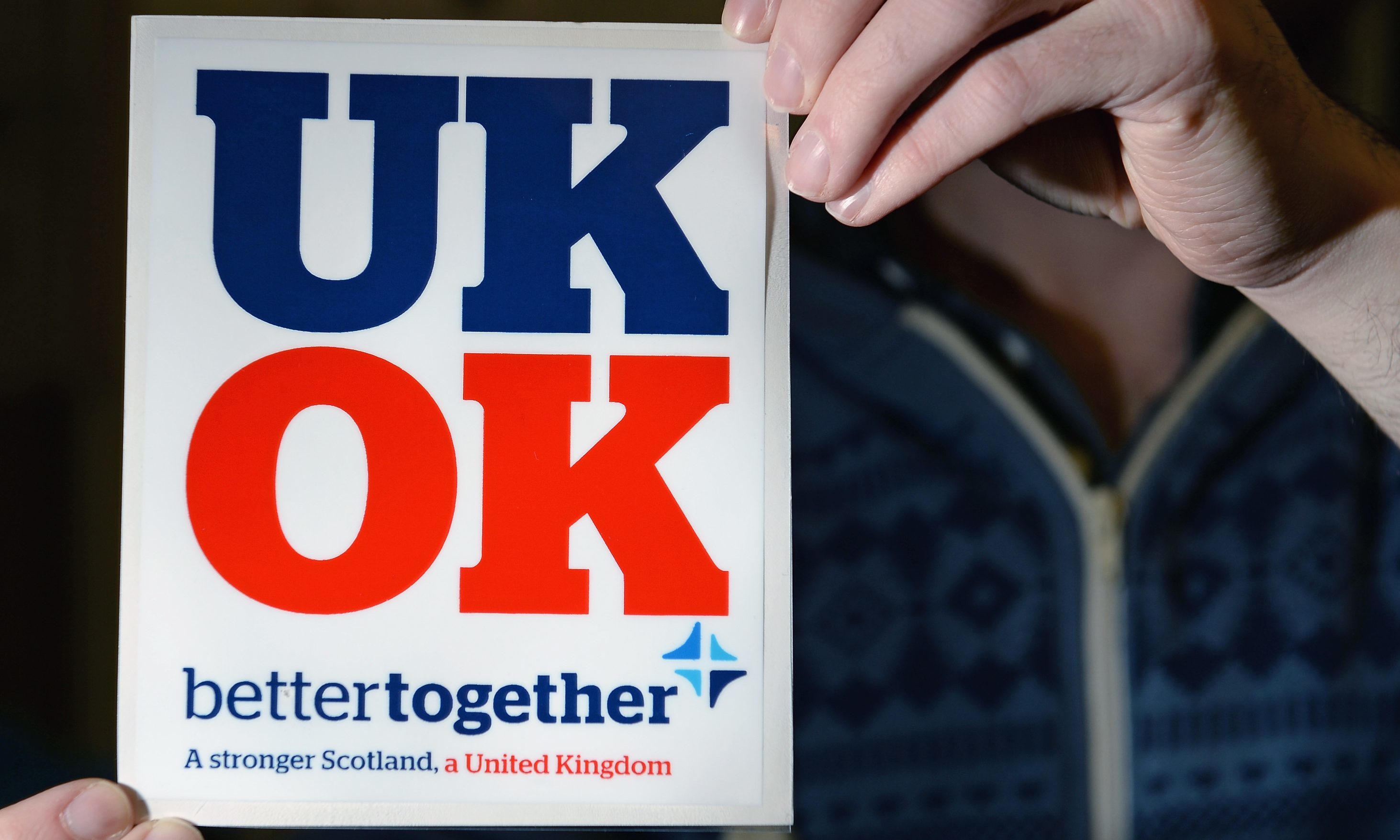 Madam, – With the impetus for independence only to become more deafening if a no deal Brexit comes to pass, it has become clear the tactics of the unionist parties to thwart a second independence referendum are already being pursued.
In fact, this is happening well before a general election and well before a Section 30 order is made.
This indicates these parties have not only seen the writing on the wall but are already panicking at a level only previously seen on the weekend prior to the first independence referendum.
We all remember that.
The brazen " Better Together" campaign, where the unholy alliance of Labour, Tory and Lib Dem were in cahoots with each other, will not be seen this time.
These parties in 2019 are a shadow of their former selves from 2014.
Their leaders have gone, their politics remain confused and changed and their support has dwindled.
Better Together, as was, is dead. The public will not be conned this time with the lies, half truths, broken promises and project fear perpetrated at the time.
Their message will be the same but their tactics will be different.
We have to show them for what they are and not be afraid at every level to expose their lies, misinformation, fake news and challenge their leadership at every opportunity.
They are treating the Scottish voting public with contempt.
They would not dare do this south of the border.
An election before the end of December is very likely and the electorate will have their opportunity to make their voice heard for the future of Scotland.
Remember this is a Remain Scotland desperate to ensure its future economically and socially and to continue to participate in the single market and customs union of Europe.
Dan Wood.
Charles Melvin Gardens,
Kirriemuir.
PM's behaviour is unbecoming
Madam, – The UK prime minister, Boris Johnson, has been found guilty of illegally thwarting the legitimate workings of parliament for his own party's wishes.
The decision that he was guilty was decided unanimously by the top judges in both Scotland and in England.
Johnson claimed to respect the decision but then immediately went on to state that he believes the result to be wrong.
Johnson isn't some ned from a sink estate but the prime minister of the UK.
He should always set a good example and be seen to follow the letter of the law.
If we can't expect that from our PM, why should anyone else?
I can't stand the man nor his politics but he is as much my prime minister as any of his more rabid right wing supporters.
I expect him and all the other MPs to behave in an honourable and statesman like manner.
Before any Johnson supporters dismiss my comments just stop and think what they would think if any other party leader behaved in the same way.
Harry Key.
20 Mid Street,
Largoward.
End game for tired union?
Madam, – The Supreme Court in London supports the Court of Session in Edinburgh in that Boris Johnson and his Conservative Party broke the law.
So far many of the British Conservatives in both England and Scotland have shown little respect for the decision.
Scotland now stands at a crossroads and Scots must ask themselves do we want to stick with a Westminster system that is completely broken and where a PM willingly acted illegally.
The disturbing part of the sorry institution of union is that all British Conservatives in Scotland went along with this illegal act, and some openly supported it and still do.
It is now time for Scotland to fulfill its potential and run its own affairs and take its place with all the other countries of the world.
It is perfectly normal for any country to run itself without interference from a third institution that has little respect for the other parts.
We may be witnessing the end game of this tired union and with that the opportunities for Scots and Scotland are endless.
Bryan Auchterlonie.
Bluebell Cottage,
Perth.
Challenge to authority
Madam, – We have a Supreme Court saying it is lawful to prorogue parliament for one week, but unlawful for a fortnight and depending on how you ask.
Can one presume the Conservative Party will be denied the opportunity to hold a conference by the militant minorities, on moral grounds?
It is a dangerous, slippery slope indeed that the courts decide upon the morality of executive policy and decision making.
Scotland has a devolved parliament, what were the Scottish Government's moral considerations for going to the Supreme Court?
Have any Scots taxpayers approved the expenditure?
Once again we see the door open further to allow militant minorities, with money, an opportunity to challenge executive democratic authority on moral grounds, while they creep their way to power.
Alan Bell.
Roods,
Kirriemuir.
Wrong direction for St Andrews
Madam, – I would like to congratulate St Andrews University on their success as the best university in the United Kingdom for student experience, which unfortunately is often at the expense of the local population who have to endure the ongoing house parties and the disruptive anti-social behaviour that comes with it throughout daytime, midnight and beyond.
That apart, my worry is the success of this overblown award could be masking other underlying problems within the ancient corridors.
My concern relates to the 2019-2020 Times Higher Education World Rankings which take into consideration the performance across teaching, research, knowledge transfer and international outlook.
The world top three are listed as Oxford University, the California Institute of Technology and Cambridge University.
In Scotland the top five universities are Edinburgh University, with an amazing world ranking of 30, and then Glasgow University with a world ranking of 99.
In third place is Aberdeen University, who are on 168, followed by St Andrews University at 198.
Dundee University has moved up to 201.
Looking back to 2016-17, St Andrews University was a noble 86th in the world rankings.
Since then it has dropped a frightening 112 places in the rankings and 168 places behind Edinburgh.
So what's going on? What's gone wrong? What has caused this serious drop?
Maybe it is time to cut back on the distracting "student experience" and get stuck in to academia by getting back to important basics.
I read the headlines that St Andrews University seemed pleased to be in the top 200.
The reality is that they are only two places away from being in the top 300, which is rather shameful, whilst Dundee University looks well positioned to overtake them.
David Seeley.
49 Winram Place,
St Andrews.